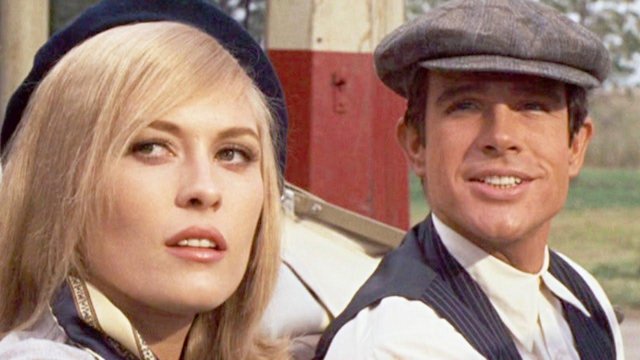 Directed by Arthur Penn and starring Faye Dunaway and Warren Beatty
Ranked #5 in AFI's 10 Top 10 – Gangster Films, behind The Godfather, Goodfellas, The Godfather Part II and White Heat; and just above Scarface and Pulp Fiction, Bonnie & Clyde is a biographical movie about one of the most reckless and dangerous couples in crime history.
During the Public Enemy Era, between 1931 and 1934, just after the Great Depression, there was an american couple that managed to rob banks, stores, killing cops and caughting the eye of public opinion, for a couple of years. Bonnie Parker (Faye Dunaway) met Clyde Barrow (Warren Beatty) when she was 21 and he was just getting out of jail. They inmediatly connected. He was charming and decided, although as he confessed himself he wasn't a lover boy. Bonnie was bored, sick of her monotonous life and her job as a waitress. Captivated by Clyde's manner's and blue eyes, she decided to take up with him and become his partner in crime. Their first two jobs weren't so profitable: the first one was a bank in bankruptcy, the other one was a grocery store where Clyde got punched and almost killed. To aim higher in their crime career, they hook up with a dim-witted gas station attendant, C.W. Moss (Michael Pollard) and later with Clyde's older brother Buck (Gene Hackman) and his wife, Blanche (Estelle Parsons). By then, there were known as the Barrow Gang. That way, they turned from pulling small-time heists to robbing banks and things got more dangerous and violent.
The gang was pursued by law enforcement officers, including Texas Ranger Frank Hamer (Denver Pyle), who took it personal when the gang captured him and humiliated him by taking pictures with him and sending them to the newspapers before releasing him. Upon discovering his whereabouts and after a confrontation, Buck was murdered and Blanche lost her sight. The other three managed to escape, although Bonnie and Clyde were shot. C.W. hid them then in his father's house so they could recover before going back to the old ways, but Moss's father made a deal with the police: in exchange for indulgence for his son, the old man helped to set a trap for the outlaws. This is how, faking a flat tire on the side of the road, old Moss attracts the criminals who, trusting their gang mate's father, fall into the ambush where they are shot to dead.
Bonnie & Clyde
is from 1967, so the sound and visual effects are not the best. But if you can tolerate that, grab a bucket of popcorn and a soda and enjoy the movie.
---
Other posts that may interest you: