A Geeky Guy's Movie Guide to Once Upon a Time in Hollywood (2019)
Watching Once Upon a Time in Hollywood reminded me of going to a baseball game to watch a legend who is well past his prime. You buy your ticket hoping the future Hall of Famer will somehow harness his magic one last time and pitch a gem you can tell your grand kids about (or more likely text, tic-toc, gram.... or whatever new fangled way they invent to avoid any dreaded face-to-face contact). Unfortunately, after a few pitches, you realize this former-superstar has lost his fastball and it is not coming back. He may show flashes of his greatness, but he simply cannot put together a complete game.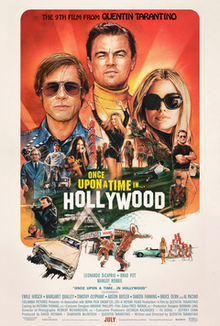 That is exactly how I felt watching Once Upon a Time in Hollywood. If asked to name my favorite movie maker of all time, I would instantly say "Quentin Tarantino... but Christopher Nolan is a close second". Tarantino is responsible for five of my absolute favorite movies of all time. I watch Reservoir Dogs, True Romance, Pulp Fiction, and the Kill Bills every chance I get and I never get bored. Although I have liked a few of his projects over the past 15 years, none stands out the way those five do. Once Upon a Time in Hollywood is no exception.
Although it has flashes of Tarantino's brilliance, it reminds me of the first 22 seconds of this scene from Major League:
It seems that just like Eddie Harris, Tarantino tried to "throw every piece of junk I can think of at them...". And that is the problem. With a 160 minute run-time, Once Upon a Time in Hollywood is far too long. Because Tarantino has obviously "lost his fastball" when it comes to writing quirky, entertaining and fascinating dialogue, he seems to try to make up for it with sheer volume. It is as if he thought, "If I toss in enough seemingly pointless side-conversations, one of them is bound to capture my past magic and deliver a memorable exchange". Although a few of the exchanges showed a glimmer of past greatness, none can hold Pulp Fiction's "Royale with Cheese" scene's jockstrap (but the Bruce Lee scene does come close).
Although not worthy of repeated viewings, an adequate amount of Tarantino's "junk" did just enough to make it worth the trip to the theater.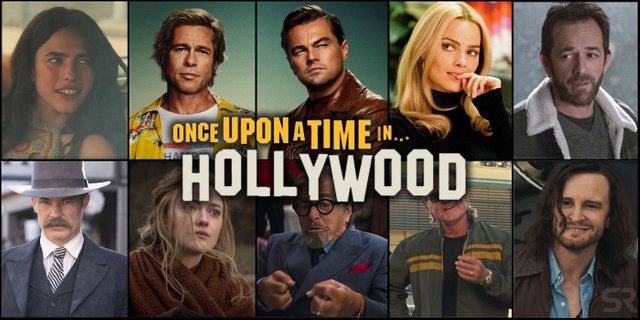 The acting is simply tremendous. I expect Oscar nods for both DiCaprio and Pitt. In addition to the main stars, there was not a throw away part in the entire movie. Every single character was portrayed as if he/she was the most important element of the movie. Although many will point to Margot Robbie's portrayal of Sharon Tate as the finest female performance in the movie, I found Margaret Qualley as Pussycat to be far more impressive. In fact, I think they actually wasted Robbie's talents to a large extent. It seems she spent more time walking, driving or dancing than actually acting.
Speaking of driving... if you have not heard, Tarantino loves movies. He seems to be especially enamored with movies produced in Hollywood in the 1960s and 1970s. As a result, he used much of the 160 minutes to show characters driving around Hollywood surrounded by neon signs, billboards, fashion and cars of the era. Not satisfied with merely the nostalgic sights, the characters cruised around Hollywood while listening to the top 40 hits of the day complete with actual vintage commercials from the time. This was a cool gimmick... once. Unfortunately, Tarantino over uses it and I found myself thinking "they are listening to commercials... again."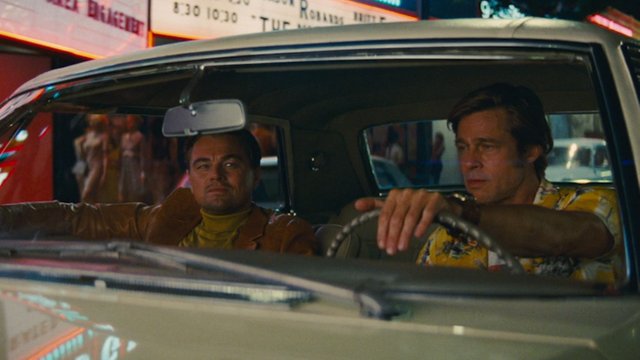 The upside of all of the driving is that it highlights the excellent cinematography. Quite simply, the movie just looks really damn cool. Even boring walks are made more entertaining by cuts to character's boots or other details. Because of this, I am very happy that my one and only viewing of this movie was on the big screen.
Even with the great acting, interesting characters, and cool look, with 75% of the movie gone, I found myself checking the time. It seemed as if this was going to be another Tarantino disappointment. And then the final act started... and it saved the entire movie for me. Upon reflection, it seems that Tarantino started this story with that final scene in mind and then he built it backwards from there. He knew he wanted a movie with this very original ending and then filled in characters and situations that would lead to it. I just wish he set up the grand finale at least 45 minutes faster.
Geeky Guy's Movie Guide


Number of times I fell asleep: 0
Number of eye rolls: 0
Number of face palms: 0
Number of times I checked the time: 2
Number of times I said "That's ridiculous": 0
Would I recommend this movie: Yes... but lower your expectations.
Full price/Matinee/Rental/Free/Not worth the time: Matinee (If you are going to spend 160 minutes on this, you might as well get the full effect.)