This is my entry to @dandesign86's "Most Embarrassing Ever" challenge:
Many years ago I found myself traveling with a friend, who I will call Kate,  to  a remote town, here in southern Switzerland...the road to get there was your typical winding road, very curvy and very remote as well. It was hopping busy at certain times of the year, but at this particular time there was hardly a soul to be seen traveling along it.
We arrived near our destination, parked the car in an also remotely positioned parking lot and began walking to where we were going, which however was still quite a hike from where we had parked.
As we left the parking lot, chit-chatting along, my friend accidentally dropped her car keys right as she happened to be stepping over a water grate ( or sewer grate, if you will).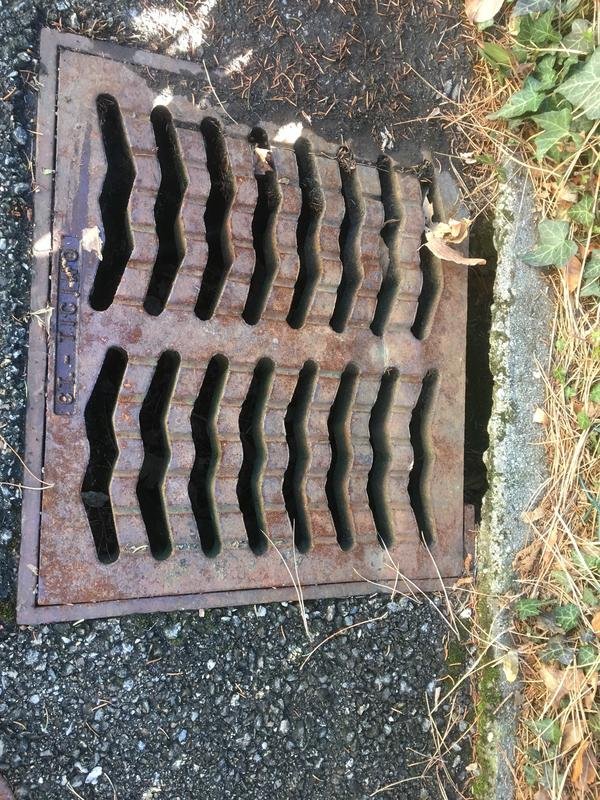 Cast iron water and sewage grating
" OH NO! " She gasped in horror as we saw the keys dropping in through the narrow grate in slow motion. As you can imagine, and according to Murphy's Law, no, they didn't land on the edge of the grate, or miraculously dangle astride the grated slats, but gently and graciously dropped in between the grating only to land almost in mocking defiance on a very narrow half-shelf, located about a meter or about 3 feet below the surface.,  ready to dip into the dark, dank blackness of the sewage hole laying just below....
Keep in mind that this was quite some time before anyone carried a cell phone...so, no.....calling for help was not an option...
" OH NO!....what are we going to do? "  cried my panic- stricken friend ?
Almost by instinct, and without any hesitation we both knelt down in our skirts and lifted the grating away, ...the keys were now fully exposed to our sight, but still mocking us from that long 1 meter drop below...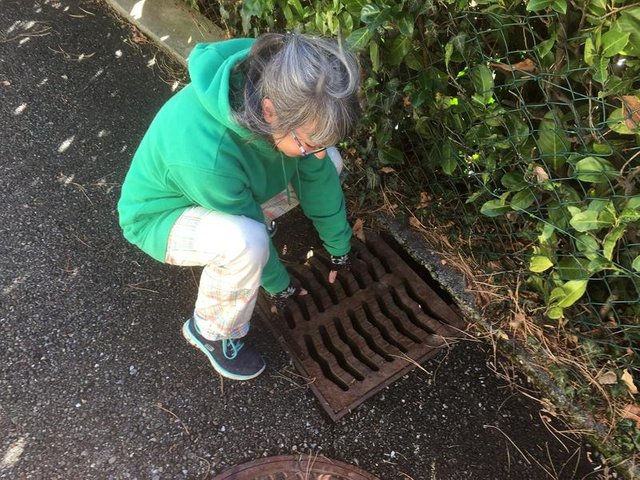 Trying to lift a cast -iron grate is no small feat for two petite women, wearing skirts!...
What to do? Stuck with no phone, on a remote road, no houses, no pay phones, no shops, not a soul in sight, and miles away from any of the above...
Well, they say that when the going gets tough, the tough get going....so...
Faster than you can say "shucks", I lay on my stomach, in my nice flowery skirt and tried to reach for the keys....DANG!....if I had just been a bit taller with longer arms, I may have reached it....there was only 1 solution: Kate, you hang on to my legs & feet and I'll lean into the hole a little further, until I reach them...and so it went..
Alas! So there we were, 2 young women, in the middle of no-where, me with half of my body buried inside a sewage hole, reaching for the keys, her, hanging onto my legs, and sure enough...right at the instant that I dangled my body into the dark hole:..." zoom, zoom, zoom" :....3 cars drive by.....
What a sight that must have been, ...I can just imagine their thoughts:...
  " Did I just see what I thought I saw?,!?!?...a woman in a skirt , laying on her stomach on the road with half of her body dangling in a sewage hole ?!?"
So,... there you have it...my embarrassing story...
By the way, I got the keys!!
Thanks for reading!