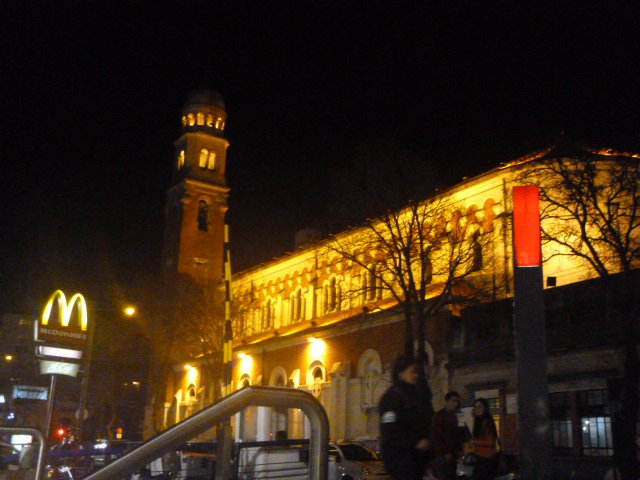 Well in case you might think this city is too small, little bit more than 1 million and a half persons living here in Montevideo to have a Mcdonalds, you are wrong we have many of those here and what impressed us more was the amount of people that love to go to McCafes here in Montevideo. We will leave the coffee and burger topic for another post.
But the real point of the photo was to tell you about our first visit to Montevideo 2014 tourists and in this first visit we couldn´t stop walking it was funny because we would leave home around 7:30 am (we were staying with some friends), walking, the street would be pretty lonely and walk and walk and take pics all day open and close the map so many times ticking our list of touristic points and yes this photo is at night and there we are walking still, probably our feet sore but big smile because at our hometown it was hard to walk and enjoy the city, so for us it was amazing to be able to walk all day all night and more take photos without the fear of insecurity. The funny thing was getting lost all the time because this city is really alive at night so the bus would pass by our bus stop and we wouldn´t recognize the street since in the morning it was dead lonely, everything closed and at night it was like a whole new street, so well there we go again walking and walking home hahaha grabbing the poles every nowand then to rest our feet for few minutes wondering how we could walk so much.
This photo was taken in one of the most known malls in Montevideo called Punta Carretas Mall what you can see is a church that is next to the mall the lights we absolutely loved, the neighborhood is called by this same name, it is a well known neighborhood for its services. It has many hotels nearby, many cafes, many meat restaurants you would like this since Uruguay is well known for their meet offer and "asados" (barbecues), the golf club, the promenade one of the most famous touristic points you can´t miss if you come to Montevideo. Punta Carretas Lighthouse another touristic point you can´t miss. It is a centric zone and there is plenty to do if you stay in this neighborhood. The price isn´t the cheapest but it is worth for the variety of services and location, I would go for this option because you can do plenty of things by foot or even better by bike.
Thanks for reading, let us know if you come by we would be glad to help you with your touristic route. Follow us @vanenbicix2 instagram, facebook.
Gaby & Susan