"Everybody has a plan until they get hit." ~ Mike Tyson
We've heard this quote expressed different ways, most often to make it sound more "quotable". The point is obvious though, and points to the fact that our plans are often (usually) disrupted. When that happens, what's most important is how you respond, whether it's a minor stumble or you get punched in the face.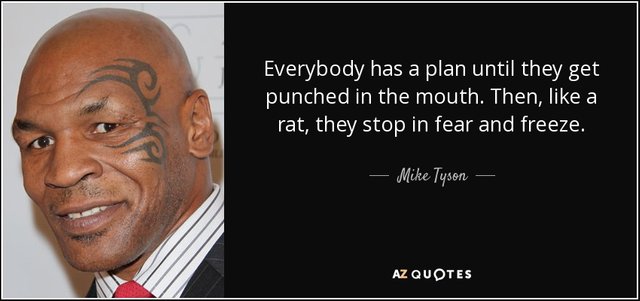 You Must Have a Plan
In trading, there must be a plan. If someone enters a position without a plan on how to manage it, they're asking to get their account wiped out. This plan should include, at minimum:
Stop - This means that you have a point where you've lost as much as you can tolerate. This can't be on a whim, but needs to be based on solid analysis. You need to really know why you picked the level you did for support (or resistance, if you're shorting).
Targets - This is usually a series of resistance levels (support if shorting), depending on your style. You might take out layers/percentages based on different levels.
But your levels are never perfect. The price might come up short or it might blast right through your levels of either support or resistance. Sometimes your plan in shattered in a good way, such as when your investment experiences a "blow-off top". We've seen this in cryptos over the past couple of years, exceeding the expectations of just about every investor. Last January was a perfect example.
But, what did you do? Did you get out at the top? Did you sell portions on the way up? Bail on the way down? Or did you experience the euphoria of seeing your position multiply, only to face the depression of watching it deteriorate? Even if you're still up from your original position, the drop made it feel like a loss. At the least, it was unrealized gains.
Or, maybe you're one of those who experienced FOMO, resulting in you buying at the top. You've held, afraid to lose and yet afraid your investment will drop more. You're sort of frozen in indecision, not really knowing how to manage your position. In effect, you got punched in the face... maybe. At least, it feels like it.
Get a Plan
This is part of why TIMM is here. You need a plan. Good analysts stress the need for these targets and to have a plan to protect your funds.
Most people buy without having a clear exit strategy. They need help developing one. Most traders agree - it's more about protecting your funds than growing them. If you learn to protect your funds, to minimize losses, then your gains will make your account grow. Even in a bear market, good traders can use technical indicators to trade counter-trends.
TIMM is searching for great analysts to help investors and traders navigate these waters. When you're sitting on a position, you need to know why you're in the position, how you're going to protect your funds and have clear strategy for taking profits. As TIMM's market of Mentors grows, it'll become increasingly possible to find someone who fits your goals and tolerances to help you develop that plan.
TIMM Has a Plan
While TIMM didn't really get hit, we have blown through our initial goal for launching Alpha. Things happen and plans are disrupted. In this case, it was a combination of health issues on the team and technological challenges.
So what do we do? We adjust. We try to encourage our alpha testers. And we let folks know what they should be able to expect.
As it stands now, we're hoping to be ready for Alpha any day. But we thought we'd be in Alpha a week ago. We were all-but-certain we would before last weekend was out. And yet the basic features that need to be rolled out in order to have a MVP simply aren't in place yet. So, we had to concede - we're not ready for Alpha yet.
On the flip side, we have five analysts ready to test TIMM as features roll out. They're standing by and ready. And we have several others that are interested, but unable to commit to participating in the Alpha test. At this point, we want to thank:
@AlexMorenoec
@BitBrain
@gandhibaba
@RollandThomas
@Workin2005
One other told us that he'll do it, but hasn't joined Discord yet, so we're being safe and not disclosing his name yet.
Please follow these analysts and offer your support. They're sticking with us through the stumble and we're committed to providing them the best services we can as we grow together.
A TIMM Team
To make any plan come together, you need the right people on the team. In addition to our Alpha testers, TIMM is growing and now has all the pieces needed to push forward. These include:
Operations
Tech Guru
Support/Training
Marketing
This rounds TIMM off pretty well. If someone is really interested in joining the team and has amazing copywriting and social marketing skills, TIMM would be interested in discussing possibilities. Feel free to shoot a note to Support (at) MentorMarket (dot) io, expressing your desire and sharing your qualifications.
Almost Alpha...
As noted, we anticipate being in Alpha within a few days. Watch this space for an announcement.
What will that mean?
You'll be able to set up a TIMM account (currently working)
You'll be able to connect to your Steem account (currently working)
You'll be able to post directly to Steem from TIMM (currently working, but lacking features - TIMM does have a HTML editor)
You'll be able to give/receive upvotes, comments and resteems from TIMM
You'll be able to set up your profile
You'll have your own RSS feed to your TIMM posts
And possibly more!
See? TIMM has a plan. And we hope you'll be part of it. Keep your eyes on this channel. We'll let you know as soon as Apha rolls out.
Uniting experts and novices for mutual profit!


Follow TIMM's voting trail on SteemAuto.