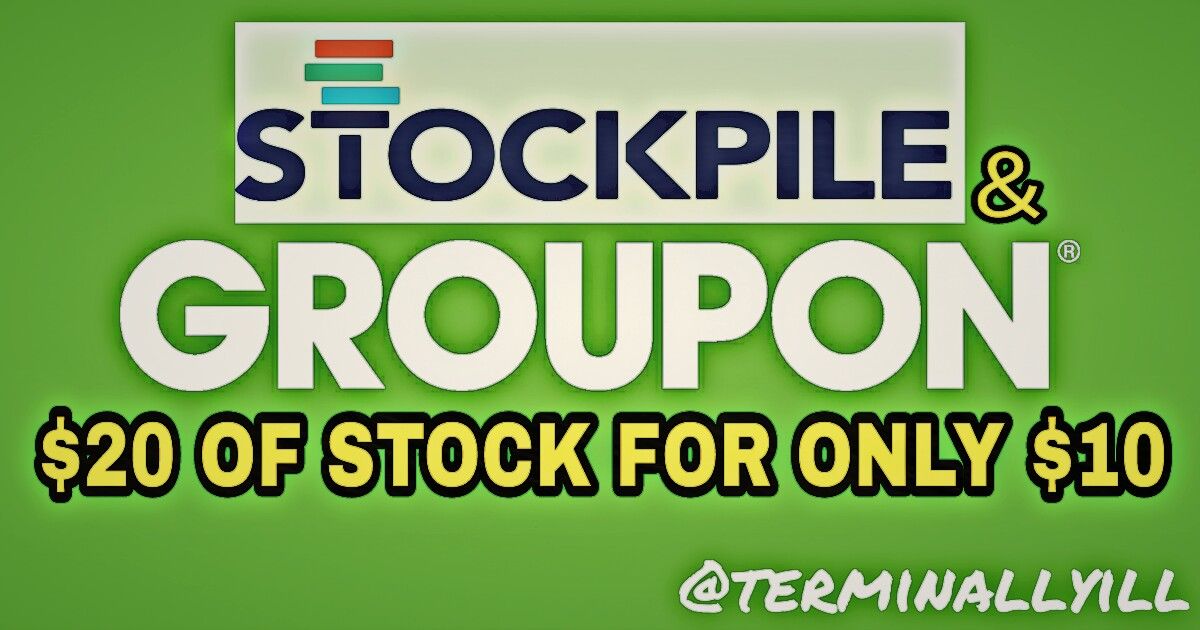 ---
By following these easy steps you can purchase $20 in stocks from the Stockpile App for only $10, giving you the ability to buy into Tesla, Amazon, Bitcoin and much more at a discounted rate! This deal is only active until the first portion of April, 2018, so do not hesitate to join in or you may miss your opportunity to catch these savings! The following instructions are a step by step account of how to purchase these stocks from an Android device, so you may have to "tweak" them to fit your individual needs if you use an Iphone or other device.
---
STEP ONE - FIND THE GOOGLE PLAY STORE ON YOUR DEVICE
On your applications screen or home screen, click on the Play Store icon, seen in the picture below circled in red. It will direct you to the Play Store, where you can download the Stockpile App along with many others.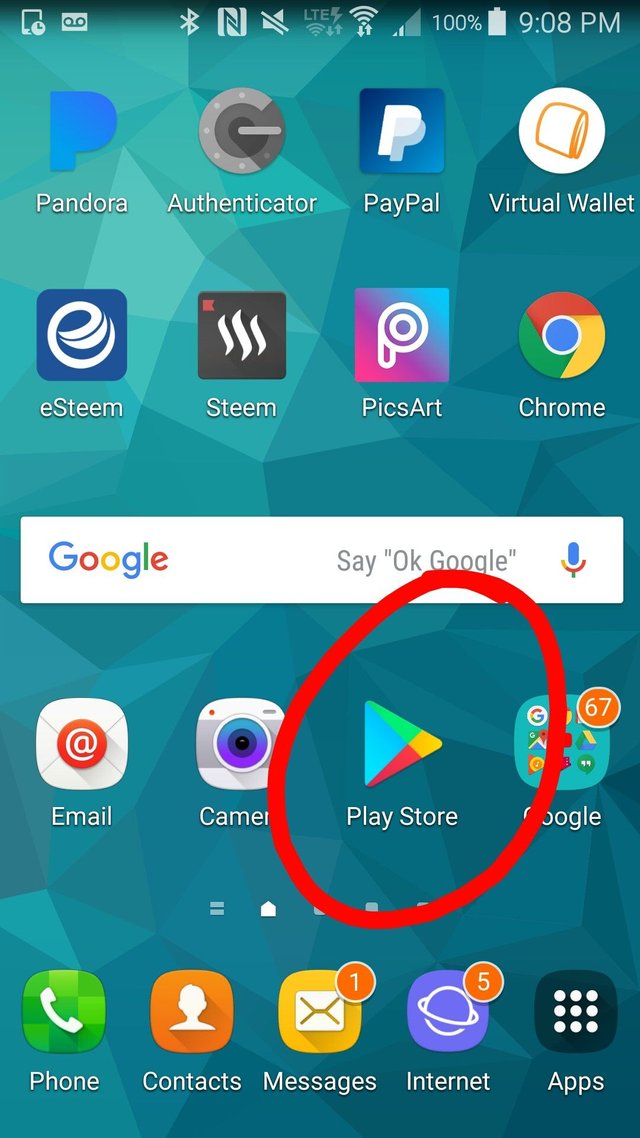 ---
STEP TWO - FIND AND INSTALL THE STOCKPILE APP FROM THE GOOGLE PLAY STORE
Once you are in the Play Store, search and find the Stockpile App. Once you find the Stockpile App, click on the INSTALL button, as seen in the picture below circled in red. This will download the Stockpile App to your android device.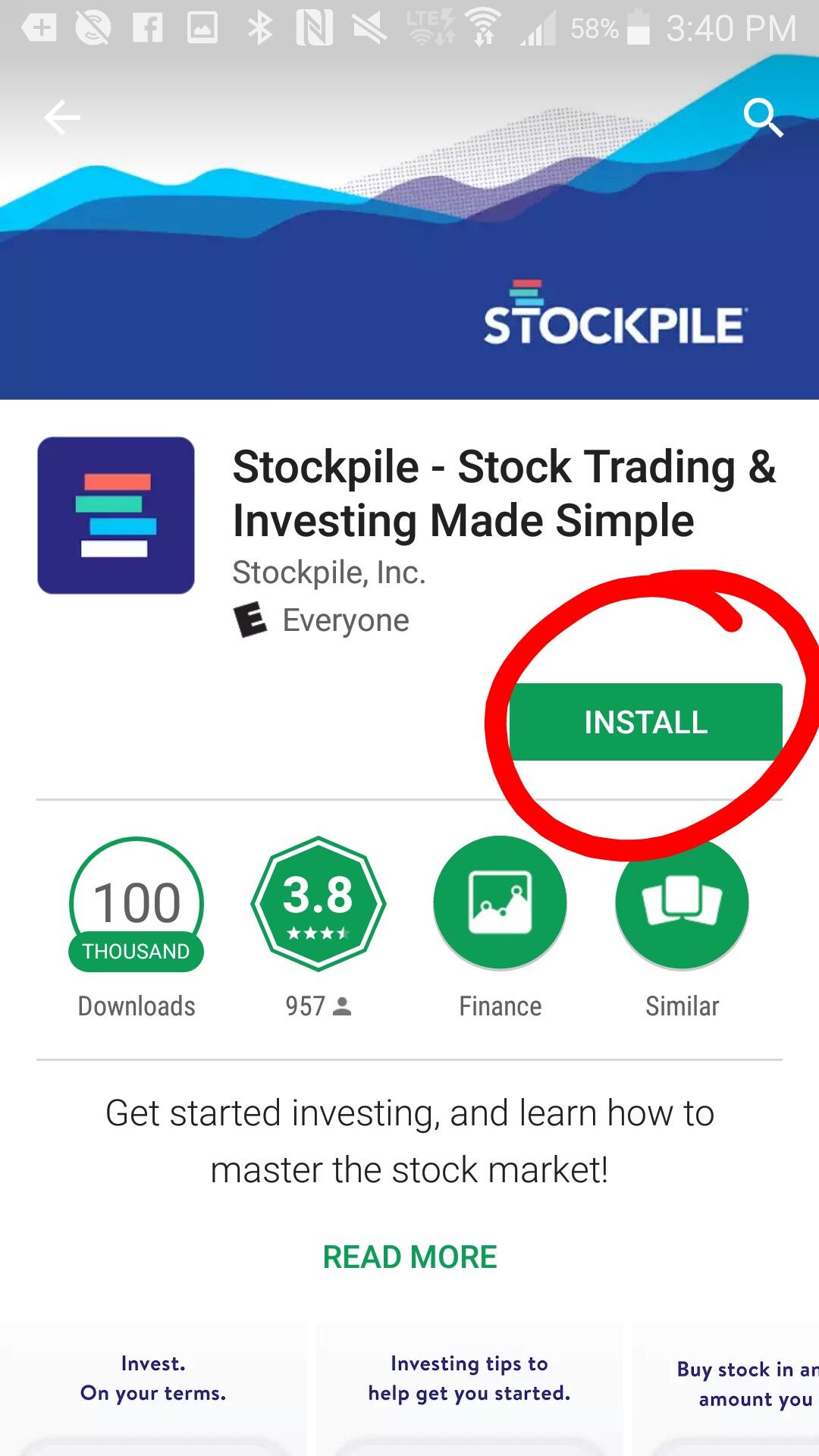 ---
STEP THREE - CREATE A STOCKPILE ACCOUNT ON THE STOCKPILE APP
Once you have installed the Stockpile App to your device, click on the SIGN UP button (as seen in the picture below circled in red) to begin creating your Stockpile account. You will be required to enter a valid email address, your real name and various other forms of pertinent information related to your identity. One positive thing about using the Stockpile App is the security measures the company takes to ensure they are dealing with who you say you are. This certainly helps some of us sleep better at night, knowing our identity and funds are protected by a reliable company. Once you have completed registration of your account, please proceed to the next step.
Please also note that with the Stockpile App, you can set up an account for personal use or custodial use. This means if you have children or relatives which are minors whom you would like to invest with, you are able to do so by completing the necessary forms of registration on the app. I personally set up a custodial account for my three year old daughter to give her equity in stock as she grows older. One parent to another, this is a great way to begin saving money and investing for your children's future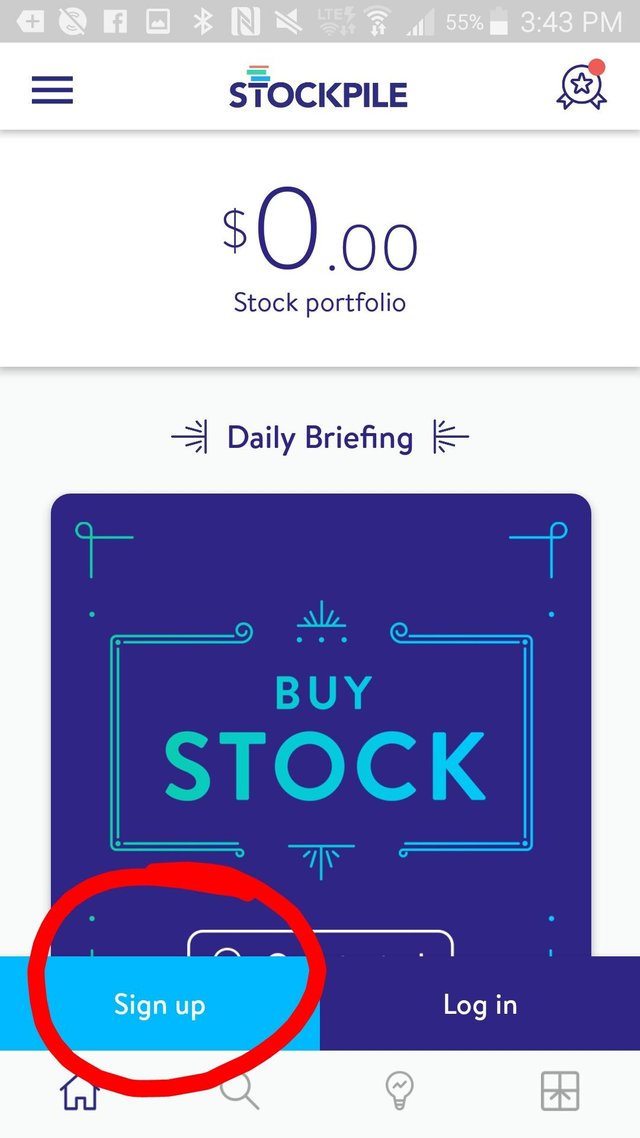 ---
STEP FOUR - SEARCH FOR GROUPON IN YOUR WEB BROWSER AFTER YOU CREATE YOUR STOCKPILE ACCOUNT
Once you have finished registering your account for Stockpile, it is time to hunt down this amazing deal on GROUPON. Simply go into your web browser of choice and search for either Groupon or www.groupon.com to find the Groupon home page. For ease of access you may also click HERE to be directed to Groupon page and bypass the search process.

Please be mindful to always check for spelling errors when typing a web address and make sure you are on the official Groupon page when you visit. These days, scammers prey on those who have unknowingly visited a mock site created to catch people who type errors in the url when they are shopping online. Friendly advice from one Steemian to another, pay attention to what you are doing online ANYTIME you are planning to spend your money.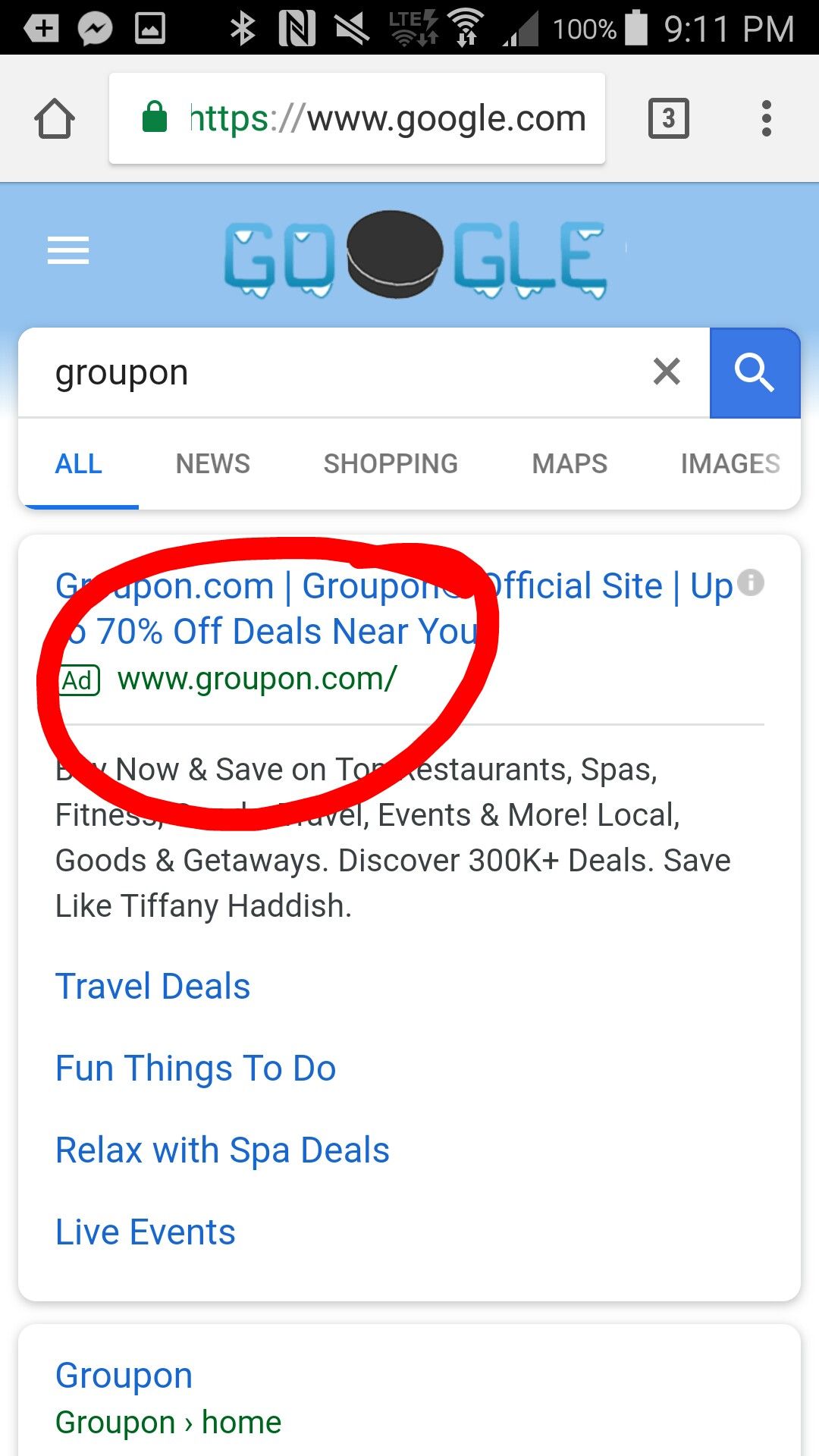 ---
STEP FIVE - VISIT THE GROUPON SITE AND SEARCH FOR "STOCKPILE" IN THE GROUPON SEARCH BAR
In the two pictures below, you can note the green Groupon search bar circled in red. In this area, search for STOCKPILE and hit enter. This will direct you to the page where any deals between Groupon and Stockpile are listed. The deal you are looking for is the $20 of Stock For $10, or 50% Off Stock. Please proceed to the next step after you have done this.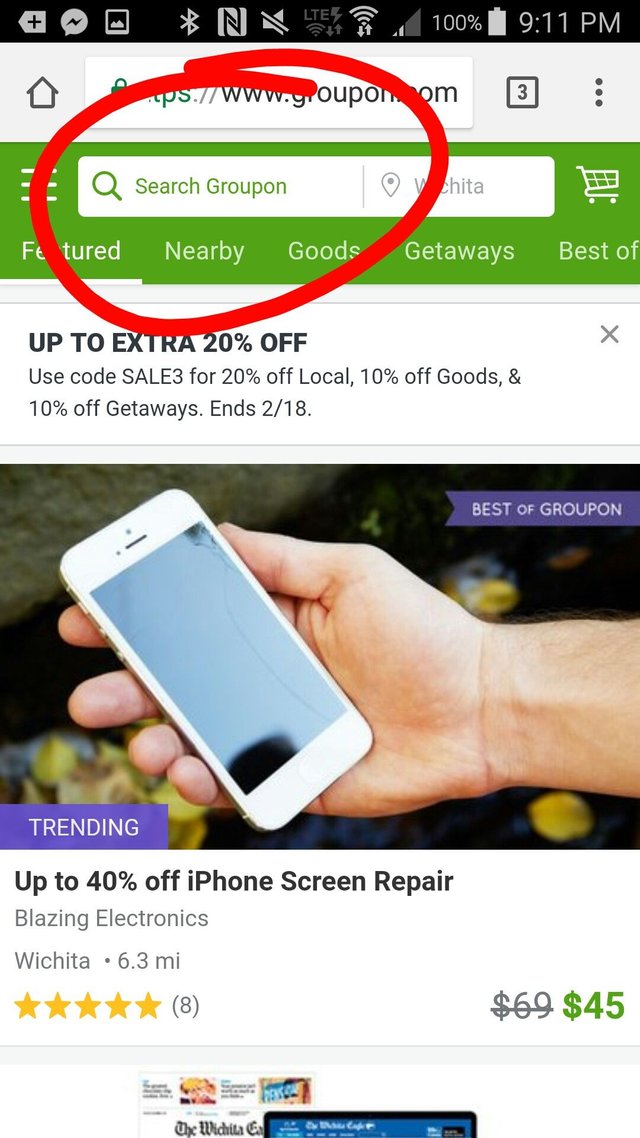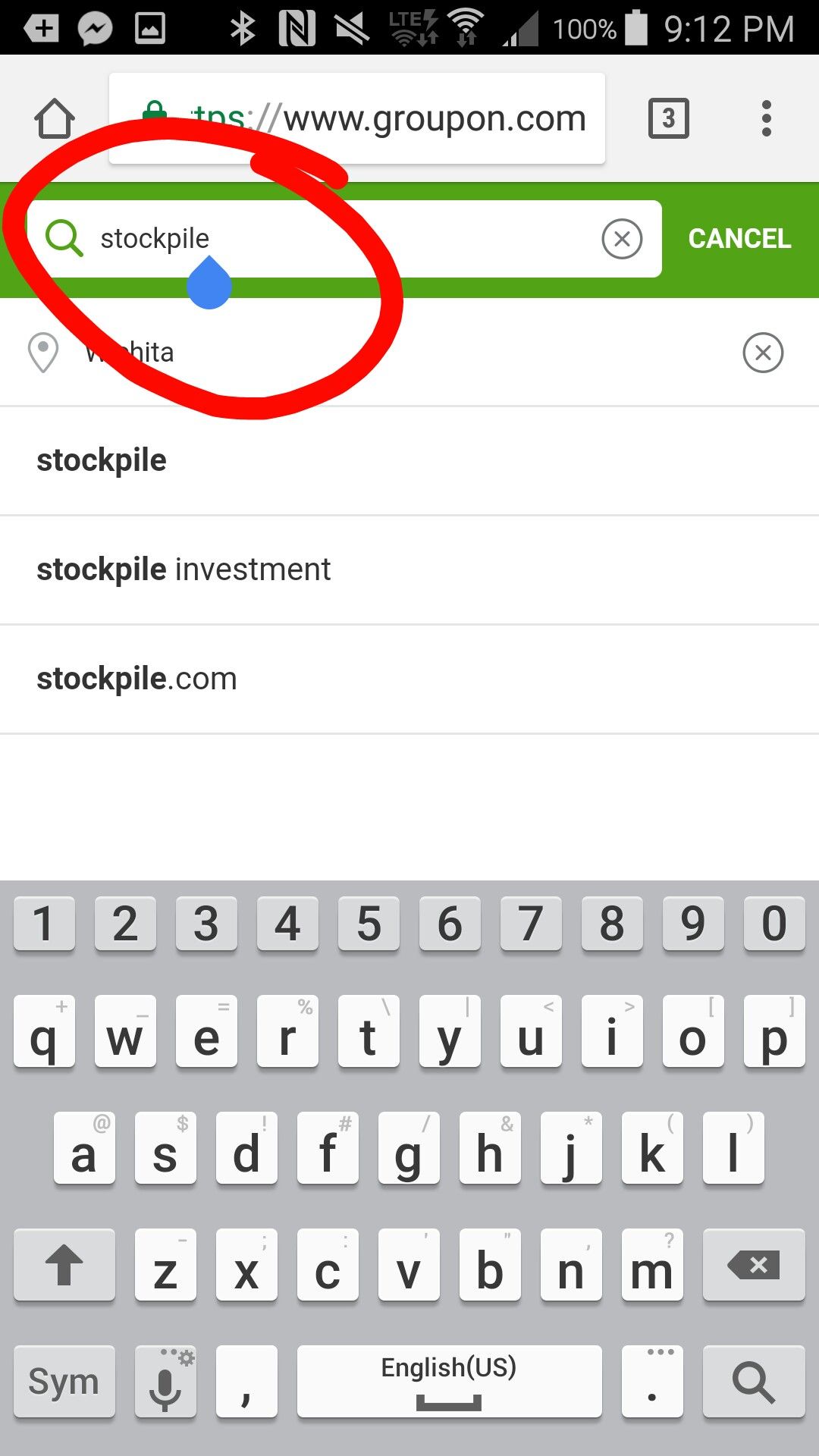 ---
STEP SIX - CLICK ON THE DESIRED $20 IN STOCK FOR $10 DEAL AND PURCHASE THIS DEAL FROM GROUPON
Locate the deal as seen in the two pictures below. This is the deal that we are here to buy, $20 IN STOCKS FOR ONLY $10! Simply click on the BUY BUTTON to proceed to checkout within Groupon. By using Groupon to purchase this, you also have the ability to pay using PayPal, in the event you do not have access to a traditional payment form such as a debit or credit card.
Take the time to read the fine print before purchasing. This more or less explains that this deal is not able to be combined, used more than once per account and is valid until the first portion of April of 2018. Sometimes the fine print contains valuable information one may want to read prior to purchase, so I strongly advise with any purchase online to make a habit out of reading this information.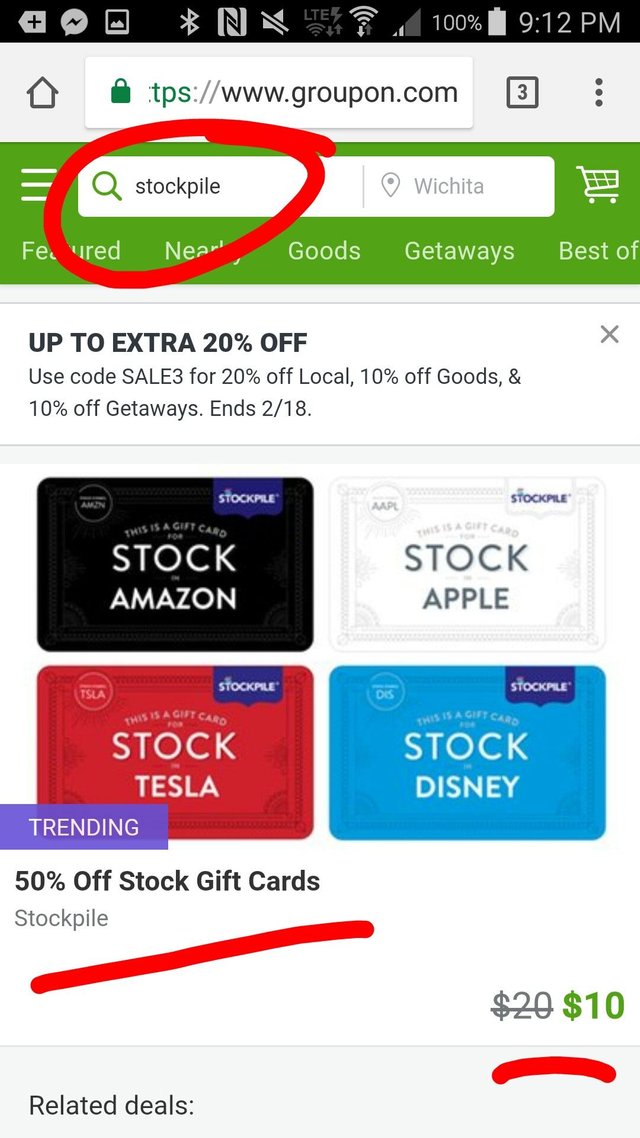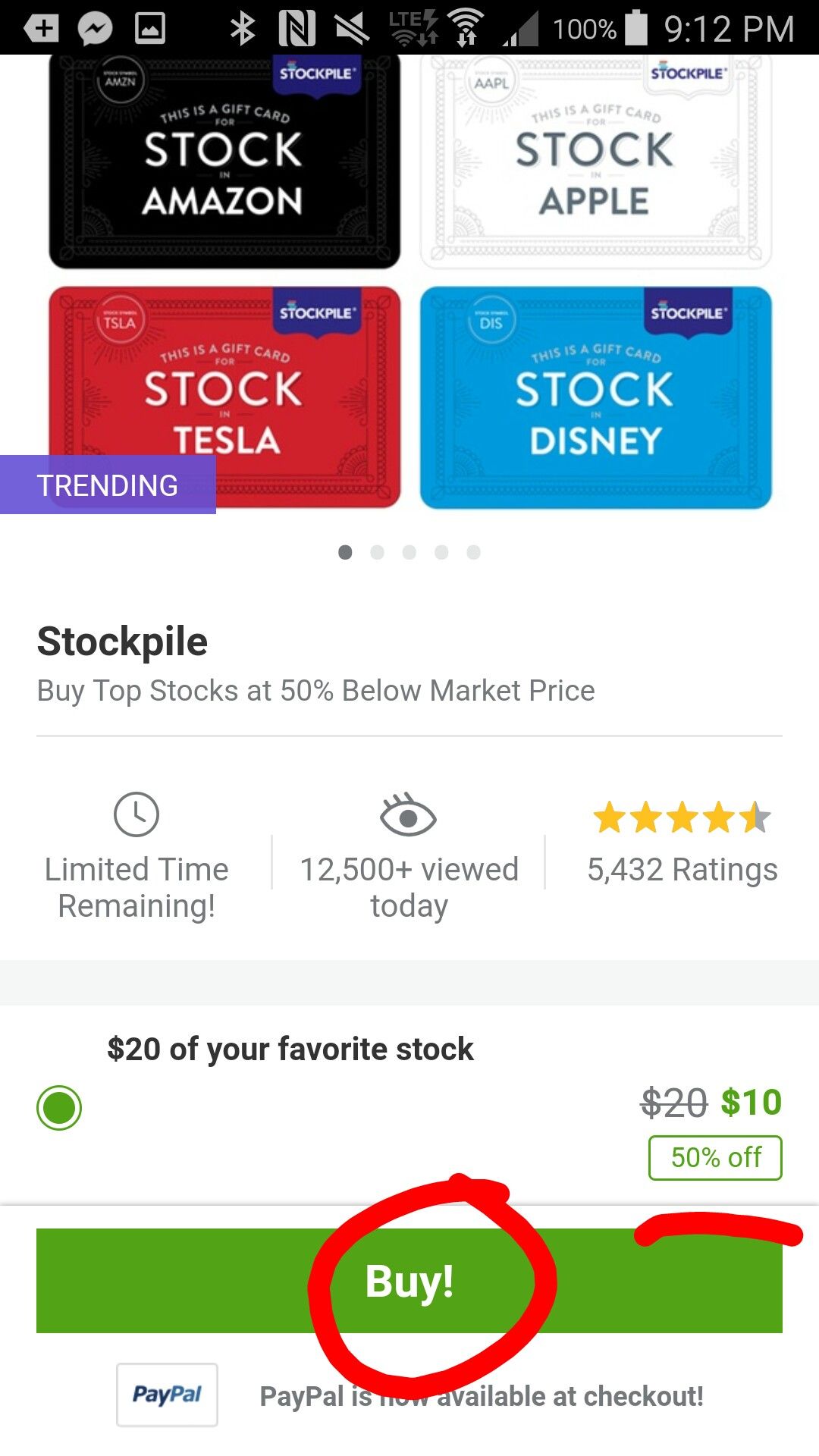 ---
STEP SEVEN - REDEEM YOUR PURCHASE FROM GROUPON ON THE STOCKPILE APP
Once you have completed your purchase from Groupon, you will be sent an email with your gift card voucher which is only redeemable with Stockpile. You will want to open this email and write down/record the gift card number so you may redeem it promptly with your Stockpile account. After this, go into the Stockpile App and click on the MENU BUTTON on the top left of the app screen. This will cause a slide out menu to appear with menu options, one of which is REDEEM A GIFT. Click on this.
After clicking on REDEEM A GIFT you will be brought to another page on the app which is pictured below. In the area labelled GIFT CARD CODE (which is circled in red in the picture) you are going to enter the Groupon gift card/voucher code that you retrieved from your email just moments ago. Once you have entered your code, your account on Stockpile will be credited $20.
So, if you followed these steps, you just purchased $20 in credit for Stockpile for only $10, redeemable for ANY STOCK that they offer within their company. As you can see, they offer a wide variety and many different options ranging from conservative investing to aggressive investing. This is a must buy deal for anyone, especially considering that you can move your money right into your bank with the click of a button on the app, if you have linked your bank to the app that is. But wait, that's not it, there's still one more thing left to do........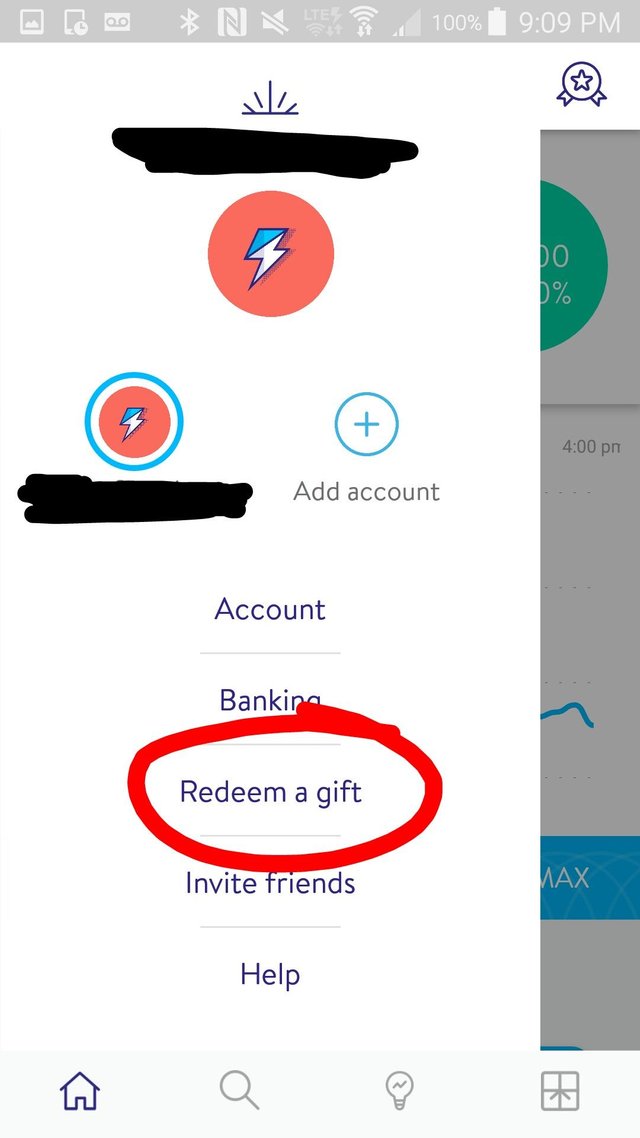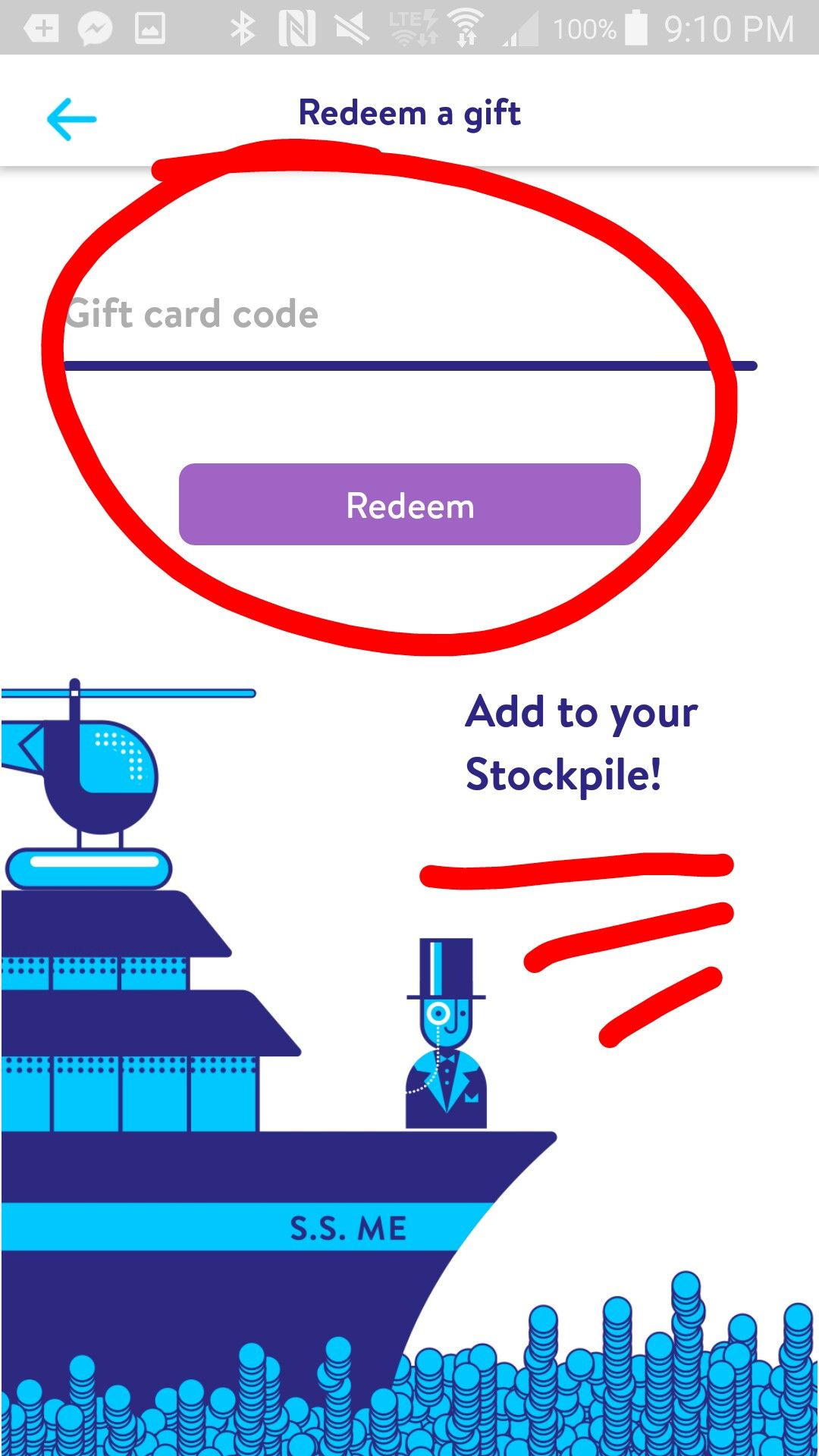 ---
STEP EIGHT - BUY STOCK WITH YOUR $20 STOCKPILE CREDIT
So now you have completed the purchase and have redeemed your gift card, leaving you with $20 in your Stockpile account. So what's next? Buying stock of course, which will not be a problem on this app. They have a wide variety of stocks, from General Electric to Disney, heck they even have BITCOIN available as a stock option, as you can see in the picture below. GBTC is a great way to invest into Bitcoin through the traditional stock market and GBTC is significantly easier to track performance on. With your $20 gift voucher, you have enough to buy one share, or buy as much as you can with it being Stockpile allows their clients to buy "portions" of stock if you cannot afford the entire thing.
So, there it is from start to finish. If you followed these 8 steps and have just stepped into the world of stock trading, I want to wish you the best of luck and much prosperity with you endeavors. I hope that this tutorial has been of help to someone in the Steemit community! Don't forget to invite your friends to join Stockpile, they get a free $5 credit for following your referral to the app! Spread the word, spread the motivation and encourage financial freedom by sharing the wealth of knowledge this article provides! Good luck my friends!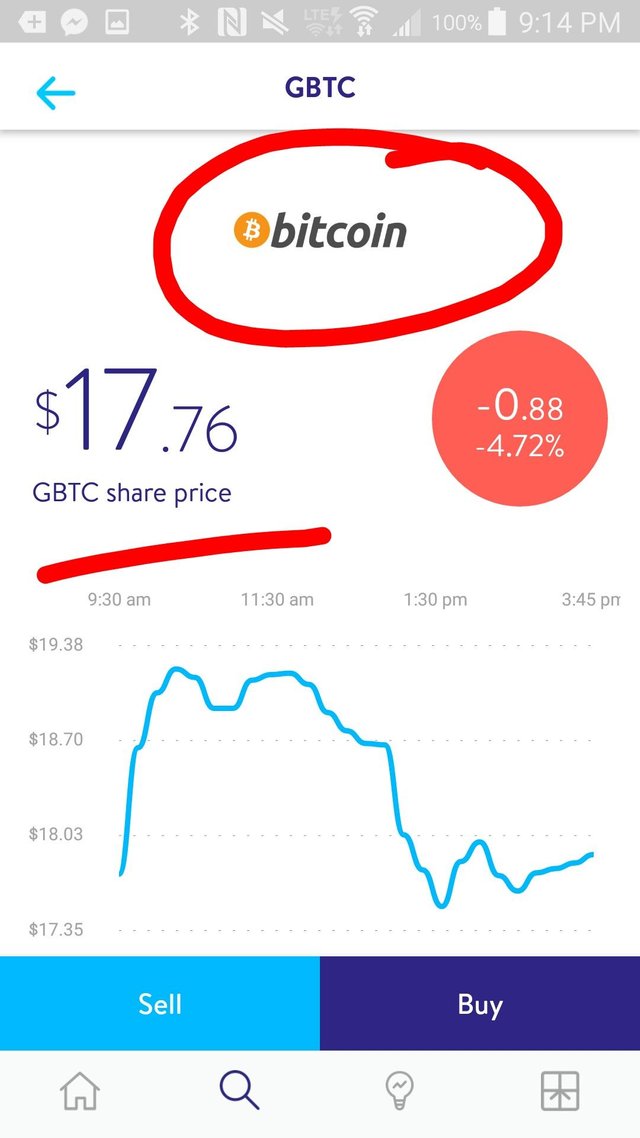 ---
Please follow me @terminallyill to see my articles on investing, life, music and crypto.
---
Please check out my original hip-hop/rap music on dtube by clicking HERE
---
Read the first article of my Crypto Guide For Beginners by clicking HERE
---
Learn how to make an extra income even while you sleep by clicking HERE
---
Read my article on Buying into Binance HERE and my coin prediction for Bitshares HERE
---
THANK YOU FOR READING THIS ARTICLE ~ DON'T FORGET TO FOLLOW ME