Ready to earn some extra cash without having to leave your house? You don't need to get a part-time job, you can simply try one (or more!) of these money-making ideas that let you work from the comfort of your own home.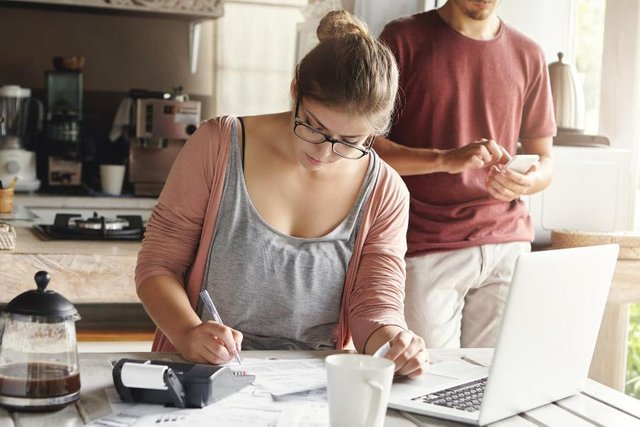 Some require a bit more effort than others, so pick something you're excited about and you'll be less likely to give up before you start seeing steady income.
No matter what your schedule is like or what kind of personality you have, there's something on this list for you.
#1: Build a Freelancing Side Hustle
It seems like everyone has a side gig these days, and there's a reason for that. Freelancing gives you extra money on the side in exchange for skills you already have. It's the perfect job for the digital economy, plus it's fun. You get to work with people from all over the world and choose projects that excite you.
Not sure if you have the skills needed to be a successful freelancer?
The truth is, employers need all kinds of work completed and are willing to pay for it. Check out these examples of freelance jobs you can easily nail, regardless of your work history or level of experience.
Proofreading
Writing blog posts
Ghostwriting e-books
Managing social media
Writing Amazon product descriptions or Ebay listings
Transcription
Graphic design
Virtual assistant
Web development
Translation
#2: Give Your Opinion
There are a couple of opinion-based jobs you can do online. One is being a user tester for websites and apps. You sign up through a company then visit websites or apps and give feedback on your experience.
Pay starts around $10 per project, which can take between 10 and 20 minutes. Look at that as an hourly rate and you can easily start off making $30 an hour. Availability generally depends on your demographic and what kind of customers the user testing company requires.
Another way to give your opinion in exchange for money is to take online surveys. You can sign up with several companies to help increase your chances of being selected since surveys are also usually demographics-based.
Although you may only earn a few dollars per survey, they should only take a few minutes to complete. That means if you get $5 for a survey and complete 10 each week, you can earn $200 a month.
#3: Sell on Etsy
If you've ever made something and received an unsolicited compliment from a friend or relative, try selling your creation on Etsy. There are countless stories of people who have quit their day jobs in order to focus solely on making things like rainbow wall hangings.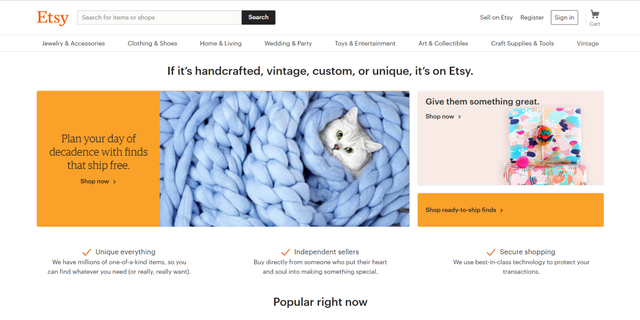 What's the key to being successful on Etsy?
A huge part of the equation is pricing. You need to make sure the amount you can sell your product for covers both the cost of your materials and your time. Search for similar listings to see what other people are charging as well as how successful their sales are.
Click on a shop name to see how many sales an Etsy seller has made. You can read some of their reviews to get insights on what customers do and don't like about a particular product.
As with anything you do online, make sure you're using the right keywords to reach your target customer. Get on social media so you can interact with followers and get them to tag and share your product.
And if you're not hugely artistic? Search around to get an idea of the broad range of offerings available on this powerhouse sales platform. People make some great money selling anything from vintage Ball jars to collectible postage stamps. Get creative and you're sure to become a #etsybestseller.
#4: Get on Instagram
It may take some time to become an Instagram influencer, but once you do, you can start earning a significant amount of side income. Even if you start with just a few sponsored posts, it'll be some nice supplemental earnings.
In most cases, you'll want to create a specific focus for your Instagram account. Do you follow a certain diet lifestyle? Do you travel to obscure destinations? Find your niche and be liberal with the hashtags so people can find you.
One important way to develop a loyal following and accumulate those likes is by interacting with people. Ask questions related to your posts and actually respond when people take the time to answer. Most Instagram influencers will tell you that spending an hour or two a day to manage your interactions is a big part of the secret sauce.
After you've gained a following, you can start partnering with companies to get paid for talking about their products. Start off by doing this for free with products you already use and love. You can also find websites that let you apply to become a brand ambassador or schedule a sponsored giveaway. Just be sure to stay authentic to yourself as you build your earnings, otherwise you may turn off your followers.
#5: Sell Digital Products
There are countless ways to earn money by selling digital products, plus various platforms on which you can sell them. We'll go over a few different examples so you can find something that works for you.
One of the oldest digital products is the e-book, which you can upload and publish to the Amazon Kindle store within minutes. Obviously, there's going to be some marketing involved in order to be successful, but if you have a dash of expertise on any type of topic, you can write an e-book about it.
Alternatively, if you have a fictional manuscript lurking on a flashdrive in the back of your desk drawer, dust it off and become your own publisher.
Another digital product you can sell is an e-course. If you already have some type of platform like a blog or social media page, you can push your course through one of those. Otherwise, you can publish and sell your course on websites like Udemy or Teachable.
Your course topics can be anything from how to master World of Warcraft to how to become a vegan. Did you already publish your e-book and make a ton of money? Make a course on how you did it.
Finally, small digital pieces can also sell well. If you make worksheets for your kids or cute planners and calendars, they can all be sold on places like Etsy and Teachers Pay Teachers.
#6: Start a Podcast
It's entirely possible to start a podcast on a low or no budget. As long as you have a computer with a microphone, you can get started and then upgrade to better equipment once you start to gain a following. Like most of our other content ideas, think about something you're passionate about. This is perhaps most important with a podcast because your voice will carry your authenticity and engage your listeners.
Get creative with your podcast topic. Again, here's a great opportunity to evaluate your specific expertise and hobbies. Do you love home design? Are you a master gardener? Do you have access to interesting guests you could interview?
If you really want to make it easy, you could simply read classic books or tales from the public domain. Think about what you like to listen to on your commute or during your workout, and go from there.
How do you make money with a podcast?
There are a couple different ways. One is through podcast sponsorships. You simply record a brief introduction outlining the product or service you're promoting, usually with a promo code to link any purchases to your show.
You can also include affiliate links to help promote specific items. Additionally, many podcasters allow for donations to be made directly from listeners. If you really get things going, you could even host paid events to have your fans come and see you live and in person.
Inspired to earn extra side income for your own home? There are definitely plenty of ways to make it happen and as the saying goes, there's no time like the present.
Like this post?
Check out Crediful.com & follow us on Steemit, Twitter, or Pinterest.