Hey guys!
We have a great new feature out there. Hope, you will like and use it!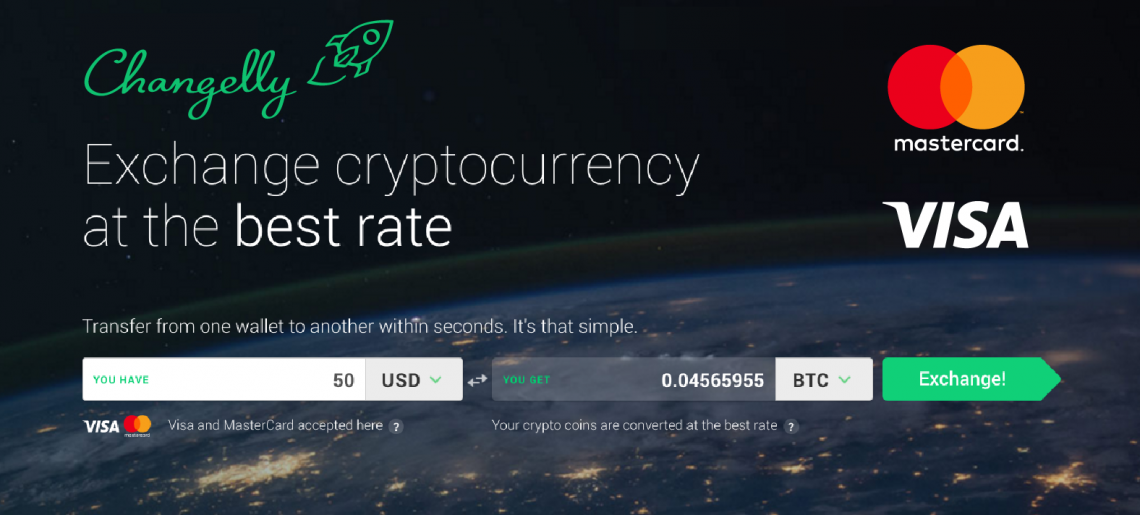 The end of 2016 was quite fruitful for Changelly. Finally, we've released a new big update allowing to accept bank cards to buy cryptos for fiat money! Any currency of any country is accepted (euros, pounds etc.) and calculated in dollars.
We're so excited to introduce you this new cool feature in our step-by-step guide.
Wanna buy bitcoin for USD with credit card. Learn the easiest way how to do that on Changelly! 
First, go to the home page and select USD on the left and a crypto you want to buy on the right.



Check attentively the rate and the amount you are going to get.



Specify your BTC address (or any other wallet address of the crypto you want to buy).



Once again, check all the payment details and go next to create a transaction. Once you created, you automatically agree with the terms.




Your transaction is created. Now the most interesting part begins. Read the requirements below the button and click 'Pay with Mastercard/Visa'. Cards processing is made by our partners Indacoin Limited, headquartered in London.

 

Now, you're offered to enter your bank card data. Remember that it should support 3D-security.



Enter a valid phone number attached to your card.



Now wait till you get a phone call. You'll hear a digital code to enter.



Now go to your online bank app and find a bank statement with a three-digit code to specify. It should look like this:



If you can't find the code for some reason, there is an option to record your voice saying 'Indacoin verification' and send the picture of you and your passport.



Once you've entered the code or sent your data, wait a little until your transaction is finished.



Within 5-30 minutes, you will get your money and the receipt.

Bank card support is a brand new feature on Changelly to improve. If you have questions or suggestions about how it works or should work, we would be happy to get them on support@changelly.com.