XMR Mining Difficulty at Lowest Since November 2017 | Monero Difficulty Watch e6🕵️
Monero XMR is still profitable to mine but when will the ASIC threat return?
Hopefully, never. Monero XMR's difficulty has been on a consistent decline since the CryptoNightv7 hardfork and there's only about 3 months left until the next scheduled anti-ASIC fork. Although we've seen the return of FPGA mining; true ASICs may no longer be feasible mining XMR, given the 6mos mining window.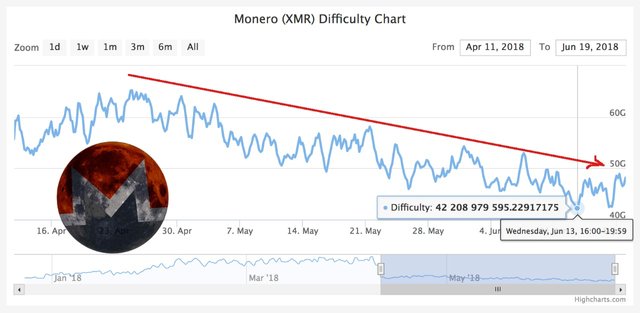 We now have the lowest 'Moonero' difficulty since November 2017!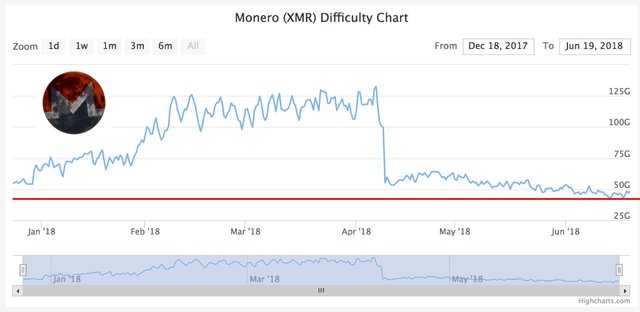 Focus on the Good News
Hardpressed to find any good news regarding prices and caps in the current market. The reward per block is down due to the market-wide sell-off since the previous Monero XMR Difficulty Watch post, but that shouldn't deter anyone from mining Monero with it's current profitability.
$XMR Mining is a great way to hedge and grow your portfolio in a bear market.
Known for being mined on just about anything; by forking away ASICs and botnets every 6mos, Monero XMR will maintain it's dominance in the privacy coin sector and continue to be the most decentralized altcoin. Other coins I hodl in the sector include DigitalNote $XDN, Dash $DASH and Linda $LINDA.
Current XMR Difficulty:
Difficulty 47.657 G +7.38% in 24 hours
Hashrate 400.452 Mhash/s +0.46% in 24 hours
Monero Mining Profitability 1.0301 USD/Day for 1 KHash/s
Reward Per Block 4.39+0.04065 XMR ($567.8 USD)
Reward (last 24h) 3,189+29.51 XMR ($412,490.68 USD)
Monero Price 1 XMR = $ 128.15 USD (2018-06-18 22:51:25)
*Chart from CoinWarz
*Data from BitInfoCharts
Let's enjoy the low Monero difficulty and profitable GPU mining while it lasts!
---
More Steem
---
Interested in mining Monero XMR? Try Minergate.

How to cash out your Crypto? Try Spectrocoin