Buy Mint Club tokens directly from BNB and 21 other cryptos - Introducing Zap In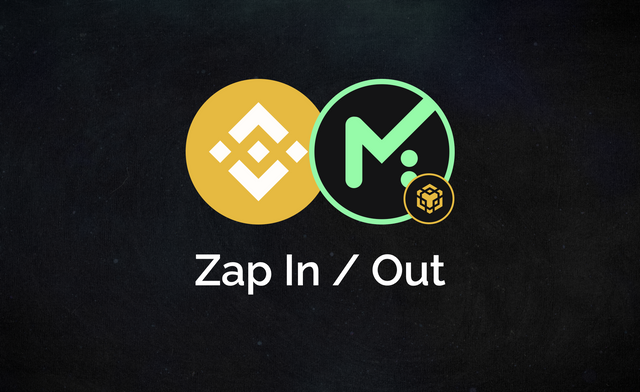 At Mint Club, we're building a place where anyone with an idea can create a token economy effortlessly.
Imagine that you can:
Create a token without coding,
Make them tradable instantly without any LP pairs, and
Your target users can DIRECTLY buy/sell your tokens with BNB and other cryptos.
This can be a game changer for your token economy operation, right?
Today, we're proud to introduce a new feature on Mint Club - Zap In (Zap Out will be added in a couple of weeks).
Zap In - Enable users to buy Smart Tokens directly with their BNB and other cryptos
Previously, to buy Smart Tokens (the tokens created by the Mint Club protocol), you had to use MINT tokens, meaning that you had to go to PancakeSwap first to trade the MINT tokens.
From today, you don't need to go through PancakeSwap for MINT when you buy Smart Tokens. You can simply use your BNB or 21 other cryptos directly to buy the Smart Tokens on Mint.club.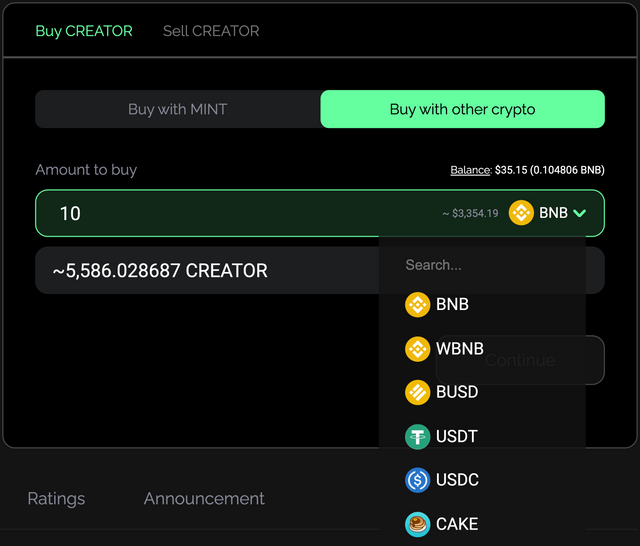 Supporting cryptos for the Zap In
| Token Symbol | Contract Address |
| --- | --- |
| BNB | - |
| WBNB | 0xbb4CdB9CBd36B01bD1cBaEBF2De08d9173bc095c |
| BUSD | 0xe9e7CEA3DedcA5984780Bafc599bD69ADd087D56 |
| USDT | 0x55d398326f99059fF775485246999027B3197955 |
| USDC | 0x8AC76a51cc950d9822D68b83fE1Ad97B32Cd580d |
| CAKE | 0x0E09FaBB73Bd3Ade0a17ECC321fD13a19e81cE82 |
| BTCB | 0x7130d2A12B9BCbFAe4f2634d864A1Ee1Ce3Ead9c |
| ETH | 0x2170Ed0880ac9A755fd29B2688956BD959F933F8 |
| DOT | 0x7083609fCE4d1d8Dc0C979AAb8c869Ea2C873402 |
| TRX | 0x85EAC5Ac2F758618dFa09bDbe0cf174e7d574D5B |
| ALPACA | 0x8F0528cE5eF7B51152A59745bEfDD91D97091d2F |
| MBOX | 0x3203c9E46cA618C8C1cE5dC67e7e9D75f5da2377 |
| BTT | 0x8595F9dA7b868b1822194fAEd312235E43007b49 |
| ADA | 0x3EE2200Efb3400fAbB9AacF31297cBdD1d435D47 |
| BUNNY | 0xC9849E6fdB743d08fAeE3E34dd2D1bc69EA11a51 |
| TKO | 0x9f589e3eabe42ebC94A44727b3f3531C0c877809 |
| LINK | 0xF8A0BF9cF54Bb92F17374d9e9A321E6a111a51bD |
| HERO | 0xD40bEDb44C081D2935eebA6eF5a3c8A31A1bBE13 |
| XRP | 0x1D2F0da169ceB9fC7B3144628dB156f3F6c60dBE |
| UNI | 0xBf5140A22578168FD562DCcF235E5D43A02ce9B1 |
| XVS | 0xcF6BB5389c92Bdda8a3747Ddb454cB7a64626C63 |
| SKILL | 0x154A9F9cbd3449AD22FDaE23044319D6eF2a1Fab |
Make your own token website or blog
We also launched Widget Link three days ago. It's a special link that displays only the token features that you design. With the Widget Link you create, you can put the link on your website, blog, community group, or any place where you can add a link.
When your target users click the link they can access your token directly. They won't need to be directed to the Mint.club website or even know about MINT tokens.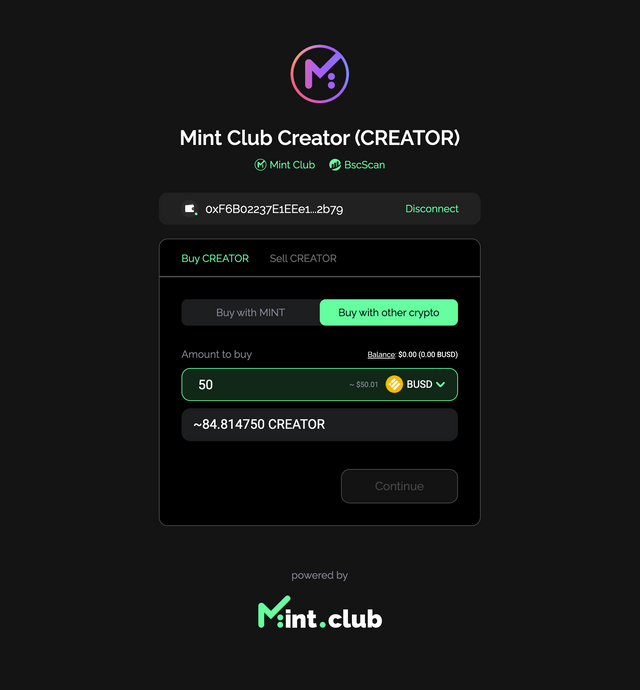 https://mint.club/widget/buysell/CREATOR?action=buy&amt=50&currency=BUSD
Now this Zap In feature makes the Widget Link stronger. They can buy your smart token directly from their BNB or other cryptos without knowing about MINT tokens. So, you can independently run your token site, blog, or chat group. They don't need to visit the PancakeSwap or even the Mint.club website to interact with your token. You can simply use the Widget Link in your place. We truly believe that this can provide a powerful engine for your token economy operation.
---
Mint Club web app | Docs | Telegram | Twitter