"From One Newbie to Another"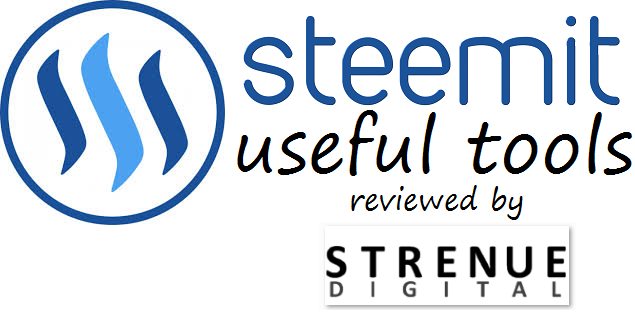 17-Feb-2018
by STRENUE DIGITAL (41)
RED FISH

| Post Series: | Learning to Steemit - "From One Newbie to Another" |
| --- | --- |
| Post Number: | #3 |
| Post Topic: | Steemit Useful Tools |
| Post Focus: | http://steemtools.com/ |
Introduction
Hi Steemit Community! This is the third post in the "Learning to Steemit: From One Newbie to Another" series. Today I would like to talk about the topic of useful tools on the Steemit platform that are available to be used by us RED FISH newbies and any other Steemians. Some of these tools provide a huge amount of value to someone who is new to the platform and still getting to grips with the concept of a Social Media platform built on a blockchain that pays you to post content.
Firstly, I would like to say that there are many useful tools out there that have been created by members of the Steemit Community, this post series will not cover all of them. My focus is to cover the useful tools that I tend to use, some tools I use hourly, others I might use once a day and still others I will refer to on a weekly basis. The Steem Tool that I am going to talk about today is the website http://steemtools.com/.
Review
The steemtools website was created by @roelandp. For those of you who do not know of @roelandp, he is a very well respected member of the Steemit community, his current reputation is (71). He is also a very active witness on the platform. He is one of the witnesses that I currently vote for. Here are a couple links for you if you would like to learn more about @roelandp (Link 1) and (Link 2).
When you navigate to the steemtools website you are greeted with a very clean and simple interface. The steemtools website acts as a catalogue for the large number of third party tools that have been developed by various members of the Steemit Community.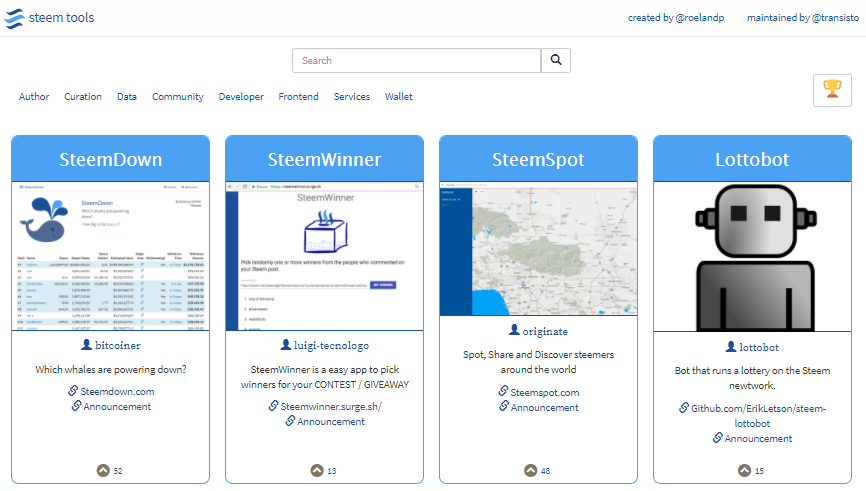 image source
I really like the filter categories at the top of the page that allow you to filter the Steem Tools. You also have the ability to sort the tools by ranking when you click on the trophy icon.

image source
The filter categories are:
Author
Curation
Data
Community
Developer
Frontend
Services
Wallet
I highly recommend that you have a look at this website and see which of the Steem Tools will be useful to you and help you to achieve your goals on the Steemit platform.
Some of the tools that I will be reviewing in future posts are listed below:
| Tool | Description | Created By |
| --- | --- | --- |
| Vessel | A desktop wallet for the Steem blockchain. | @Jesta |
| Steem Supply | A tool that forecasts what you are going to get paid for your posts and comments. | @dragosroua |
| Steemd | A tool that allows you to view your voting power, available bandwidth, who upvoted your posts, etc. | @roadscape |
| Steem Whales | A tool that allows you to view the rankings of Steemians by reputation, followers, Steem Amount, Steem Power, Steem Dollars, etc. | @heimindanger |
If there are any other tools that you use or would like to be reviewed, please comment below and I will add them to the list.


Previous Posts in Series