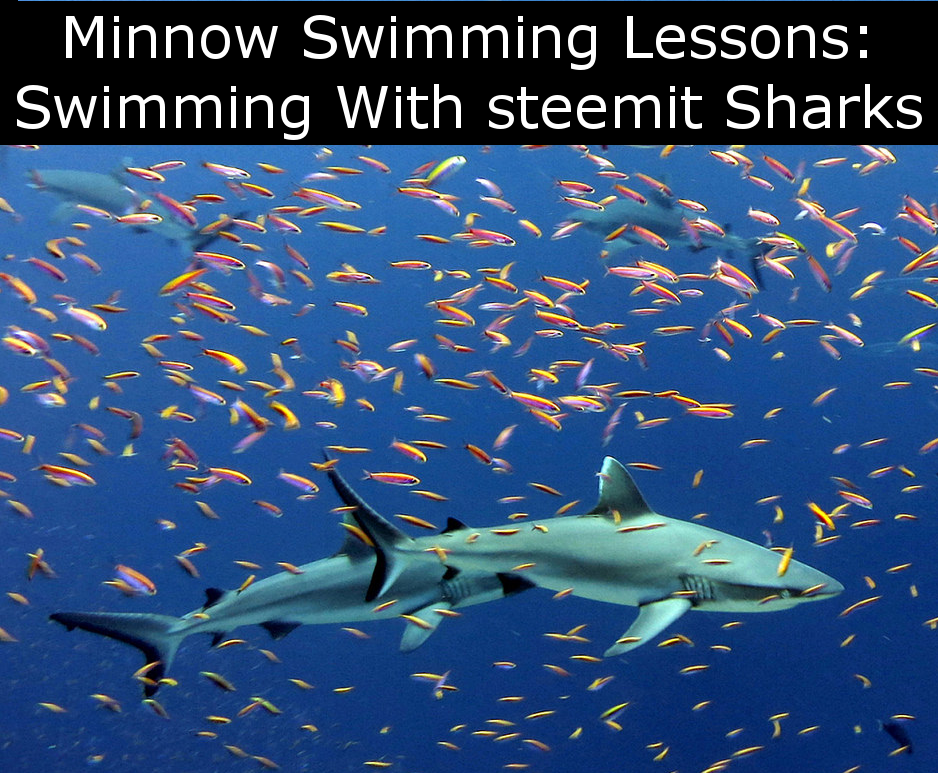 I was speaking to the minnows in the P.A.L. Discord channel after my "how to" exchange post and I asked for the next topic that they needed help with. I had to think about this one quite a bit, and it's funny because someone else asked me yesterday if I thought it was possible to earn a living on steemit. I don't want to make some huge instructional post here as it wouldn't express my thoughts or feelings on the matter accurately. So here goes, I'll include some suggestions of what I see work and I'll tell you some suggestions of what not to do, but if you want to understand it and actually do it then all I can do is tell you how I feel about it.
First things first, I don't really care for the "terms" of minnows, whales, or dolphins or whatever else. We're all people. We may have different intentions and motivations for being on steemit, but I can tell you that if they don't align with the people that you want to follow you, then you won't be successful here. If you want to see a long term internet based option for a "new economy" then I suggest powering up your SBD and HODLing. I realize that this isn't viable for everyone, but if you're powering down and cashing out now, make sure it's because you need the money and not a decision you regret later. Steemit is an opportunity to build something, and we're doing a good job so far, that the world hasn't seen before. It's an economy based on giving and in a world of attention seeking social media platforms that is refreshing.
My first suggestion on "what TO do" is to invest in the platform. I don't mean go sell your stuff and buy into it. I mean invest yourself into the platform. People here respond to authenticity. If you feel like scrolling down and finding my introduceyourself post, you can see why I am in crypto and I'm all in. I have no fall back plan, if crypto doesn't succeed then neither do I. Am I invested in steemit? You tell me, it's my source of income for the last several months and I don't work a "job" I just work on steemit. I'm not a coder, I'm not out marketing, but what I do is promote engagement. I invest my time in steemit because I know this is it. We are succeeding and there is no "will succeed" mentality.
My second suggestion is don't take shortcuts. You want to build a following? Nice, we all do. If you want to understand that many of us come from extremely humble beginnings on this platform, then scroll down on my page and see how many posts I've written longer than this one that paid out less than a dollar. I didn't care, because steemit is only going up long term and the connections we build now will literally change our lives later on. Don't go around doing spam comments, don't do generic comments that show you didn't even read the post, if you want a following then you go out there and make one. Engage with people and show them respect. They will do the same or they wont, but that isn't your problem. Keep doing it and be authentic. If it doesn't interest you then don't fake it.
My last suggestion is to be consistent. If you want people to regularly read your post, make a series or stick to a theme. Sure you can have multiple themes or series, I highly suggest it. The point is to not go chasing "what you think people want to read." Post things that matter to you and find people that like the same things. Don't beg them to upvote or follow you. Engage on their posts and trust that if they are being real and know that you are too, then they will be checking out your stuff as well. I actually had to start clearing out spam accounts because I had some infiltrate my posts in the past. Being muted is a good way to not get a chance to redeem yourself. Keep it real and do it because you believe in the platform and not greed and if you follow these guidelines I believe anyone can be successful on steemit. Namaste.