In an attempt to keep the public informed of what the Minnow Support Project leadership does and how they do it the organization publishes meeting minutes. These are minutes from March 13th, 2018. An effort is underway to get more caught up than we are at present. I mentioned it was made a little difficult because of some missing meeting minutes in February and March, but we're working on it. These are some of the minutes that were recovered.

In attendance- aggroed clayboyn crimsonclad discordiant isaria kubbyelizabeth ma1neevent neoxian juliakponsford r0nd0n swelker101
no saturday forum so everyone's off the hook
Aggroed didn't prepapre meeting minutes for scrubbing
Witness voting? Nope.jpg, remove gmuxx as he quit witnessing
msp-waves logo contest - gets the axe
palnet ops - Disco
-list of bots that get autovotes from lovebot/which count toward delegation role in MSP
vote for new regulations on which bots contribute to lovebot and delegations passed
100 sp minimum for lovebot
20 sp minimum for shanehug
registing msp-curation and msp-music for steemauto curation trail
-waiting for more info
community participation roles and colors are coming
seperating shallow end into a different channel
agreed
making deepend 18+
wait a week and revisit
finance comittee - wait a week
msp-curation - torico officially resigned - tryout carpedimus
hr - vote for lena, reaching out to witnesses to apply for vote
AAT - no news, pond patrol working well
make-a-minnow - nominee was a plagiarist got disqualified
-looking into reformatting rules to avoid railroading competition
msp-waves - new shows, icecast stream, talking to streaming developer to create an app
msp-music - all good
lambo - no news atm
msp-studios - gotta find a new space
---
Voting Pattern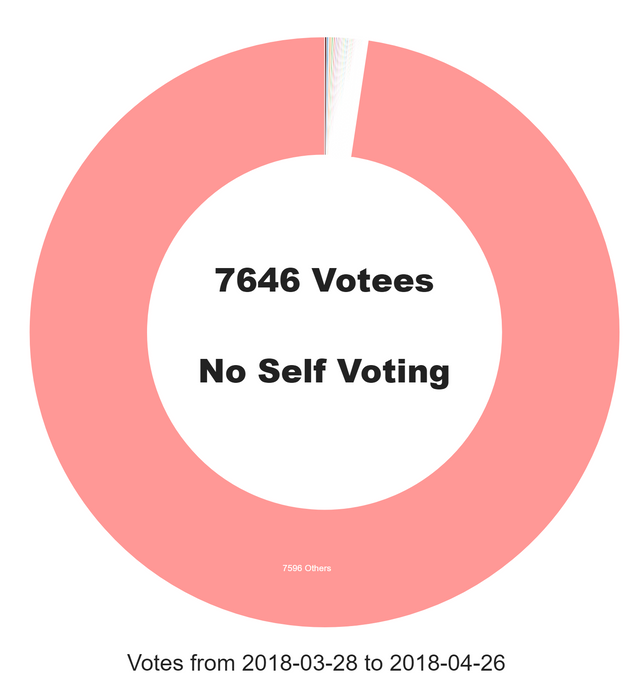 Here you can see the voting that @minnowsupport has done in the last 30 days. As you can see the account with 19k organic SP and over 100k delegated Sp has voted on over 7500 different people and only a handful account for even 0.1%. None of the mods or witnesses register on the voting chart.
It's practically impossible to have a more benevolent and charitable voting pattern than MSP. Thank you for your continued support! We're doing our best to fulfill the Mission of the Charter- To spread the values of Peace, Abundance, and Liberty, help Steem grow, and train and retain new members on the platform.
If you think we're doing a good job please vote for Witnesses from the Minnow Support Project who you can see in the top right of your screen by joining our Peace, Abundance, and Liberty Network Discord Channel.