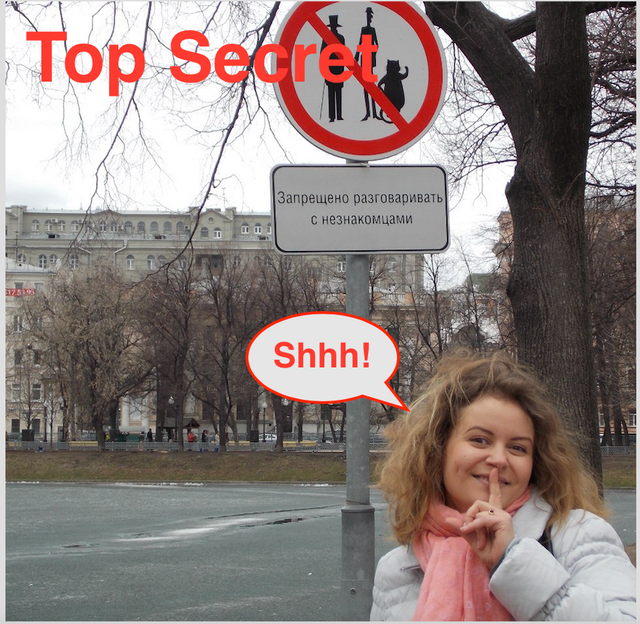 Using Comments to Build Your Audience, Account, and Curation Rewards
Possibly the most misunderstood aspect of Steemit is the comment and curation rewards system. Information on the topics can be ambiguous or even opaque (hard to understand or hard to see - Instagrammers). I have spent the last 2 months trying to find some complete answers so that I could test them out to see what works best. For some reason, nobody seems to want to talk about these topics on Steemit and there IS a reason why.
Remember when they told you that you would get your share of 25% in curation for upvoting? Yep, that was not completely accurate. Some people might even say that they outright lied to you. At the very least, the information about curation was misleading. To be honest, I post everyday so I really didn't concern myself with curation rewards. It didn't seem interesting or profitable at the time I started on Steemit.
How about Comments? What do you get from comments on Steemit? Surprisingly, when I asked around about this, I got several different answers. Some referred to the Steemit White Paper, others to posts that were 2 years old, and some were just plain guesses. So, I did some research to see what actually happens with comments - author rewards, upvotes, and curation rewards on posts.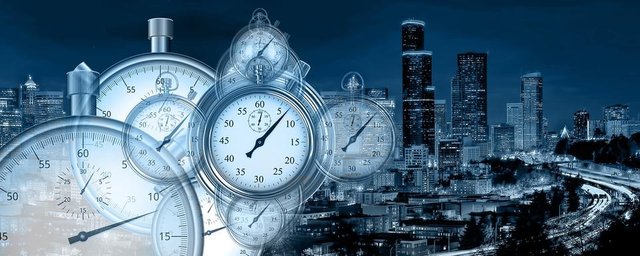 Comments - How They Work and Who Gets Paid
Quick lesson for those that don't understand the $ figure displayed on your posts. This figure is in what Steem refers to as STU. If divided in half, the first half is the number of SBD and the 2nd half is that number divided by the price of Steem at the moment of payout.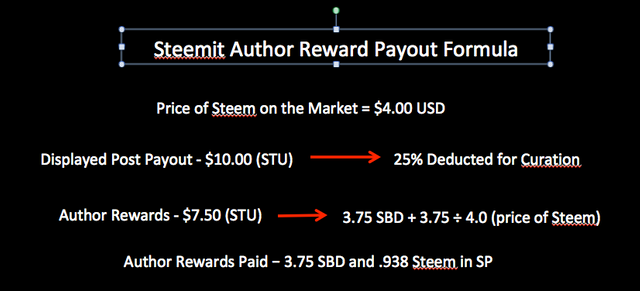 From the illustration we see the formula for a $10.00 STU post payout. In this illustration, the market price of Steem is $4.00 USD. After curation, the author payout is reduced to 7.5 STU. Your payout is divided in half with the first half being paid in SBD and the 2nd half being paid in the amount divided by the price of Steem and converted to SP.
The 25% curation of $2.5 STU gets divided up between the people that upvoted the post. We'll talk about that later.
Comment payouts work the exact same way.
Here is the information that I have come to understand as truth. Is it the truth? Good luck finding someone with any authority to say one way or another. However, @cloh76, who is more heavily invested in Steemit than me, says that comments are treated just like posts. He addressed this question with another noob like me about 4 months ago.


In the first screenshot you see that he addresses the specific question about how comments are treated, how they are rewarded, etc. In the 2nd screenshot you see that he has been around for quite a while. I didn't show his wallet, but you can check it out. He's not a whale, but he's bigger than me and has quite a few followers. So, this plus my other inquiries led me to believe this was actually the case. Of course, you know that I'm a sceptic so I had to test this out to be sure.
When I looked at my comment reward pay outs, I found that this is indeed the case. They are treated just like posts. I went to comments that were rewarded where I was the only upvoter (often the case, lol). Here is a screenshot of a recent payout to demonstrate.

Image of my comment and my upvote of $.32 STU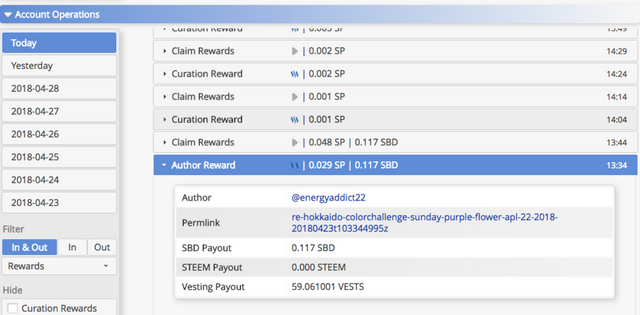 Payout report from Steemworld
As you can see from my upvote and the payout report, I received author rewards of .029 SP and .117 SBD for the comment. At the price of Steem at that moment of about $3.95 USD, my SP rewards (.029) were worth about $.115 STU and my SBD was .117 STU for a total of .232 STU. $0.32 - 25% is 0.24 STU. Which means my author rewards for the post were 74.2 %. Let's show another illustration on how I got to that number.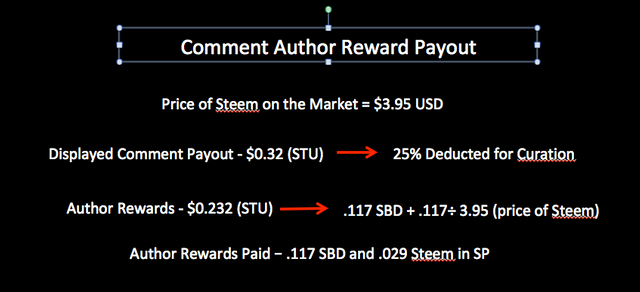 So, I made 75% Author rewards on my comment. Let's check out my curation rewards for the comment, which can also be found in Steemworld.

You can see that the Curation Reward was paid at the same time as the author reward. The amount paid is only in SP and for this comment it paid me .019 SP. If we multiply that by 3.95 (the price of Steem at the time) we get .075 STU, which is 25% of the .32 STU displayed on the comment. What does this mean? It means that I received .32 STU in rewards for posting my comment and then upvoting it myself.
Upvoting your own comments is as good as upvoting your posts. Same rewards except that there is usually less curation to share with others. In this particular case, @hokkaido chose not to upvote my comment. Next, let's look at what happens when someone DOES choose to upvote my comment.
For this example, I'm using my good friend @krusper who I've know since he was a teenager here in Russia. I happen to know what his maximum voting power is, which is ultra-plankton at .003.
Here is the comment.

You'll notice that there are 2 votes for a value of .33 STU. The first vote is his and the 2nd vote was made by me a couple days later. I always upvote my own comments and yes there are a ton of my comments. Let's look at the payouts for me and then for @krusper.


My Author Reward Payout

My Curation Rewards Payout
You will notice that my author rewards were much the same as before and my curation rewards were much the same as before. My total rewards for this comment were .31 STU (Author - .031 SP + .124 SBD, Curation - .016 SP whereas .047 SP x 3.95 = .186 STU).
But how much did @krusper get for upvoted my comment with his paltry .003 upvote? Here's the good part. His curation on a .003 upvote actually got him .002 SP or 66% all because I upvoted the comment AFTER him. In this way, he didn't waste his upvote on me. His curation was actually better because of it. Take a look below.

So What Does This All Mean to Me Jerry?
One of the problems with being a plankton or minor minnow is that your upvotes don't count for shit. For someone that you're voting for, they don't have much value and for upvoting yourself, they don't have much value. What's worse is that you only get 11 of them a day or you'll drain your VP to oblivion.
It is crucial for small fish to MAXIMIZE the few votes they have at least until they reach 500 SP. One of the problems with reward payouts is a concept called "Dust". @thedarkhorse just posted an important article on how rewards work and how may posts don't get paid at all because they don't pass the .03 threshold. You can see his post here
Yes, I'm going to break it down for you because I know you don't have time to read everything, but run over there and upvote it anyways because he deserves the credit for the research.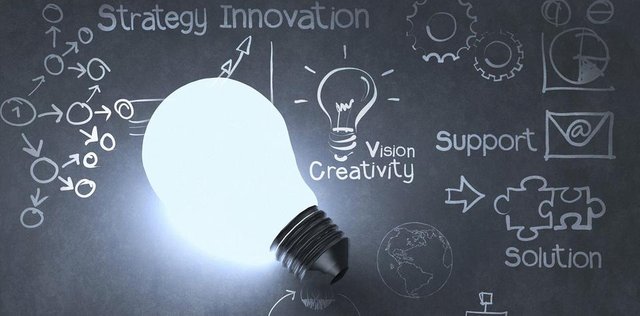 Here's the basics of what it says. If you don't get more than .03 STU on any post or comment, then you and anyone involved in that post or comment is shit out of luck. Before you go screaming about how Steemit hates you and blaming the world, keep in mind that the Steemit blockchain is under an extreme amount of pressure to process transactions and keep everything working. Additionally, there are a bunch of lazy asses out there in the world trying to spam and dummy account their way into prosperity on our lovely platform. They aren't too bright, but they are trying. If Steemit paid out all these paltry payouts, it would severely bog down the system.
Luckily, you have stumbled upon my post, which is going to give you some strategies on how NOT TO get "dusted" with you posts and comments and how you can STILL use comments to grow your network and account.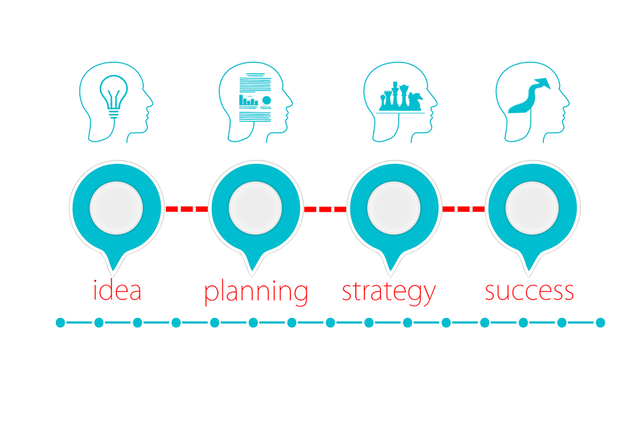 Strategies
Disclaimer - These concepts are for those people that want to GROW their accounts with a well thought out plan and increase their engagement in the process. They are not for those that think that in Steemit, if you are just nice to everyone you will be successful here. I wish that was possible, but like I've said many times, this is not the social media Utopia that some folks believe it to be. You need a plan and some strategies to succeed here. These are some of the things that I do and have had some success with.
I know many of you are thinking, "damn it Jerry, couldn't you have put this at the top and saved me some time? I freaking 1500 words into this and NOW you're going to help me!"
This is the cruel, demented educator in me that wanted to explain everything first hoping for that "Aha!" epiphany at the end where you say, "That was the best thing I read all day, thanks so much!" When in actuality, you are more likely saying thank goodness I made it through that to get some USEFUL information. Keep in mind that you have now learned some of the Rules of the Game. Now, we get to talk about ways to PLAY the Game.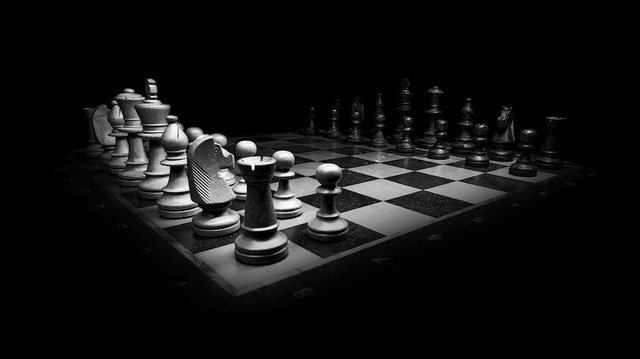 So here goes. List of strategies for those UNDER .03 voting power at 100%
Only upvote comments that you know are going to reach .03 minimum. How can you know? You can't unless you have a relationship with the commenter. Here's a hint - I upvote ALL my comments. So, if you want curation you should be upvoting my comments BEFORE I do. There are other people I know that do this also, so you aren't limited to me.
Be the very first person to upvote a comment. For example, Jerry comments on your lovely pictures of a day at the beach with Grandma (please tell me you won't write that post, but as an example). GinaBot is going to tell you that Jerry commented on your post. You are going to click on the link and hit upvote. You can do this from your mobile phone or on your desktop. By being first, if anyone else upvotes that comment, you gain a bigger percentage of the curation rewards. Note, you need to wait until it is 30 minutes old for my comment or anyone else's . This is tricky with posts, but not so much with comments.
Respond to the person that comments on your post and do it in the first 24 hours. Not everyone will take a look at your response like I do. Many will just blow you off because they saw your upvote of their comment was .003. If they were smart they would upvote it, but not everybody is reading my posts. When people see that you responded they experience an emotion called, "a need to reciprocate". This is a natural human reaction where we believe that those that do for us should receive something in return. It's in your DNA. Think about the last time you got a gift at Christmas from someone and you didn't have a gift for them. Yeah, I bet you felt like shit. Don't worry. We all do.
If you run out of VP (by run out, I mean you have less than 80% because less than 80% is ZERO - learn it, live it, love it), then don't upvote comments on your post and don't go upvoting other people's posts - you're broke! Instead, include in your comment that you sincerely appreciate their comment, but you're a plankton with no VP to give them a good upvote on their comment. However, you will follow them and read and comment on their articles. Think of it like this - You go to a restaurant and you want to leave a REALLY good tip for the waitress, but you only have 10%. Instead of just leaving, you explain that you think they were very lovely and enjoyed their service, but this is all you have. That's the humane thing to do. Most people will understand and those that don't aren't probably worth your time anyway.
Comment ALL the time on people's posts. Especially people that have some freaking SP. Quit wasting your time posting 20 times a day on other plankton's posts. It may seem heartless, but they don't need you! They NEED me or someone like me. YOU need me or someone like me that is going to appreciate your comment and RECIPROCATE. Should you be supportive of others like yourself? Yes, of course but not to the tune of spending all your precious time around them and their posts. It doesn't move you forward. Much better that you go back to them and explain how you went from .25 payouts to 10.00 STU payouts. At that point you can REALLY be supportive. Right now, you're treading water.
Strategies for Those Over the .03 Threshold
You have more flexibility, but comments are still very key to you growing your account. Use your VP to upvote every person that writes something intelligent in response to your posts. Be a hub for discussion. Everyone that has read one of my posts knows that EVERYONE that writes an intelligent comment gets an upvote. Everyone! Even people that I disagree with. Why do I do that? Because I want you to return. You want more readers. Engage with them. Give them an upvote reward for engaging with you. In this way you'll attract good commenters (coincidentally, these commenters tend to have better voting power).
If you see a plankton upvote your comment for peanuts, upvote your own comment to .03 so they get curation for it. You say you want to help people, then help them even if it means "oh no, don't say it" SELF VOTING your comment.
3a. If you're a "poster" like me, then make your posts a hub of activity. Respond to every comment and suggest other people's comments to them. Imagine you're hosting a cocktail party and nobody knows each other. You're the host. Be a host. People will remember you for introducing them or suggesting good communities or resources, etc.
3b. If you're a curator, then you need to be posting 25 plus comments a day and responding to comments of others in the same posts. You're the social butterfly that know EVERYBODY. You're introducing commenters to each other, to resources, to tools, etc. You want to be a curator, then learn how to be a socialite also. I tried it this last month and it pays. See my curation rewards for the last 30 days versus forever.
Don't wait over 24 hours to respond to comments on your posts. When people read my posts they are often highly motivated, inspired, and excited. I want to be speaking with them during this period before life and reality gets ahold of them again. I want them to associate this bliss with my conversation so they remember it. On the flip side. When I piss someone off with my posts, which happens (I know shocker, huh) I want to engage with them as soon as possible to find some common ground. Also, I want a response on my post so others can see my side of the issue.
Last one - Respond to posts even when you think they might be SPAM or dummy accounts. Sometimes people are just poor communicators. In which case they need to see my new friend @reonlouw for some pointers. However, we can't help that many people lack some social grace or communication skills. Ironically, I won't say who this was but one of my best buds on Steemit (with a decent SP account to boot) gave me a "Really nice post. Great job!" comment. I responded with, "Thanks for commenting, what did you like most about it?" He responded to that and the rest is history. We exchange upvotes and comments daily. Most times, your gut instincts are correct, but if you're not 100% positive, then give them a chance to elaborate. Keep in mind sometimes people just have a lot to do, but they want to say something positive. Read some of my comments to the 124 people in the #payitforward contest last week. I'm sure some of them sounded awfully spammy after a while.
Overall suggestion - The minimum conversation in a post should be - Post, comment, return comment.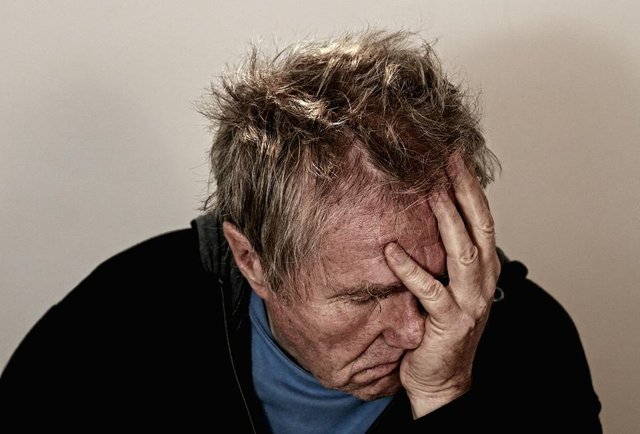 Concluding Remarks and Recap
THANK YOU JESUS, we're almost done - I know. Sorry.
Get your upvotes on comments boosted to .03. You can do this by upvoting comments of people like me (500 plus SP)
Comment as much as you can and on posts of people that can grow your account.
Respond and interact with your guests - people that visit your posts.
Be a social butterfly when you are engaging in popular posts.
Use Comments instead of upvotes when your VP is under 80%.
Make intelligent comments on MY posts to make easy money.
Upvote my comments when I grace your posts with my presence. lol Just kidding, but you should upvote my comment for easy curation.
Just for some validation of these strategies. Look at how I used them in the last 30 days (see below). Over half of my curation comes from comments. The rest is from my own posts and pre 30 minute vote-buying. I upvote a lot of people but the amounts are negligible in comparison. Comments are a significant factor in my curation improvement.

Have a fantastic week and comment with questions and ideas.

Like this article? Please resteem, upvote and comment.
Don't like it? Comment and tell me why. Let's discuss it.
All intelligent comments get an upvote for effort (even if I disagree).
Send me a copy of one of your posts and I will try to read it quickly.
All images are mine or downloaded from Pixabay.com
Posted using: busy
https://busy.org/i/@energyaddict22
Follow me on:
Facebook - https://www.facebook.com/jr.byers.58
VK - https://vk.com/id185155240
Discord - EnergyAddict#9726
Special thanks for support from @qurator @dynamicsteemians @newbieresteem @resteemit @asapers #payitforward - @thedarkhose, @lynnecoyle1, @wolfhart #kryptonia #superiorcoin @sydesjokes