Bringing Down SBI Balance, Account Builder
Last post I noticed that SBI didn't actually have enough total voting power between it's 10 accounts to fulfill the total expected vote value even with a 100% vote from all ten accounts. Now I don't blame SBI as we haven't been overly active in posting and have a ton of shares.
Right before SBI started voting on our last post I used the !sbi status command to see what our balance was and what was the expected vote (which is 20% of your balance).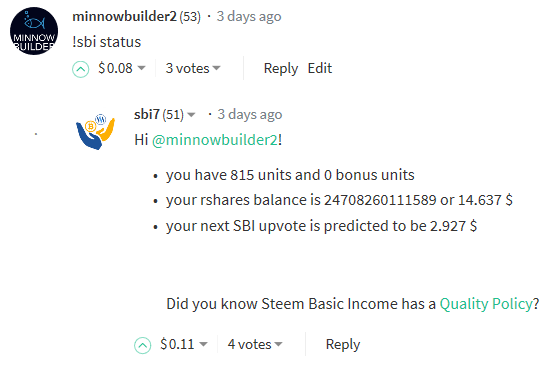 As you can see the expected vote was "2.927 $". Noticed that all of the votes came in at 100% starting with SBI, then SBI2 and so forth all the way down to SBI 10. So all 10 accounts voted at 100%.
The total of those 10 votes was only $2.538, a little short of the total expected vote. This isn't a huge deal as the "bank" of votes owed to us decreased by the actual amount of the votes given so our bank wasn't reduced by as much as expected.
But since we don't post to often my fear is this "vote bank" will end up getting to a point that ever getting our value out will become impossible if I don't do a couple extra account builder type posts during the next couple weeks to bring down that balance and catch up for the last month of very sporadic posting. Hope nobody that has us on auto vote minds 2-3 extra posts each week until we bring down the balance some. It's to everyone's benefit getting that value into our account vs sitting in a vote bank.
Thank You!
Thank you for all of your support including upvotes, SBI shares purchased for this account, and spreading the word about the Minnow Builder Program.