| | GPU mining is still profitable, especially if you have access to cheap or free electricity. Here's my tutorial with measurements and parts needed to build a GPU mining rig frame. |
| --- | --- |
| | |
| | |
Parts list :
1" x 1" x 16swg (1.6mm) aluminium box section - 5m long, cut into
49cm x 5
34cm x 2
21cm x 4
18.5cm x 2
13cm x2
12cm x 2
4 x 11cm spacers per frame If you are making the frames stackable.
Square tube connectors
| 8 x 3 Way Elbow Tube Connector 25mm. | |
| --- | --- |
| 2 x Tee Tube Connector 25mm. | |
| 2 x 2 Way Elbow Tube Connector 25mm. | |
| If you want to make your frame stackable you will also need some of these. for the base frame you will need to replace 4 x 3 ways with 4 of these. for every frame you want to stack on top you will need to replace 8 x 3 ways for 8 of these. | |
This is where i got my parts in the U.K.......
aluminium box section
https://www.themetalstore.co.uk/products/aluminium-box-section-16-swg
connectors
https://www.themetalstore.co.uk/products/tube-connectors-square
Now for the build.
I hope you can see from the pictures which way your tube connectors go.
I have named the 'front' of the frame, this is the side that you will plug into your GPU from the monitor.
First make the base. The connectors push into the box section tubing quite easily but sometimes need a tap with a wood hammer. on the base you should have 2 x 49cm lengths, 2 x 18.5cm (towards front) and 2x 13cm lengths (towards back). 4 x 3 way connectors at the 4 corners and 2 x tee connectors (1 between each 18.5cm and 13cm lengths)
Next connect Your upright lengths, 4 x 21cm lengths ( 1 at each corner) and 2 x 12cm for the inner bar.
DO NOT connect any connectors ontop of your uprights at this stage or you will get stuck!
Now make your middle bar with a piece of 49cm lenth, connecting a 2 way elbow to each end. Now connect the bar to your 2 x 12cm uprights.
Then make the top with the 2 remaining 49cm and 34cm lengths. connecting the corners with the 4 x 3 way elbow connectors. Now connect the top to the rest of the frame.
| | |
| --- | --- |
Next make a base plate for your mothorboard here ive used flat aluminium bar with hole drilled for mobo spacers. u can also use an old base plate out of an old pc case. place mobo to the front of frame. its best to work out first where you are going to place the psu, If you using up to 4 graphics cards you can place the psu at the front (fan facing up ).(see pics)
If you want to put 6 GPU's in then you'l have to put the psu at the back sideways. or your gpu's will cover the psu fan and reduce cooling efficiency (see pics)
To make your frame stackable : For the base frame you need to replace the top 4 x 3 way elbow connectors with the 4 way connectors (as shown in parts list) then add the 4 x 11cm spacers on top , this will then allow another frame to be connected to the top. The next section will then need 4 x 4 way connectors on the bottom to slot into spacers on frame below , and 4 x 4 way connectors on top if you going to connect another frame on top.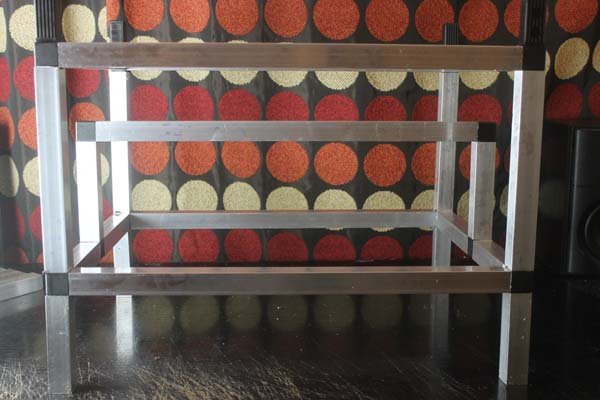 Stackable section with spacers on bottom to stack onto a base frame and connectors on top to accept another frame.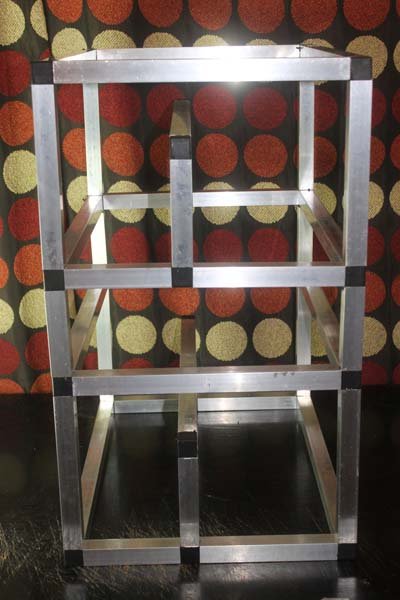 Double frame