Ok, this might sound as a joke. But well, you can select to mine for any (or all) of the next reasons:
For the lols
For the experience
To support (a little ) the coin
To hold
The other day I managed to mine 2 HTH with my 4 year old laptop. We can laugh at it or we can think of the people who mined 1 or 2 BTC when the difficulty was 100 or so instead of 7,454,968,648,263...
However, as an experiment this was quite fun to get working. So if you want to give it a try, follow the next steps, to mine HTH too.
Download a CPU miner
Find a pool
I find the most convenient pool with trial and error. Let's try gpuhot.com first.

As you can see, they have listed $HTH and they have a good amount of miners and Hashrate, so it won't be so difficult to find a block together.
The base line to mine with them is:
-a x16r -o stratum+tcp://gpuhot.com:36361 -u <wallet>-p c=HTH
For me http://gpuhot.com worked as well as https://bsod.pw
There are more pools, you can find them all in the HTH discord server: http://discord.gg/xqJxYKK
Get your file right
Open the good old notepad in your computer.

Drag the file RUN-RVN.cmd to notepad.

Delete whatever is there and change for something like this:
cpuminer-x64 -a x16r -o stratum+tcp://gpuhot.com:36361 -u <your wallet address> -p c=HTH --threads 2

This is an example with my file:
cpuminer-x64 -a x16r -o stratum+tcp://gpuhot.com:36361 -u H7zeQUKuf18rtpvWH6uCELm5PBmnpz8N4B -p c=HTH --threads 2

--threads 2 means the number of workers, in my case my cpu has a processor of 4 cores, but if I use them all it goes crazy, overheats and dies. So 2 or 3 is better. You can try modifyng this, start with 1 and see how it goes, then increase.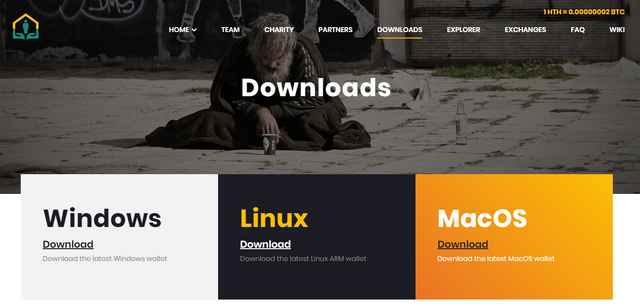 If you don't have a wallet address yet, you should:
Download the official HTH wallet from their website: https://hthcoin.world/downloads.php
Mine directly to a shared Masternode service like mintnodes.
You can try to mine directly to a deposit address in crypto-bridge. But honestly, I haven't tried it. (If you have tried it please let me know if it works or doesn't).
Point it to a charity
Help The Homeless Worldwide https://helpthehomelessworldwide.org/
HTH Address HF5rjaXU7s3QCKuSb6uYJvAeVa3qWC3MKm
Landforthehomeless.org http://www.landforthehomeless.org/
HTH Address HFWpQU9VbEFMvEnNgdXjH6xC5zdUvKEadr
Grassroots Crisis Intervention http://www.grassrootscrisis.org/
HTH Address HUrsYtBYQqCPCqezHN5k51vKWXpFiNpwrz
The Salvation Army of Athens, Greece http://www.salvationarmy.gr/
HTH Address HQvnLwk1wvzY8jPjVtDdx8JVBnD3i6G5zk
If you downloaded the wallet from their website
Go to Receive

Type any label you want and click in Request payment

Click in Copy address

Paste that address in the right place in the RUN-RVN.cmd file.
SAVE the file
START MINING
Open the RUN-RVN.cmd file by double click on it.
You should get something like this:

In my case when I mine with bsod the stratum difficulty starts decreasing: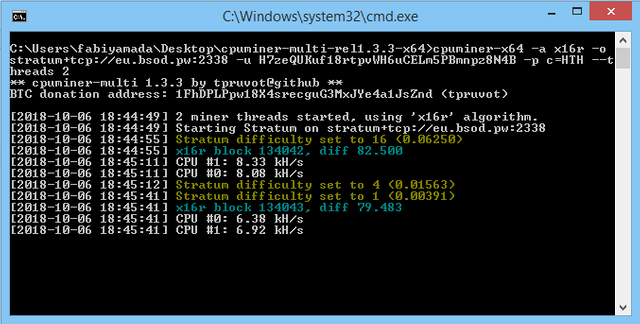 Until I start getting these yes!!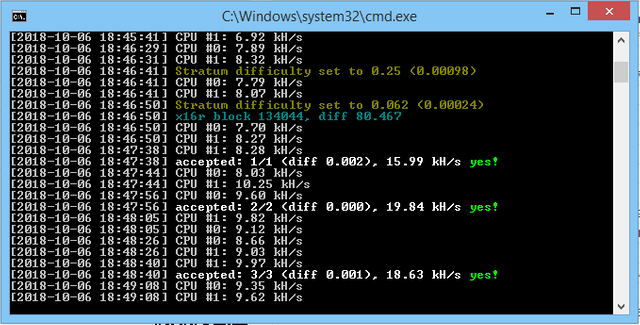 Check your balance
You can check your balance in the mining pool by checking your wallet there. Just go to Wallet in their menu and your wallet in the input box, you will get something like this: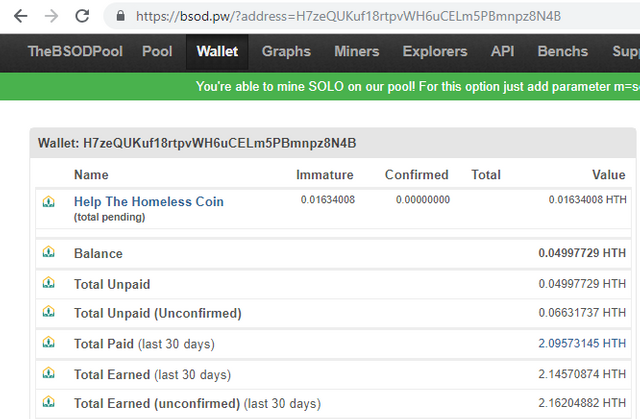 Are we rich yet?
Bonus track
If you have 30 seconds you can help us Help The Homeles by voting for HTH here: https://www.hoardinvest.com/vote/
Also if you join HTH discord server: http://discord.gg/xqJxYKK and send a screenshot as proof of voting HTH in the channel marketing-bounty you will get 200HTH.
THANK YOU!
---
WARNING
It is not recommendable to mine with a laptop. They are not designed for mining, it would burn out faster. Do it at your own risk.