What is Bandwidth? How to Protect and increas your Bandwidth
What is Bandwidth? How to Protect and increas your Bandwidth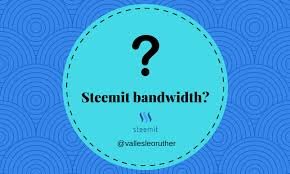 Hi steemains today I am going to inform you about the most important thing which don't know a lot of people about, so read it carefully.
Bandwidth is your power of commenting , resteeming and posting. it has limitation , you
can't post,comment or resteem as much as you want. when you run out of yourbandwidth you will not able to comment,resteem or post any more. it is possible for one to run out of
bandwidth .it is not like facebook . it is based on blockchain that has many limitations . it reduces with commenting, posting and resteeming. it depends upon How much steem power you have and your rewards you get from a certain block of steemit.
Everything you do (posting, commenting, resteeming etc.) will consume a small amount of bandwidth. Every user has a limited amount of bandwidth to use each week. Users with more Steem Power will have a higher bandwidth allowance.
HOW TO AVOID LOSING YOUR BANDWIDTH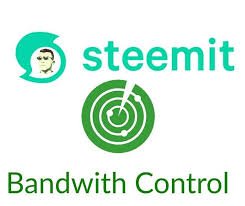 1.Don't Make Unnecessary Comments
you see a lot of people make spam comments like good, cute, upvoted , follow for follow etc. Don't make such comments it will get nothing for you and reduce your bandwidth without any benefit. read first the post then make a meaningful comment. it will attract whales and lead to up vote you.
2.Avoid Editing Posts and Comments
Don't edit your posts and comments .Each edit is an action that requires using your bandwidth .if you edit a post or comment it means you reduce your bandwidth two
times with one post or comment , so you lost one time your bandwidth without any
benifit.read carefully twice or thrice your post and comment before posting then post it.
3.Resteem when it's Necessary
Dont't resteem every post nor resteem multiple times like 10 to 20 posts a day.
Only resteem post that you feel is valuable to your followers. If you resteem more
it eats up alot of your bandwidth so avoid it.
HOW TO INCREASE YOU BANDWIDTH
1.Make Quality post regularly
Make original and quality content which gives you reward in the blockchain share
which increases your bandwidth . Regular posting ensures you have a share in the
block produced.
2.Buy Steem Power | Power Up
when you run out of your bandwidth or you want to increase it buy steem power or
steem and convert it into steem power. converting steem into steem power calling
powering up. when you power up it inreases your bandwidth. it gives you a boost
as well in curation rewards and you get bandwidth again.
How To Check Your Remaining Bandwidth?
Check your bandwidth daily. post and comment according your bandwidth.
To check your bandwidth put the link below in your browser bar putting your
username behalf of username.
https://steemd.com/@username
Here is a screen shot of bandwidth of an account.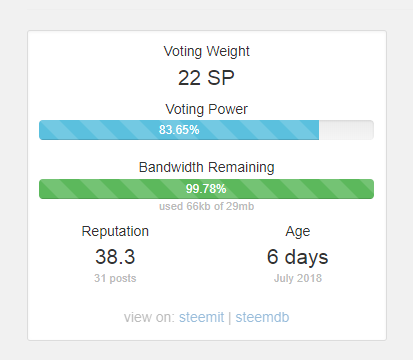 hope it will help and support you in your steemit journey. let me know in the comment if you know something about bandwdith. if you found it useful resteem it to help others.
Thanks for reading.