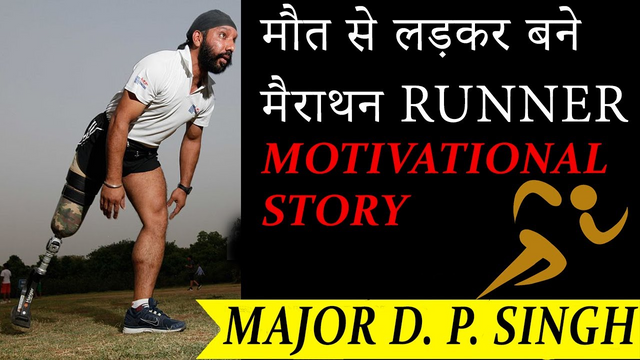 Guy Today I have brought a true story of Major Devendra Pal Singh, which is based on his life, he never give up even when he was on the verge of death. Major Devendra Pal Singh had told us his life story in 2015 in a program which was held in Jaipur.
In 15 July 1999 when India and Pakistan facing a Kargil war. Major Devender Pal Singh was in the Himalayas and were fighting with Pakistani enemy soldiers, they were able to defeat the enemies - but before that a boom of enemies came and burst a dynamite near him which was so close to him that he was badly injured.
All the soldiers (troopers) were conscientious that he was dead. In that condition, he was brought to a nearby military hospital. But in the hospital he was declared dead. Then he was taken away to a morgue home. The doctor saw that there was a little clutter in the body of Devendra Pal Singh and he was little breathing.
It is impossible for any ordinary person to survive after the burst of bombs. But Devendra Pal Singh was not an ordinary man. Enemies bombs could not even kill him. They had already eliminate the death. Devendra Pal Singh had got a severe major injuries, but his entire gut was open and some had to cut and there was no other choice but to do so to save him. Doctor had to take the plunge to cut his one leg but Major Devender Pal Singh was not ready to die. He was in hospital in more then a year, at that time he had to face all the problems.
Many times he had to undergo surgery and the ability to listen was also diminished. But Devendra Pal Singh never lost courage. Still 35 to 40 pieces of bombs are in different parts of his body which can not be removed.
About a year later, he got discharged from hospital - after coming home, with the help of crutches. He started walking but he was suffering from numerous pain, after that he had an artificial legs was imposed but there was no relief in his pain. In a program Devendra Pal Singh told that over time he was shielded his life, he also said that I especially thank to those people who did not think anyone was worth it if they did not see me like this, so i could never stand again.
YOU JUST CAN'T BEAT THE PERSON WHO WON'T GIVE UP...
Thanks for reading this motivational article...If you like it plz support me...Upvote, Follow, Comment.