MENĒ Unboxing, Playing with Gold, Sending 4 24k Charms Off to @jackmiller & @fbslo! 📫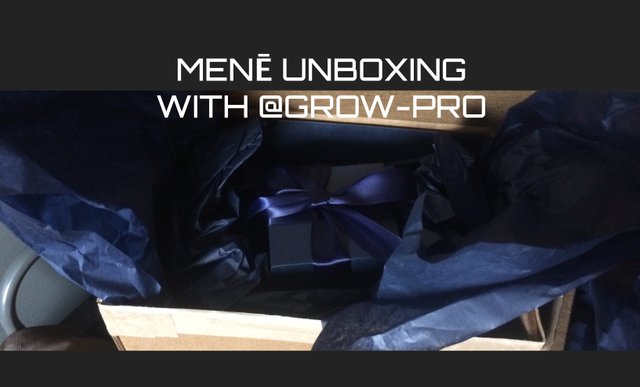 Can't help myself, I just had to fondle the merchandise before sending it away! There's something about precious metals that makes me feel like a kid, I swear. I captured a few photos of the MENĒ 24k charms that arrived here as I help two pals save some shipping costs.
I'm in my glory over here
I was lucky enough to unbox these and snap some photos before being repacked and shipped out today. MENĒ is kind enough to provide insured shipping for FREE for U.S. residents. However, if you are an international member, the shipping can get pricey. This is simply because the packaging from MENĒ is superb, including a certificate of authenticity, receipt, gift bag, and the boxes... well, I will get to those...I love 'em!
Anyhow, the insured shipping and shipping weight is truly where the cost is for those international orders. Thankfully, @jackmiller and @fbslo were able to ship their items to me so I could repack and send off to them at a lesser expense. See my previous post to read more about the shipping: How @jackmiller got FREE Gold & I Helped Save Him $75 On Shipping Fees . I saw a way to help some good people who help others amongst this community - that's what this community is and always will be about. We are 1.
Did I mention I love the boxes?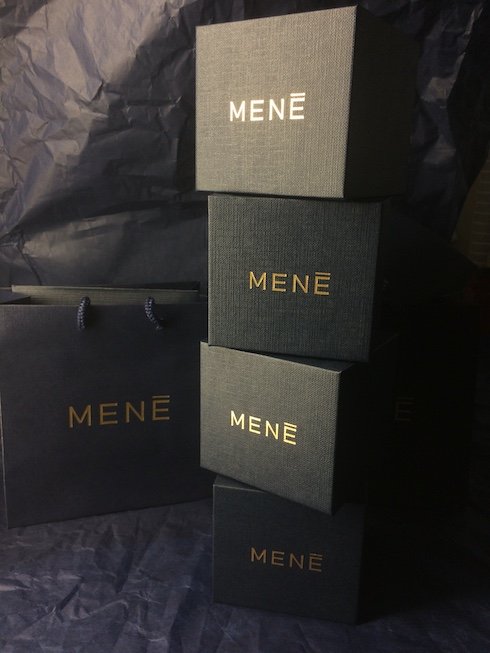 Here's the part that makes me feel like a kid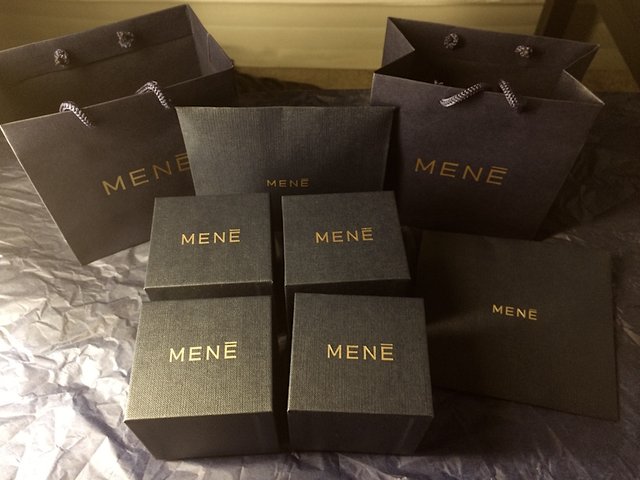 Who doesn't like to play with 24k gold?!
As a long-time silverbug and precious metals gatherer/hoarder, I just can't explain how it feels to hold and admire fine jewelry and by fine, I am speaking of the purity (.999). There's just nothing like it. I tried my best not to drool all over the goods before mailing them! I am not-so-patiently awaiting my first MENĒ order with great anticipation and believe me - you'll see a post about it so dive under a rock if youcan'tt bear another MENĒ post 😂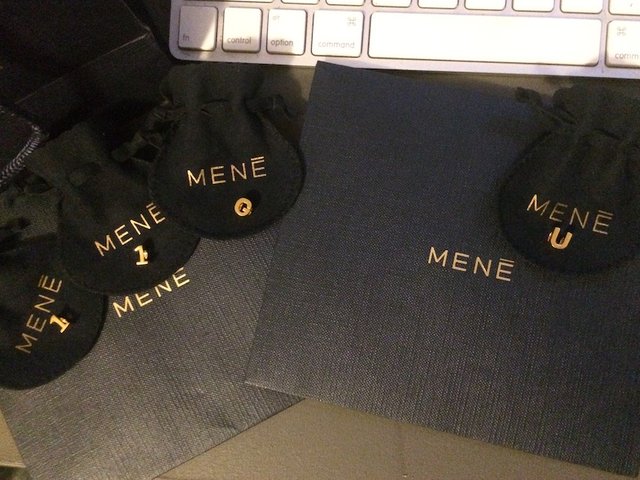 Although it is hard to say goodbye to these charms, I know they are going to good homes
I'm having too much fun if you couldn't already tell. But it is time to pack these lil' nuggets up and send them on their way...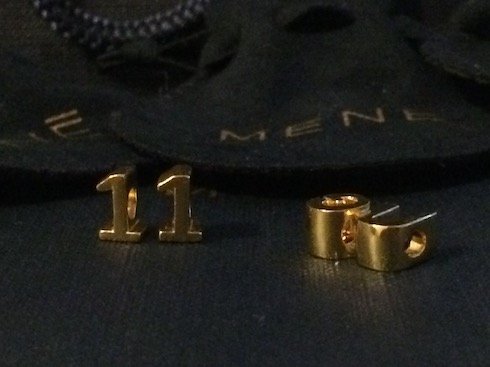 And Today...They're On the Way!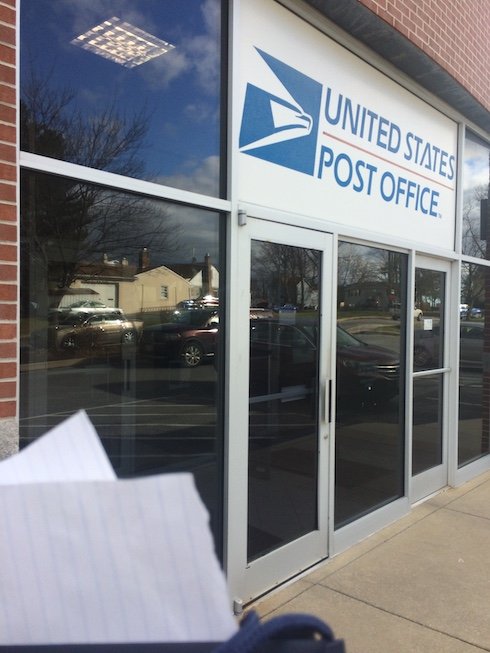 Three charms are headed to Australia, to Jack's lovely bride @sylviamiller and one is heading to @fbslo in Slovenia. I tell ya, these charms are more well-traveled​ than myself! And I must say... Better looking! LOL Just look at this packaging!!!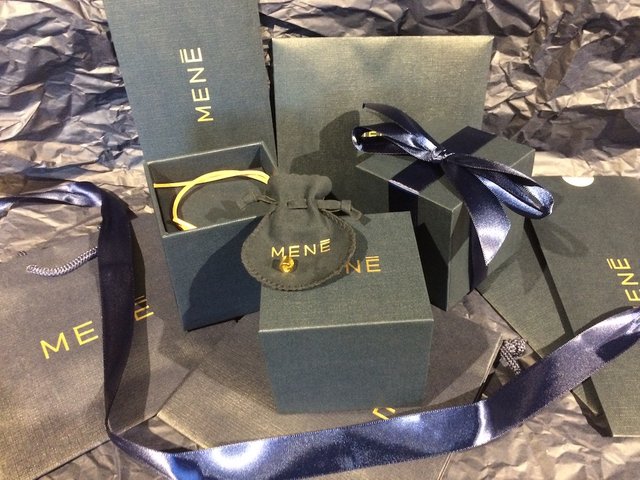 Seriously, I simply used what comes in the box to stage a spot in my disaster of a bedroom and look how much care and attention to detail they put into packaging their product. As someone with a decade of marketing and design experience - this speaks volumes. What do I mean by that? A company that packages their product to the best of their ability​ clearly believes in their product. It's that simple. I'm super-hyped to get my first order, especially having about 6 or 7 charms shipped here and none have been mine 😆.
Want to earn $5 in MENĒ Credit? SIGN UP!
Simply click the link below to sign up (Name +email) and you will earn $5 in credit toward your next purchase and I'll also earn $5 in credit as well. WIN, WIN for us both! 💸

⬆︎☝︎ Click the Image Above to Sign Up for MENĒ and Earn $5 in Credit☝︎⬆︎
I will also earn $5 if you use the link above, so although it is not required, it is greatly appreciated!
My Previous MENĒ Post

I am participating in the MENĒ referral program and I am not otherwise affiliated with MENĒ Inc., nor do I hold any capital investment in Menē Inc. (TSX-V:MENE) ("Menē" or the "Company"). This information is being shared solely for educational purposes only and does not constitute legal, financial, or investment advice. As the author of this article I am obligated to disclose that I was not compensated for this writing and all opinions shared are my own. Invest wisely. Always do your due diligence before risking your hard earned money. Thanks for droning through another disclaimer!
photos shared in this post are original, created for Steemit by





@grow-pro is a proud member of #thealliance - awesome animation (above) compliments of @liberty-minded