Hello good morning to the whole community of Steemit I hope everyone is very well today I would like to tell you about a megalith called Al Naslaa.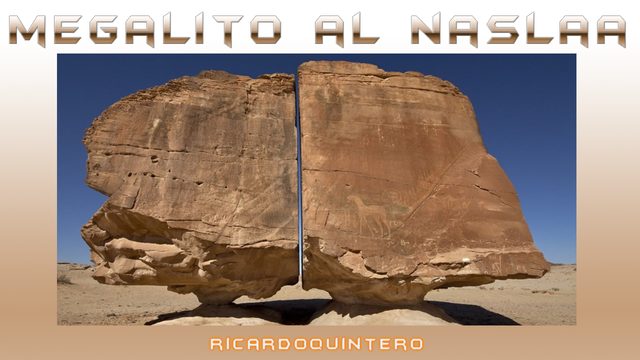 Source
In the city of Tayma Saudi Arabia is a fascinating megalith to the naslaa this rock is perfectly divided in half and some symbols portrayed on its surface, now what causes great astonishment on the part of scientists is how this rock was cut by the half with impressive precision, all this causes thousands of tourists to visit the place to witness such greatness.
Each part of the rock has a fracture in its lower part which serves as a support and although one is smaller than the other, the two pieces are perfectly balanced which makes us think of many hypotheses of how these rocks were formed.
The megalith was discovered by Mr. Charles Huver in the year 1883, since the discovery of clothing has been debated by scientists and amateurs to know its origin.
The hypothesis that has greater acceptance by the public is that at some time civilizations arrived with a high technological level which split the rock with a laser, but some scientists do not want to accept this theory and for them the clothing was simply created by the breaking of plates of the earth.
"Now I think that this rock was not created by natural causes had to be treated by some mechanism that is still unknown because the degree of perfection that the rock has plus the written symbols leave no doubt that it is a civilization with advanced technology".
I hope you like my publication about the megalith and I invite you to leave a comment to know your opinion about this rock.
Greetings from Venezuela.