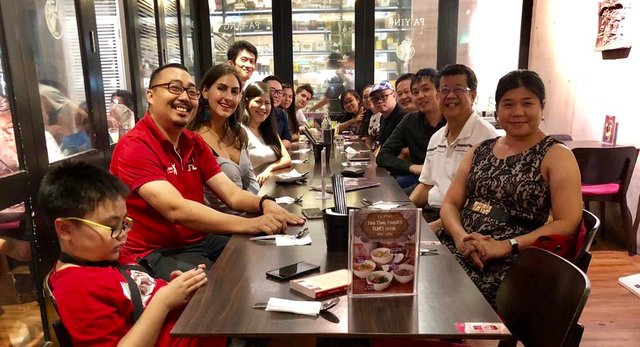 We have this not so blue Monday this week because we all had a blast during @yasminep farewell gathering dinner. Clock strike 6 PM and off I go together with @joannewong and @elizacheng through the traffic jam all the way to Paradigm Mall.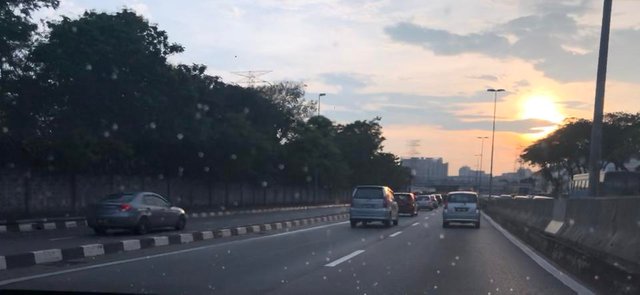 Traffic wasn't really that bad today, Surpisingly
Dinner at Fa Ying Thai Fare & Cafe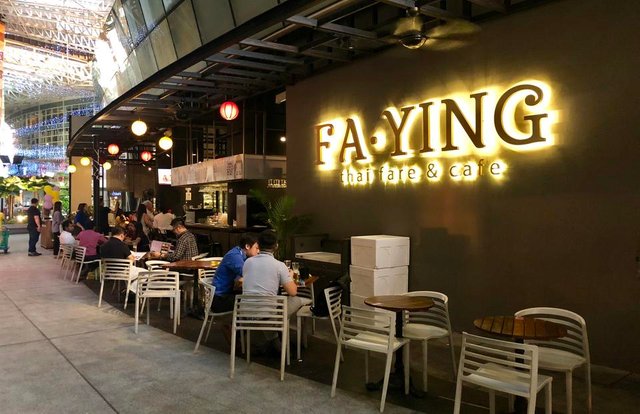 We reached Fa Ying around 7 PM, while @karinzdailygrind has already started her drinking her cold brew beer at the bar, I went to check with the reception on our table to get everything settled​ and waited for​ the others to arrive​ as Buzz told Woody that,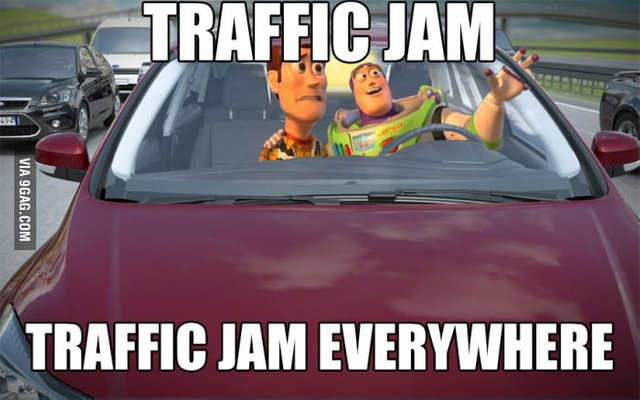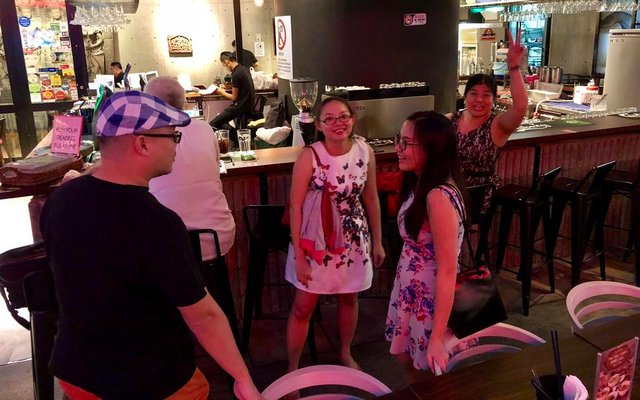 Some of the Steemians mingling outside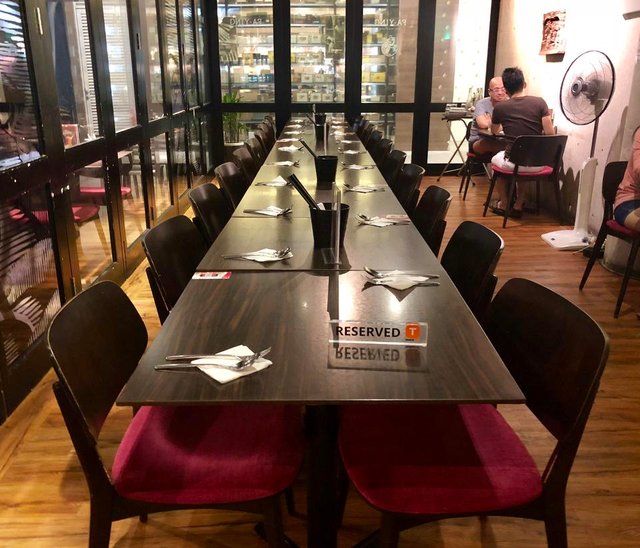 Our long table
Once the table has settled, it's time to check ​the menu with @zord189 to order and finalize up some dishes to be shared among everyone which will lessen the hassle of ordering later.
We had quite a number of Steemians come over to support @yasminep's farewell which includes​ @kevinwong, @bitrocker2020, @maverickfoo, @karinzdailygrind, @digitalmind, @joannewong, @zord189, @coachmelleow, @elizacheng, @natalielo, @littlenewthings, @crypto3d and myself.
Our food soon started to be served to our table starting off with,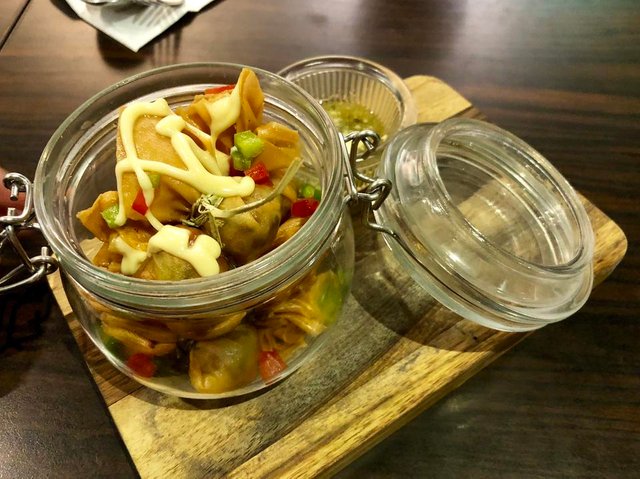 Royal Money Bag - Minced Chicken with Fresh Coriander and Corns wrapped in Crispy​ Wonton Skins served with Fa Ying's spicy manow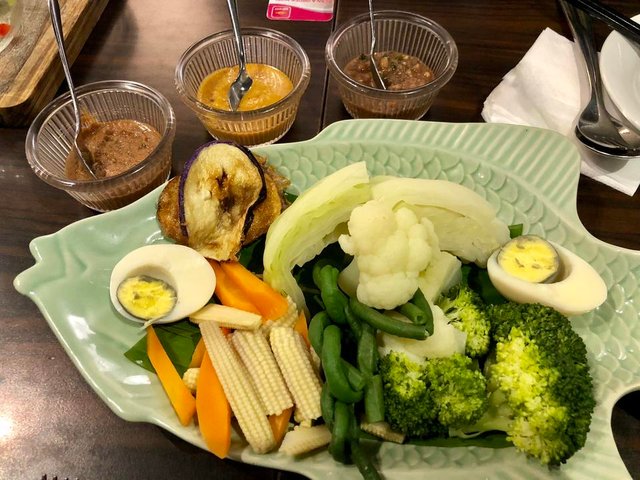 Thai Ulam - Platter of Assorted Vegetables, Eggs and Deep Fried Fish served with 3 traditional​ Thai sauces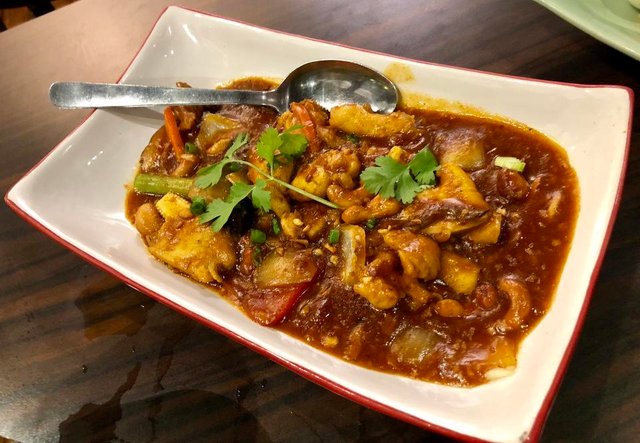 Chicken Cashew Nut - Stir-Fried Chicken Bites with Aromatic Bell Pepper and served together with Crunchy Cashew Nuts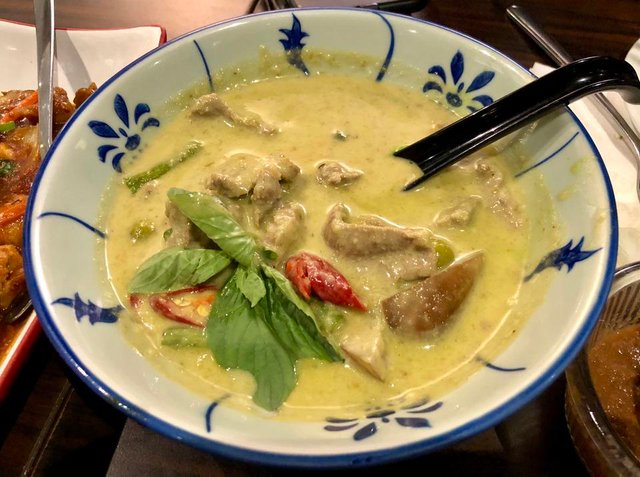 Green Curry Beef - Spicy Green Curry with a touch of sweetness, cooked with beef chunks and Thai Eggplants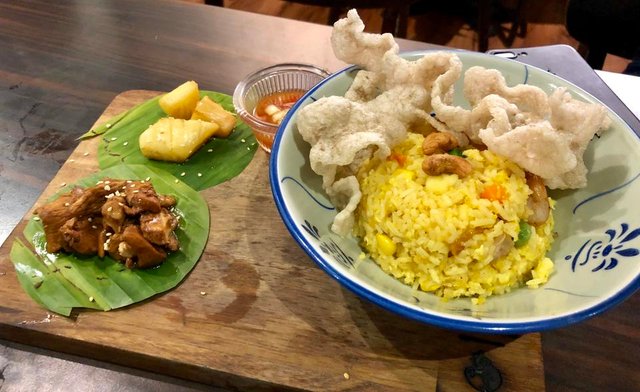 Pineapple Fried Rice - Stir-fried​ rice together with juicy grilled pineapple cubes, chicken and seafood, served with Thai Chilli sauces and grilled Pineapple chunks on the side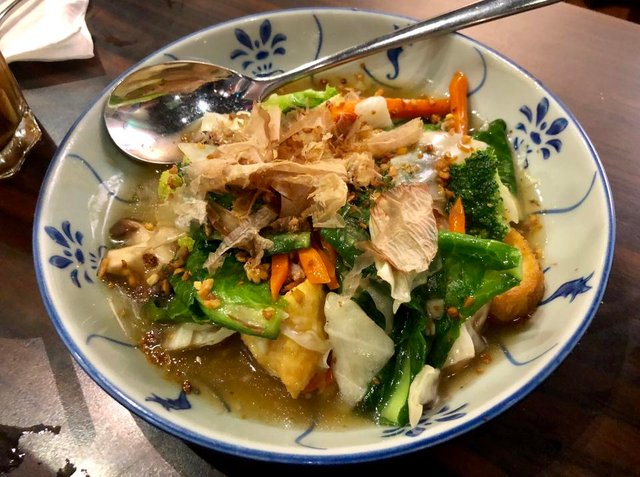 Mixed Vegetables with Tofu - Japanese tofu cooked with sweet tasting mix vegetables and topped with Bonito Flakes
We all had our stomach filled up with the foods, chatting with each other just like a big family together and I personally would like to thanks @kevinwong for this dinner! You can check out his post about the gathering right down below,
Drinks and Chill at New World Petaling Jaya Hotel
We then make our move to the Rooftop Bar at the Hotel nearby which takes only a few minutes walks​ from Fa Ying. The rooftop bar is located on​ the 30th floor of the hotel with the view overseeing the entire PJ landscape.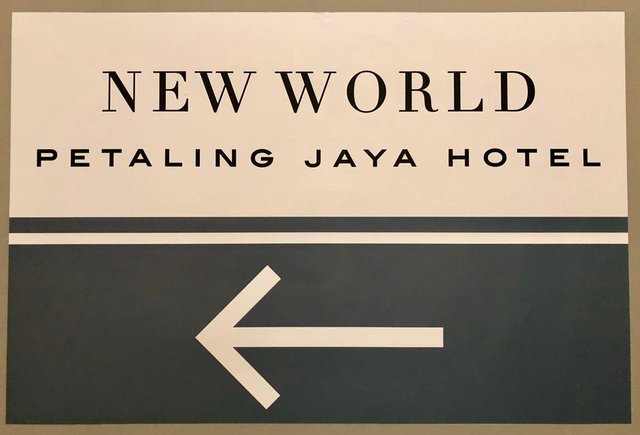 Sign showing us the direction of the hotel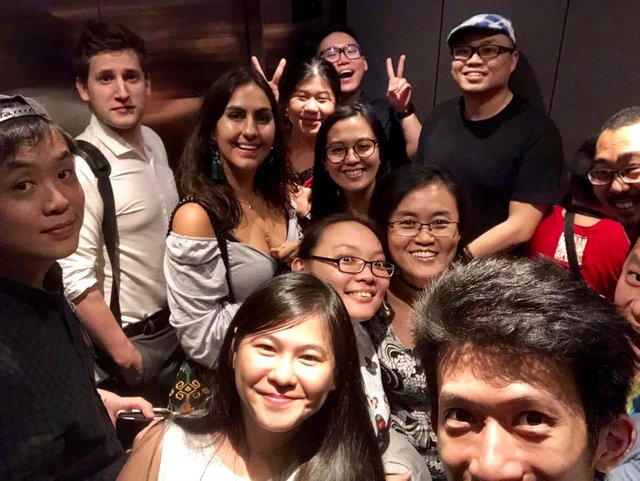 Managed to cram​ everyone into the lift and not forgetting to have a wefie.
Ding! Off we go reaching the 30th floor towards rooftop bar and greeted by the view and everyone is busy taking pictures while waiter is getting ready our table by the poolside.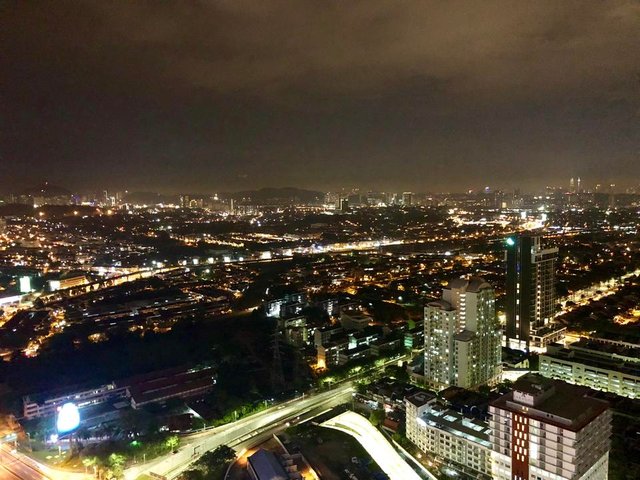 The View! You can actually see Twin Tower from here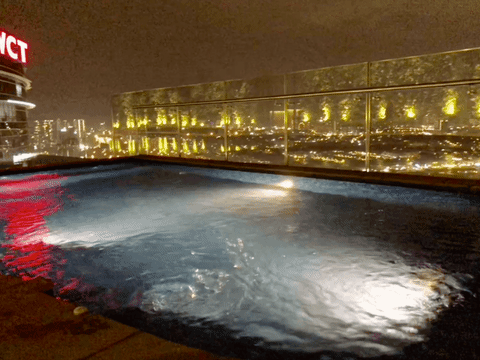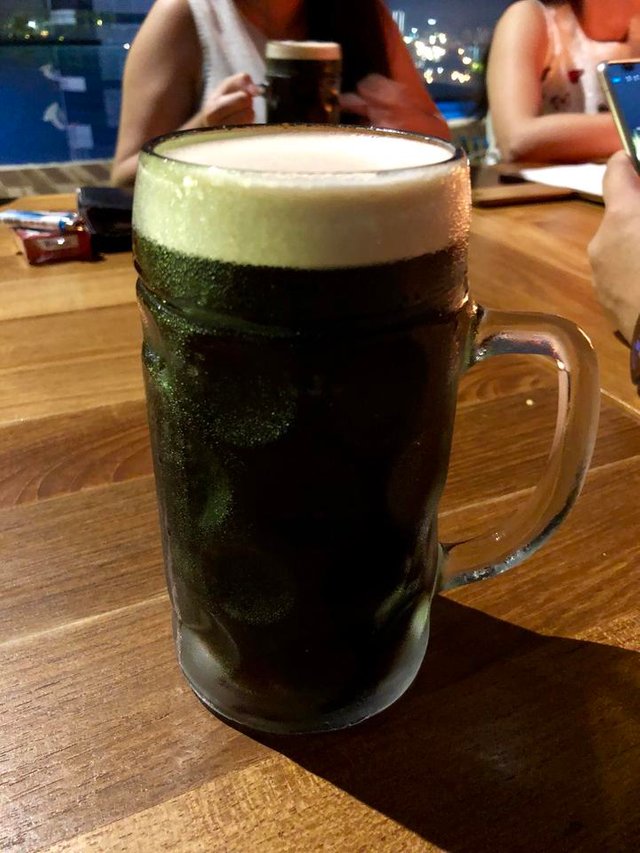 Order myself a Guinness Stout Draught
We had lots of talks and laugh over the table together with our drinks and the awesome view ahead of us. What a nice Monday to kick start the week together with a family of Steemians 😆
Besides talking, we suddenly moved to a topic of getting @zord189 his perfect girlfriend and he describes​ his criteria to @yasminep which she eventually included into her post, which you can read it right down below,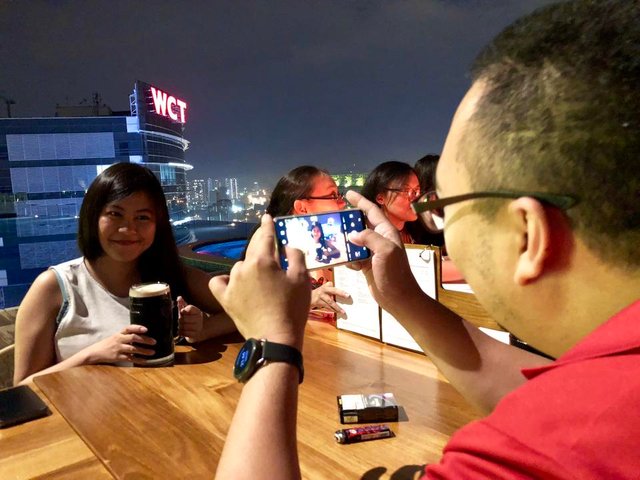 @bitrocker2020 testing his phone on low light capture with @joannewong
Time passes fast as we need to head back home as the bar is closing soon and need our rest for tomorrow. We had a group picture and few selfies​ together before sending off @yasminep on her Grab back home in​ the lobby.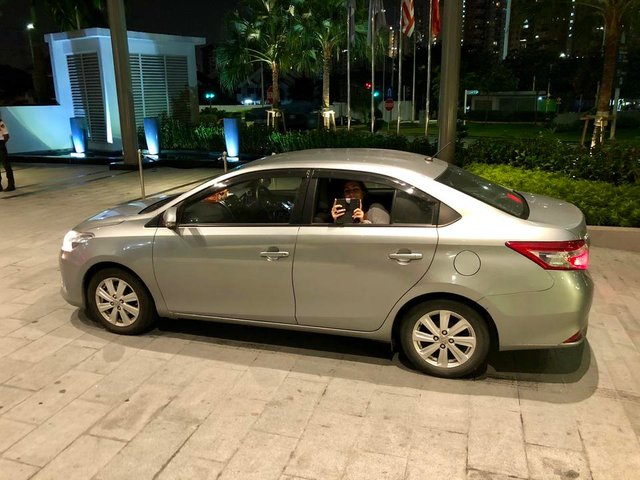 Me taking a picture​ of @yasminep taking picture of us sending her off on her Grab 😂
---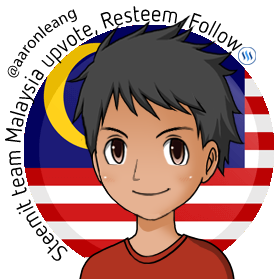 Contact me at Discord:
AaronLeang✌️#5270
Why Steemit?
Unlike other social media platform out there, you can actually earn some reward by creating good quality contents, comments, and community projects in Steemit!
What's the Cost?
You do not​ need any initial​ capital or money during the entire process. Just sign up for an account and voila~, you're on your way to earn some STEEM yourself​.
Like this Post?
You can support this post by giving an upvote, comment or resteem! I appreciate it very much ​and thank you for the support

---
Stay Tuned, Keep Calm and STEEM On!