How to Meditate for Beginners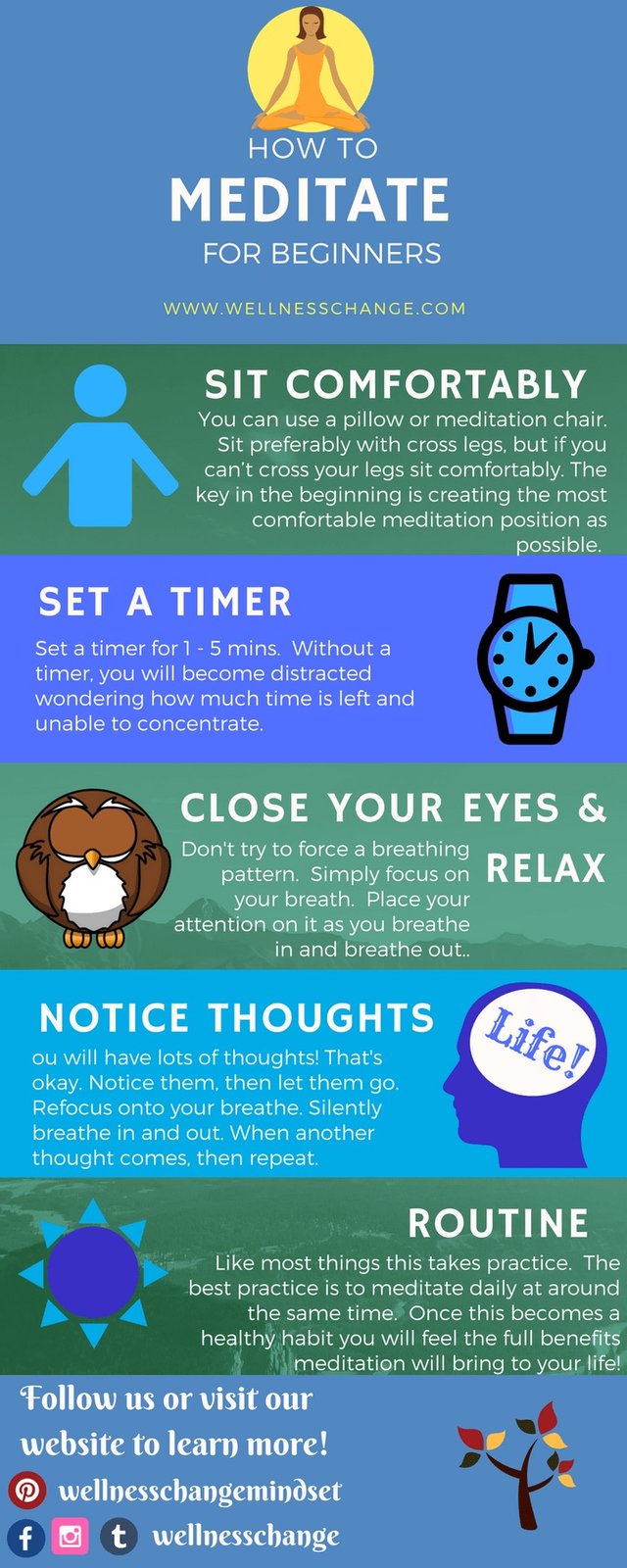 1) Sit comfortably.
You can start by using a pillow or a meditation chair. Sit preferably with cross legs, but if you can't cross your legs sit in whatever position is most comfortable. The key, in the beginning, is creating the most comfortable meditation position as possible. If you aren't comfortable, all you will be concentrating on is the discomfort your body is in.
2) Set a timer.
Without a timer set in the beginning, you will have no idea how long you have been sitting with your eyes closed. Worse yet, you will be constantly thinking "has it been 5 minutes? should I stop?" You will have these thoughts until the first few minutes are up, ruining any benefits that were possible. You can use a phone timer, an alarm clock, an app, Alexa, pretty much anything. Even many advanced students will use a timer so they can focus on what's important, and not time.
3) Close your eyes and begin to relax.
Start focusing on your breath. Don't try to control your breath or force a breathing pattern. Start a process of becoming aware. Try not to think, just focus your attention where your breath is. Simply, follow your breath as it comes in, then goes out.
4) Notice any incoming thoughts (they will come!).
Notice them, acknowledge the thought, then come back to your breath. Let the thoughts go as they come. Always come back to your breath.
5) Additional
If you are more visual try lighting a candle and focusing on the flame instead of your breath. Follow the same 4 steps. Notice your thoughts, refocus your attention back to the dancing flame upon the candle.
The biggest questions, in the beginning; "how do I sit?" and "what do I think about?"
What do I think about?
The simplest answer to this question is "nothing." Though, this is a lot harder than it sounds. It will take a lot more effort to keep your mind clear when first starting out than it will for someone who is seasoned. Remember, if you have a thought that is okay, acknowledge the thought then go back to your focus point.
How do I sit?
Some say that it is fine to sit or lay down. Either way works, but when you are laying down, your brain thinks you are getting ready for sleep. This could take away from focus and cause you to become sleepy. Instead; sit with your legs crossed. You can also sit on your feet with your knees in front of you.
Another question that may have is; What do I do with my hands?
You can rest them on your lap, or on your knees. You often see people in movies holding their hands into circles as they hum. This is not necessary, though if you prefer this that is fine too. This arm positioning just may be more distracting when you start out. The key to everything is making sure you are comfortable to reduce distractions.
You are now ready to start your journey of enlightenment. If you EVER have any questions or need guidance, feel free to contact us. We would enjoy hearing from our readers and lending a helping hand wherever and whenever one may be needed. We don't want anyone to be left behind on the journey.
Posted using Partiko iOS