Introduction
This blog post is in response to the ongoing DApp review task by Oracle-D. The task specifically requires interested members of the community to promote and review any media DApp listed on the StateofTheDApps platform. In fulfillment of this task, I have chosen to review Musing.io.
---
The dawn of internet confers on us the ability to ask a questions and have an answer provided to it almost immediately. There is virtually no topic nor subject anyone can come up with today that has no been discussed or deliberated upon before. Internet, being a decentralized store of information right from inception, does not discriminate as to the qualifications of content creators. And for as long as there is life, people will always want to know more. It makes sense, therefore, to have platforms that are specifically tailored towards providing sound answers with professional touch to peoples' questions in a way that runs very efficiently.
Many of such question and answer platforms have been birthed in the course of time. Chief among them are Quora, Stackoverflow and Yahoo! Answers. These platforms play host to contents that answer surgically specific questions people normally ask on the internet. I consider these platforms exploitative because content contributors are not compensated for their invaluable contributions. This is where Musing.io DApp comes into play. So what's musing.io DApp?

source
Musing.io DApp
According to its creator @jonching in the intro post of the project some ten months ago:
Musing is a question and answer platform, built on Steem's blockchain, that rewards you with tokens for answering peoples' questions!
Just like Quora, Stackoverflow and Yahoo! Answers, any user who joins Musing.io will possess the ability to ask questions as well as provide answers to other users' questions. The contributors' ability to earn steem cryptocurrency on Musing.io thus differentiates it from other similar platforms.
Starting out on musing.io is as easy as having a steemit account. If you already have Steemit account, use your active private key to sign in via steemConnect. If you don't have a Steemit account, then head over to Steemit site to get one, and then sign in with it.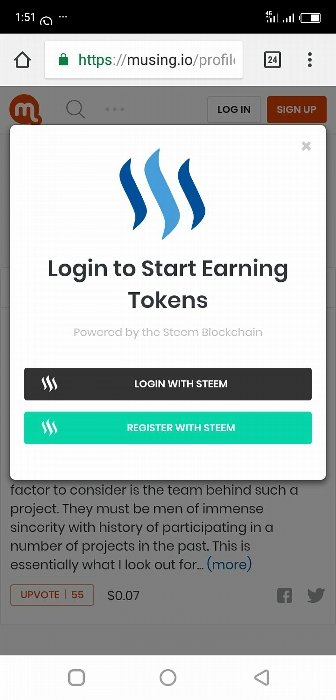 Asking questions
Once you log into the platform, you can play around to get accustomed to its different button functionalities. The platform isn't complex to master; very pretty easy to use. I was even able to ask a question: Does masturbation cause hair loss (baldness) in mem? and earned $2.24 for it.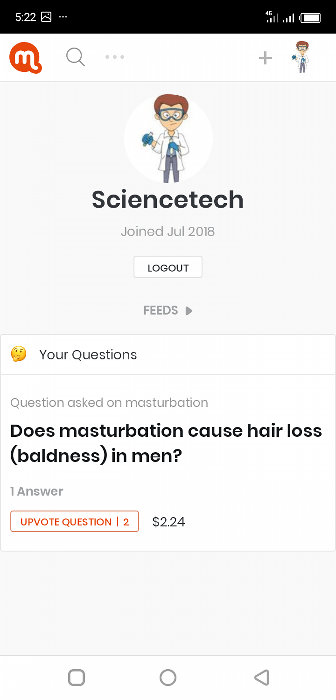 I have known StateofTheDApps.com for a while but, seriously, I never knew nor heard anything about Musing.io until I decided to take part in this DApp review task by Oracle-D. What an amazing way to earn steem? So effortless.
To ask a question, just click the plus (+) sign beside the avatar image; type in your question in the page that pops up and submit.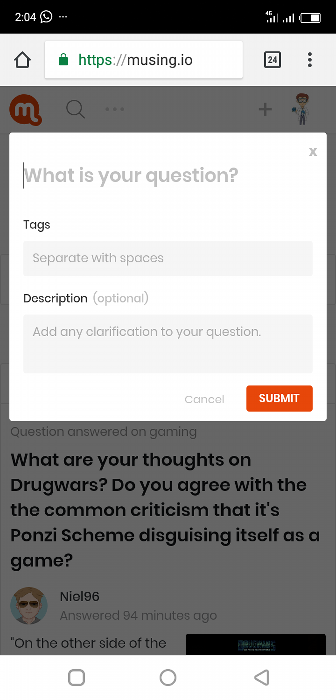 Answering questions
To answer questions, just click Menu button (i.e the three dots at the top left beside the search icon) and click Answer button from the drop down menu that displays. You can scroll through the questions to select anyone you are interested in answering.
To match your expertise and knowledge, the questions are categorized. So you can click on the Feeds button to display available categories, and select appropriate question category where you have expertise to provide insightful answers.
I attempted the question: If I invest in ICO, what aspect should I check as show in the sceenshot image below.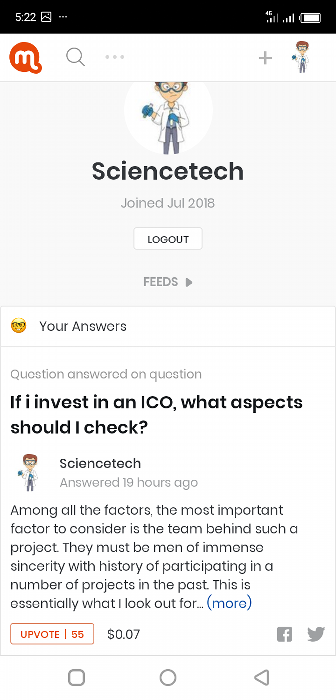 Reviewing some key features of the DApp
Some of the key features include:
Customized feeds
This feature enables you to take charge of what appears on your feeds. You use it to select and follow some popular tags you would like to be answering questions under.
New feeds
New content filter list all questions and answers according to the time they were published. Here newer questions and answers rank higher than the older questions and answers.
Hot feeds
Here, questions and answers are listed according to vote count; with those with more vote count ranking higher than ones with lesser vote count.
Top feeds
This content filter ranks questions and answers according to their payout values. Those with more payout values rank higher than those with lesser payout values.
Comparing musing.io with other similar platforms and my final opinion
Unlike Musing.io, I consider other question and answer platforms as being exploitative, because they do not reward their content contributors for their efforts and time. This could negatively affect information sharing in the following ways:
Belated response: people may not feel the need to quickly respond to questions because they are not paid for their time and efforts.

Answers with questionable genuineness: Contributors may not bother to put in extra effort to provide accurate, thoughtful and well researched answers because, after all, there is no incentives to compensate for all the headaches.
Secondly, unlike Musing.io, data uploaded on other platforms can permanently get lost without any chance of recovery. This cannot happen with Musing.io because of the immutable nature of blockchain applications. Any data that is registered on blockchain stays permanent.
My impression & suggestion
I have a good impression about the platform because of its simplicity of use. It is built in a way that anyone can navigate around with little or no assistance. Musing.io is currently ranked 74th on the StateofTheDApps.com and 8th under media category. This is an indication that it contributes significantly to the activities generated on the steem blockchain every day.
That said; however, I would like to see a completely self-supporting Musing.io platform. Currently, the platform lacks its own wallet functionality as well as follow/unfollow feature. I think the developers should consider building these two key features on the platform to actually make it self-supporting. People should be able to make transfers, and follow/unfollow users respectively within the platform. All these would help enhance user experience when put in place.
Judging fairly, I rate this DApp 4/5.