Introducing Musing.io - A Decentralized Question and Answer Platform on Steem!

We're excited to, at last, launch Musing.io to everyone in the Steem community today. Musing is a question and answer platform, built on Steem's blockchain, that rewards you with tokens for answering peoples' questions! Imagine Quora, but with the crucial distinction of being able to properly incentivize content contributors.
Any user who would join has the power to ask questions and provide answers. Any upvotes you receive on your answers are rewarded in the form of Steem's cryptocurrency. By providing accurate and thoughtful answers, you'll be sure to earn some money (we take a 0% cut). 
Motivation
Since the dawn of the internet, it's been our great advantage to be able to ask a question and have the answer provided to us instantaneously. This ability underlies a core faculty of the web, and because there will always be more things to know in the world, it will help to have a platform that can provide better answers and do so in a way that runs more efficiently.
Sites like Quora, StackOverflow and Yahoo! Answers are all incredibly useful, but they don't reward the people that create their content. This affects the following features:
Answer Quality - Without proper incentives, it doesn't benefit people to put that extra 20% into writing something truly great.
Response Time - People won't feel the need to respond quickly or at all if there's no reason to.
Truth - You'll be reading an answer and find that at the bottom, it's connected to some self-promotion or advertisement for their company, website, etc... which makes you second-guess their truthfulness.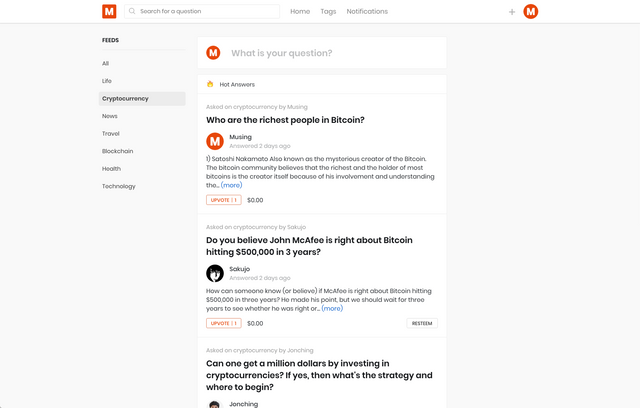 Implementation
We built Musing with decentralization as a central pillar to our technology stack. Great effort went into ensuring that all posts, comments, likes, etc... are recorded and used on Steem's blockchain, which makes the entire application almost entirely decentralized. The interactions should involve just your browser and the blockchain.
We plan to open-source the platform once there is clear developer interest. Open-source is the future of blockchain tech and is critical to true decentralization.
What's Next
Don't forget to check out our platform - Musing.io
We will be adding new features, like IPFS image support, and a Smart Media Token (when they launch). These features will enable us to empower users both individually and as a community.
Additionally, we'll be writing more posts on Steemit about technical matters and how we built Musing, as well as updates on the progress of our platform.
It's our mission to expand the reach of human knowledge and to create a collective intelligence that runs faster and more efficiently than any before it.
We're looking for developers and designers! If you're interested in working together, send an email to [email protected]