Read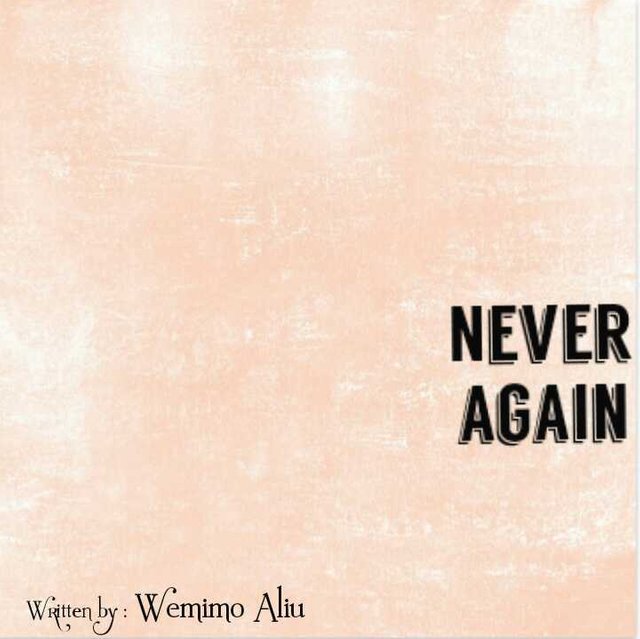 Chapter 3
"Hmmmm, you were right. It's really good." Bola said, dragging the word 'really' to say how pleased she was .
"Told you. Our restaurants made the best meat with gravy." I chuckled.
"Mikun and pride," kenneth said as he chewed on his meat, after licking his hands.
I laughed. I was proud. It was the truth. Proud of my parents. Proud of the kind of life they were able to give me. Proud to be their daughter. Who wouldn't be. My father might be the richest man in my country, but he had never declared the total estimate of his asset like his friends did. He had properties in all the states in country. Sometimes ten in a state. I could say that because father owned ten big Estates in Lagos. One of which had like 500 houses; flats and storey buildings.
My father was a big man. Politicians dine with us, wanting him to sponsor an election or for other things. It was easy to recognise our properties but not us. Most our of properties had Awolowo as the brand name. Awolowo estate, Awolowo breweries, we had electronics companies and so on. Everyone buys Awolowo products but we stayed away from the media. Father said it was good thing.
WAEC (West African Examinations Council)was starting in two weeks, my final exams in senior secondary school, so I and my two best friends decided to do a group study. They stayed in one the houses in our Estate, The Ogunbajo's and Igwe's.
Bola's father was a lawyer, Mr. Olanrewaju Ogunbajo. He was younger than most parents. He had an accent and talks a lot. He had studied outside the country.He had become rich having politicians and business men as retainers. His father was a politician before he died. So he had connections as a birth right. He was also our family lawyer.
Kenneth's father, Mr Okafor Igwe was more like my father, someone who had struggle his way to the top. He deals in automobile. He had three branches in Lagos and two in Enugu. His English had the Igbo accent in it. He calls me 'Our wife' even after I told him I and kenneth were friends. He would nod and still call me that when next he sees me. I don't think he knows my name.
After hours of studying which I preferred to call torturing. I took one of my parent's car and drove us to one of my mother's restaurant; "The feeling." Mother had two restaurants, a large mart, A unisex salon/Spa and a cinema. I guess my father's business acumen rubbed off on her. I heard her talking to her cinema manager the other day, she wants to open another cinema. I guess she's bored and wanted a new project to keep her busy.
I have been trying to get Bola to eat her chips with the meat gravy sauce instead of ketchup. So she decided to oblige me today. I am sure won't be going back to that ketchup of a thing. I never liked it.
"We should head back home guys" Kenneth said.
"Before your mother calls the commissioner of police that you have been kidnapped" kenneth added, teasingly.
"Or her grandma calling on her ancestors to bring her home" Bola said. And we all started laughing.
" Are they now talking?" Bola inquired.
"Who" I replied.
"Your mother and grandma of course. You said they stopped talking to each other after your foot incident"
"Ooh. They communicate with each other when they have to." I said.
"Dad tried pacifying them both, but they wouldn't listen. He stopped trying."
"But if you are asking if they are friends, they are definitely not." I added l, making faces.
Kenneth stood up, a sign he was ready to leave, he was on a sleeveless T-shirt. His hand were toned with a bit muscle showing. I have never seen him like this, or because I wasn't paying attention. His beards line were becoming more prominent with short hairs growing out. I felt a tingle.
"Why are you still sitting, let's go abeg" Bola's voice jolted me back to reality.
---
We headed back home, listening to wizkid's song Ojuelegba. All singing along. Moving on our seats.
"You guys don't have any bumbum to shake" kenneth said, while laughing.
I felt another tingle.
Bola turned back and hit him on the head.
"Your gir friends are not as sophisticated as us,"Bola said pulling her tongue out at him.
"I don't have a girlfriend. I am crushing on a girl though." He said.
"Who is the girl?" I asked too quickly.
"It's a secret" He replied.
Bola laughed out hard and said the girl must be ugly that's why he must be hiding her.
I was pleased to hear her say this. I don't know why.
I pulled over the car in front of the mama selling corn and Ube by the road side. I was a frequent customer. She sings my name whenever I patronised her. I gave her 2000naira and she packed me some corn and Ube. She had a Son, my age; Yinka. He had a good sense of humour. He always had something funny to say.
I asked of him and she told me he was also preparing for his WAEC, so she had told him to stay at home and study.
The rest of the journey home was the sound our mouths eating corn and ube. The whole car smelled of it. Inside the estate, kenneth dropped first, his house was closest to the gate, then Bola. I drove home thinking of kenneth's body. I stopped when I got to his private part. I couldn't picture that.
---
Day 3 prompt: meat with gravy
Word count : 954
If you don't know what the free write march madness is about. Click on the link below.
https://steemit.com/marchmadness/@freewritehouse/march-madness-day-1-prompt-in-the-club
Excuse my typos, All will be edited later on. Follow @freewritehouse and @mariannewest for the full details about freewrite
Total word count:3216