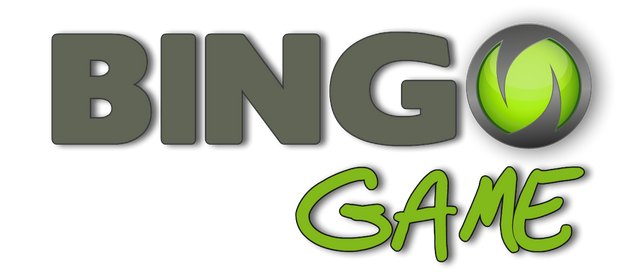 image by @simplymike
If you are busy and don't have time, you can skip to the winners announcements right at the bottom.


It's been a little while since the last bingo game, and with quite a few new players I thought I would make this post a little bit longer and go through some of the things involved in the running of the draw so that someone might also consider running a game that I can play as well! Also, apologies to those that might have submitted an entry but did not put their link or comment on this page, and I hope I haven't missed anyone since are so many entries this time - thank you all for making this a success!
In the beginning...
Eight days ago I created a post for the fourth Steemit Bingo Game, @welcomewagon had around 150 followers, and when I looked at the number of followers today it was at a very health 275! So I want to thank all the people from the various groups that are also working to help newbies for your support and encouragement.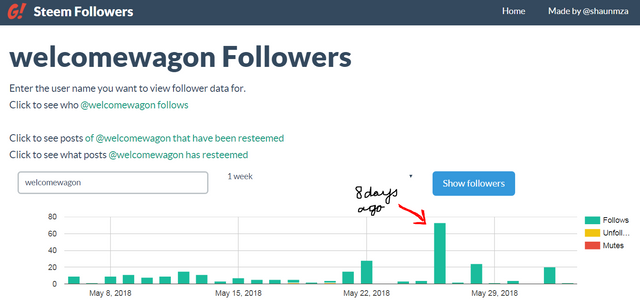 First things first
To make sure that the draw is done as efficiently as possible, I first create a spreadsheet with all the entries and the names on their card, making sure that all the name are spelled correctly. This is important because I use the "Replace" function in Excel to highlight all the names on the cards so they have to match exactly. I do this by using the conditional formatting function to look at names with no duplicate (the white cells) to check the spelling against the followers list:

This actually also gives me a good idea of the spread of names on the bingo cards but I do some other analysis of this later on. But it was nice to see that @gracefavours has picked 9 names that no one else has on her bingo card (she is one of my favourite players) and @smylie2005 also has 7 unique names, while 4 players have cards that have no unique names on them.

Next I do a count of all the different names on the bingo cards to work out who is on most people's card, but I also do the counts to make sure that when the names are drawn I have checked off the correct number of names from the cards. From this I can see that 105 out of the 250 names from the followers list (not 275 as they joined after I have drawn the names) have been used on the cards, which is not a bad coverage of the followers list but I hope this will also encourage people within this group to go and learn about other members of the group.
Now I am not surprised that @dreemsteem would be the most popular name, but I couldn't work out why it had come up 19 times when there are only 18 players! I thought I was going a bit crazy for a while or didn't enter the formulas in correctly, until I realized that @tamala had used it 4 times on her card (which is technically not against the rules) so I think it was a strategic decision of some sort :D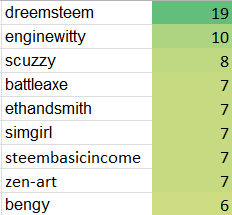 There were also 9 players that used the optional 'x' symbol to get the 20th name drawn. I wonder if this strategy will work out well for them :)
Now to the draw
I use random.org to come up with the numbers that represent the order in which the 250 names are drawn. I simply put in the parameters to give me 250 numbers and use a large enough number to make sure that I don't get a repeated number and then I get a list of randomly generated numbers just like that!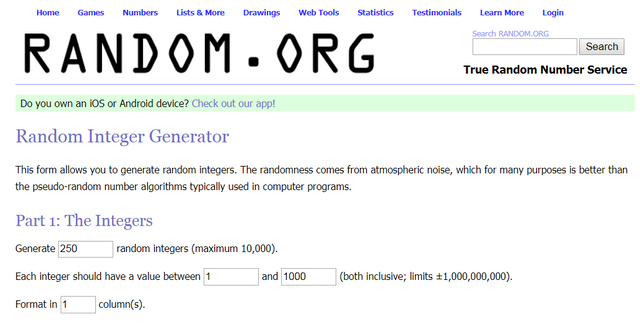 So basically I just assign each name on the followers list with a number like so: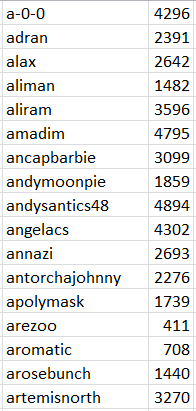 And then sort the numbers from lowest to highest to get the order that I draw the names from. And so now we can get on with the draw itself...
Name 1-4
With 250 names to choose from, the chances of someone picking the first four names and claiming bingo is well... highly unlikely, considering that only 105 of the 250 names were used in the cards. And since two of the first four names were not picked by anyone, there were no miracles in this edition either. So we have an eight-way tie for the lead after the first four names:

Name 5-20
We hit a small drought with no one picking the next 11 names drawn, but then 3 more names came up by the 20th name drawn (finally) and so at the early stages of the draw it was still anyone's game to win. For those that had taken advantage of the 'x' symbol to get the 20th name (@joelithic33, which no one had picked originally) it was actually a good move and so they picked up an extra name.
So after 20 names only 4 players are yet to pick up a name, and we a clear leader in @kchitrah needing only one more name to complete her Bingo, which is the 58th name @kennynneken!

Name 21-30
Two popular names came up during this period, with @ethandsmith suddenly putting @tamala into the lead now because the name that she needs to complete her Bingo is @dreemsteem which is the 44th name!

Name number 30, which was @supernovastaffy, also put @asapers just one name away from a Bingo as well but the name needed to complete the Bingo is @penderis which is the 79th name. It also put @penderis one away from a Bingo and the name he needs is @tamala which is way back at number 226 :p
So no change in the lead but there is a four way tie at the moment and @tamala having the closest name to complete her Bingo :)
In case you find it hard to follow what's happening at the moment, here's what it looks like:


Name 31-40
This is the crucial period since the name required by our leader is going to be drawn as the 44th name, so if anyone is going to have a chance of sneaking into the lead and stealing the game away from her this would be the period to make their move... we have @kchitrah who led very early on then was joined by @asapers needing penderis to Bingo, and @penderis needing tamala to Bingo and @tamala needing @dreemsteem to Bingo. But there would still be no lead change after another 10 names were drawn.
Name 41-50
With a total of 250 names I was expecting this Bingo Game to run a lot longer, but surprisingly we are not even one-fifth through the list of names and already we are going to have a winner.
And the winner is... @tamala with the name that was on basically everyone's card @dreemsteem!

She will receive half of the SBD generated from the original game post and the winner's announcement post as well as the generous donations from @dreemsteem, @littescribe and @apolymasks (with the other half going to @welcomewagon), which looks like it will be around 5SBD!
Wait, there's more!
And because she made Bingo using @dreemsteem as one of the names she will also get a sponsorship for 1 SBI for @steembasicincome. Also, because she is a follower of @ifc so that means she will get an extra SBI as well so great job! I know that she is also part of the Dream Team in @thesteemhouse so I am extremely happy that she has won, and I hope that she will also follow some of the other groups like @asapers, @greetersguild, @newbiegames and others not mentioned that are working hard to support newbies.
I also want to give a special mention to @penderis for a very creative story added to your entry. You were also very close to the win and as a consolation I want to offer you a new Steemit banner design (I don't think it is that bad by the way) by one of the many very talented artists from the @ifc marketplace. Please get in touch with me on Discord for more details :)
Some final thoughts
This is the first time I have seen a combination of strategies play to help produce a win so well played @tamala! Not only did you manage to use the 'x' symbol to get that crucial replacement of the 20th name drawn, you also used @dreemsteem in four different places and one of them gave you the edge over @kchitrah (and extra chances to get the bonus SBI). In fact, @iexplore would have actually snatched the win from @kchitrah as well with his 'x' symbol and the names @littlescribe and @bengy both coming up before the 58th name. Which just goes to show that you never really know what can happen in Steemit Bingo!
So in the end I think the optional rule modifications made for a rather interesting draw, but I would be interested in hearing some feedback and ideas about how we can make the game even better for you next time!
Thank you to everyone who has participated in this edition of Steemit Bingo!
Prizes will be paid out and finalized with the transfers added to this post in 7 days, so if you want to support @welcomewagon further as well as future editions of Steemit Bingo please show your support.