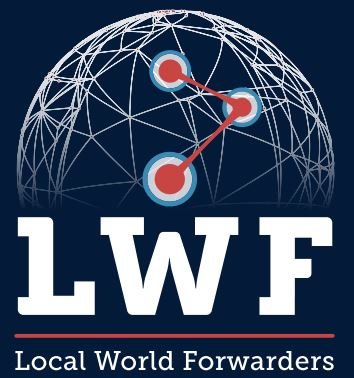 This article will explain how to vote for a LWF delegate.
If you haven't completed the "How to create a LWF Wallet" guide, please do so before continuing this guide. Please take note that this guide will only cover how to vote through the web wallet. However, voting through the desktop wallet is almost identical.
This article will cover the following:
What is forging?
Why should I vote?
How can I vote?
Before we start the guide, I want to quickly explain high level what forging is. And also, why you should vote at all. Of course if you already know this, you can skip ahead to the guide immediately.
What is forging?
Forging (also called minting sometimes) is the proces of validating new blocks in the blockchain. These blocks could contain transactions made on the blockchain. Every time a block is being forged a random delegate (for LWF a top 201 delegate) is chosen by the system that is eligible to receive the forging rewards. For every block forged the forging delegate receives a standard reward (for LWF it's 5 LWF) + the transaction fees. The standard reward for LWF will decrease in time:
Starting block 2103840 rewards will be 2.5 LWF;
Starting block 4207680 rewards will be 1.5 LWF;
Starting block 6311520 rewards will be 1 LWF.
Why should I vote?
Now that you have an idea what forging is I would recommend you to vote for the delegates that were already mentioned above. Why? Well many delegates are profit sharing delegates (sometimes called pools). They will run a node/server and when they are voted into the top 201, they have earned the right to forge new blocks. The rewards they earn by forging will than be shared with their voters. It's up to the delegates to decide how much they are willing to share, but it's up to you who you vote for.
Every LWF wallet can vote for 51 delegates at the same time;
You can (un)vote 25 delegates in 1 transaction;
You can (un)vote as many times as you want;
Every vote transaction costs 1 LWF.


The web wallet can only vote or unvote in 1 transaction;
The desktop wallet can vote and unvote in 1 transaction.
Remember that higher profit sharing delegates will not always result in getting the highest rewards. The system will determine a delegates rank by adding all the delegates voters weight (amount of LWF) together and comparing them to other delegates. If a delegate has a higher profit sharing percentage he will probably has a higher weight. This means that his profits will have to be divided by more voters than a lower ranked delegate. All voters will get their share of the shared profit based on their amount of LWF compare to the other voters.
Example 1:
Delegate 1 shares 90%, has 10 voters
Delegate 2 shares 50%, has 2 voters

All delegates are forging equally. In this example 100 coins. Delegate 1 shares 90 coins so each voter gets 9 coins. Delegate 2 shares 50 coins so each voter gets 25 coins.
Example 2:
A delegate shares 90% and has 3 voters
Voter 1 has 30 coins
Voter 2 has 15 coins
Voter 3 has 15 coins

In this example 100 coins is forged. The delegate shares 90 coins so voter 1 gets 45 coins, voter 2 gets 22.5 coins and voter 3 gets 22.5 coins.
How can I vote?
STEP 1
Go to the following website: https://wallet.lwf.io
You will see this in the middle of the page: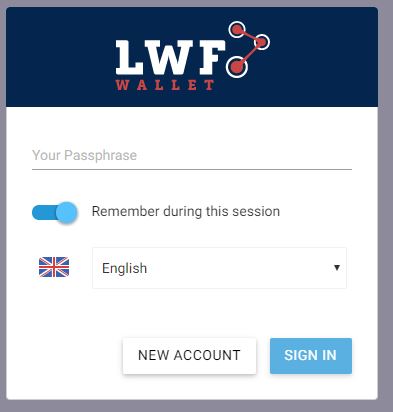 Enter your 1st Passphrase you securely saved somewhere when you created the LWF wallet and select "SIGN IN".
STEP 2
Now you will see this page:

Click on "Forging".
STEP 3
Now you will see this page:

Click on "DELEGATES".
STEP 4
Now you will see this page:

On this page you can search (1) the delegate you want to vote for. Select the checkbox (2) next to the delegates name and click on "VOTE" (3) at the top right. Remember you can perform 1 & 2 several times (25) before you click the vote button.
STEP 5
Now you will see this in the middle of the page: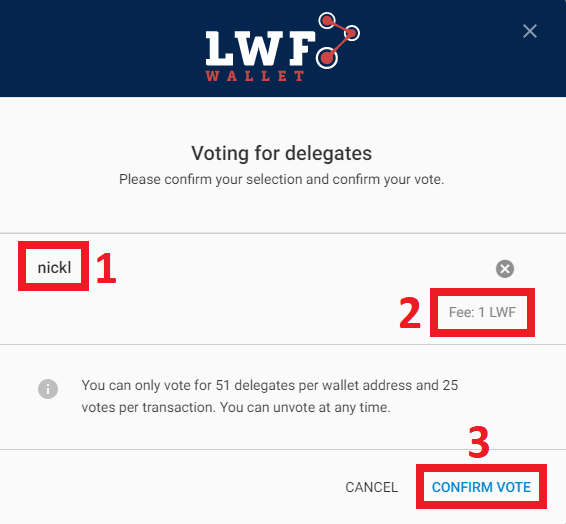 Check if you voted for the correct delegates;
This is the voting fee you pay (should always be 1 LWF);
Select "CONFIRM VOTE" to go to the next step.
STEP 6
Now you will see this in the middle of the page: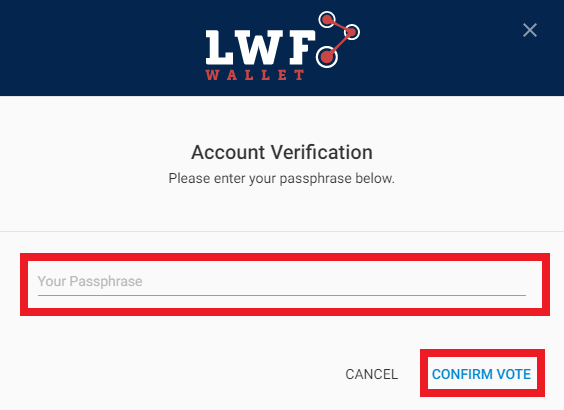 Enter your 1st or 2nd Passphrase (depending if you have a 2nd Passphrase set, although it is strongly recommended you do) and select "CONFIRM VOTE" again to submit your vote.
STEP 7
If all went well you should see a message in green saying "Transaction sent" at the top right.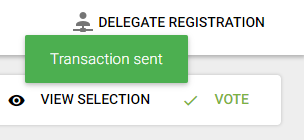 A new transaction should also be visible at your Dashboard containing your votes.
I hope this guide helped you through the process of voting and will earn you many more LWF. Also feel free to support my delegate:
nickl - sharing 85% every week
community.pool - sharing 50% every week (will increase in the future)
QUESTIONS?
If you have any questions, come find me in the LWF Slack or Telegram and send me a DM.