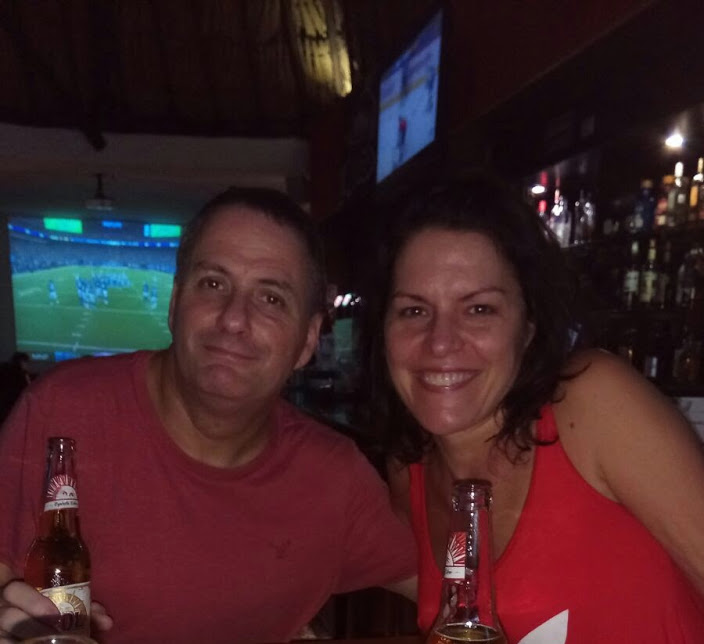 Some of you may have noticed the poem my husband (@briancourteau) wrote this past weekend. If not, here it is https://steemit.com/poetry/@briancourteau/poem-to-my-wife-as-my-cancer-starts-to-win-the-battle. The title alone should tell you about my weekend then; "poem to my wife as my cancer starts to win the battle"
It's Monday today, almost noon, and I can hear him breathing, still sleeping in the other room. What's become my normal I realize, is really not so normal after all. Because, you see, I'm listening for his breathing....to make sure he is still breathing.
He has seizures which the doctors say are in relation to the tumour he has wrapped around his adrenal gland. After a seizure hits, he often stops breathing. I've lost count of the amount of times I have literally brought him back to life. One time, about four years ago, I came home to him having a bath, except he was fully submersed under water. There wasn't a ripple in the tub. The water was smooth as glass. I jumped in fully clothed and "heimliched" him until he finally began choking up water. That was when I decided to spend as little time as possible apart; mind you, we always have been happy to be together around the clock, but this was a conscious decision by me out of necessity. I've always been so thankful that we love each other enough to want to spend every minute together though, because I would never want you to think that I'm doing it because I have to. I'm doing it because I want to, because I love him so much.
You see, we were both unhappily married for years; me 24 years and Brian 18 years. We have only been together 8 years; 8 beautiful, loving, exciting and wonderful years; 8 years that I wouldn't trade for anything in this world....except maybe his health. I would do anything to have more time together, but I'm afraid the writing is on the wall, and my love, my life, is getting tired. And because I love him so much, I have to respect that fact. I have to respect the fact that he's tried for so long to ignore the pain, and that he can't do it forever. Sometimes I feel like having a toddler-sized tantrum about it all, but when my own son used to do that, I simply walked away. I'm assuming the same would happen to me, either that, or someone might pull out a straight-jacket.
So, I continue. I don't open the door to tantrums, but that is not to say I don't go out by myself for a long walk and cry. I do. A lot. Because in the end, this is not fair, and I can't do anything about it.
What I can do however, is appreciate every day, every hour, every second that we have together. Not just appreciate, but cherish them. I keep a journal and I write on here, so that I have a record of all of this, because I know one day he will be gone, and although I will never forget you @briancourteau, I know that your fear of being forgotten is big, and it's my job then to keep your memory alive. And I will, for our friends and family, but especially in my heart. Always in my heart.
So I would like to wish you a Happy Valentine's Day, but everyday I wake up with you beside me, is a Valentine's Day. Everyday I have to share with you, is a Valentine's Day.
Everyday, like now, when I can hear you sleeping and breathing, is the best Valentine's Day I could ask for.
(Credit: YouTube, Isaac Tan, Valentines Day 2018)