I'm Back! Another Update on @briancourteau and @lynncoyle1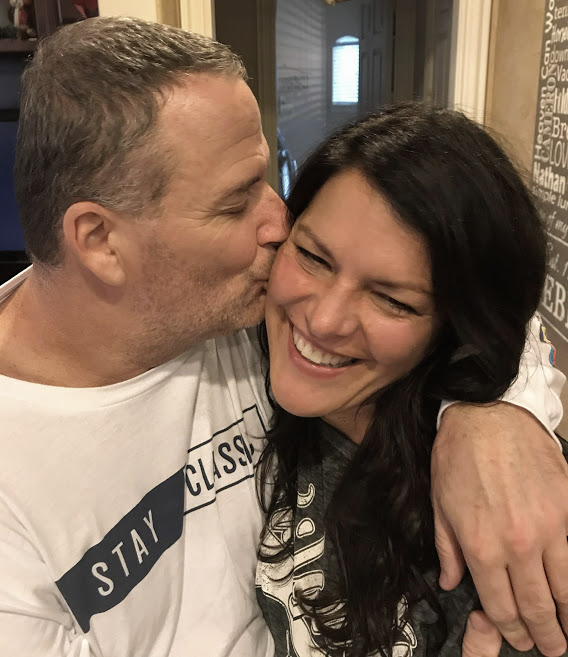 I had full intentions of writing another "update" post when we returned from Dallas, back to Mexico last Friday, but I've been busy filling my days with busy work, solely for the purpose of not having to think too much. sigh ... that only lasts for so long, so here I sit, facing my reality.
Good news first; Our oldest son is coming for a visit next week and our time with my brother, his family, and my parents in Dallas for Thanksgiving was successful! It's always great to see family; I didn't realize how much I had been missing them. The bad news; I didn't realize how much I had been missing them, which now, makes me miss them even more. I have to admit that I get lonely sometimes, with Brian not well and resting so much, and then seeing family really struck that chord. More bad news; my mother is in the beginning stages of Dementia/Alzheimer's (it's not clear which yet), but suffice it to say that I'm definite that it's one of those. I heard several times, Is that your real hair color, over the course of one week, to which I replied, Yes mom, except for where I cover the gray. And guess what? I have more gray after that week :) She and I talked and joked a lot about it all, and I will continue to do so because she's my mom and I love her. My father, who never ever has asked for help with anything in his entire life, asked if I'd be able to come and help out in the summer; he's feeling terribly overwhelmed with it all. Of course, it all depends on Brian ... fingers crossed, he's still here then. A girl can wish!
Which takes me to what you're all waiting for: news on Brian, so here it goes:
(I've chosen bullet points because I realize that
our posts (Brian and I), have reached many in the steemit community, and many of you came part way into our story, wondering what this was all about. So I'm going to give a Reader's Digest condensed version of it all. For those of you familiar with it, skip to the last few bullets :)
Brian was diagnosed with cancer and like most, we tried chemo but it was a terrible experience. Out of that year, there were 10 months of horrible sickness, then one month of hope, excitement, and optimism, a month that made us believe it was working, only to return to square one by the next month, the end of that year.
His cancer was a self-contained tumor, wrapped around his adrenal gland; a biopsy proved inoperable, for fear of it metastasizing, so our options were to try chemo again (a resounding NO, or live with it). We chose life! The doctors said in about 5 years his other organs would begin to be affected, which is what has happened now.
At this time, he was also afflicted with horrendous joint pain, from head to toe. We presumed the worse, some sort of bone cancer, but to this day, we have no clear answers as to what it is exactly, but he continually suffers from it. Fluid from his joints were finally sent to the Mayo clinic, but the results returned as unknown crystals (helpful, right? :), so he was put on a high dose of Prednisone, which is a steroid meant for short term use. He's been on it for years, and it of course comes with a host of side effects, including calcium depletion, so now his bones break when most of us would simply shake it off, and his teeth, all but seven, have broken off in his mouth. I kid you not, the last tooth broke eating spaghetti. How I wish that was a joke.
Financially, it's been beyond difficult, because his tumor chose the adrenal gland as its host, so any stress whatsoever activated it, which led to him having seizures. At the time, he worked for a large franchise and we owned/operated one of the restaurants. Needless to say, we gave them both up and lived off our savings, which evaporated after a few years, during which Brian applied for Provincial Disability, but it was no easy process. We actually had one woman tell him, I'm sorry sir, in her monotone phone voice, but cancer is not a disability.
During this time, we downsized and eventually bought a large 5th wheel/RV, which we lived in for years. It started off as a cheaper way to live, but in the end, our cement pad in Vancouver had an increase to $2000/month, if you can believe it! Our plan was to do some travelling while he was still healthy, but instead we made our way to Mexico.
Most of you know our love story, and maybe assumed that I didn't go back to work (I'd been teaching high school before we bought the restaurant) because we wanted to be together. But the fact is, we had to be together; his seizures often left him not breathing, and once I found him in a bath, under water, without a ripple or movement in that tub. I've revived him, given CPR, more times than I can count. So necessity and love has kept us as one. Practically speaking, it has been very difficult; his pension is about $1400/month, so yes, that's what we've been living on. I do have Federally locked in RRSP's (US equivalent to 401K), but I can't access it until I'm 55 years old, two+ more years. There have been times where we've borrowed from family and friends, and one of Brian's friends started a Go Fund Me, and here on Steemit, @davemccoy, when he found out we couldn't afford some medication, started a steemit fundraiser of sorts, and many many many of you joined in. I've had people recently here ask me to post Brian's PayPal account: [email protected] too. Asking for help has never been easy for Brian and I, but throughout our steemit journey, we've both learned that others want to help us, just like we've always helped people in need during our more prosperous times. We are still rendered speechless when we think of it all.
We finally moved to Mexico because we could simply no longer afford to live on Brian's pension in Vancouver (which is where both our boys live) or the surrounding area. Mexico was always in our Golden Years Plan, but together we decided that life together, in a place that we love, enjoying every moment was worth the move. It was the right decision, however there have been times when our one son in particular needed us, and we were unable to make the journey back because we'd already used our allotted savings to return for Brian's 6 month check-up and necessary time limit to keep our Canadian medical plan active. This whole process has been paved with bits and pieces of guilt, even though I know in my brain, it's out of my control.
Over this past year, Brian has also developed lumps in all the tell-tale spots of lymph node tumors, and my last post described the more recent changes in his health, like coughing up blood, and the same in his other bodily functions; this continues unfortunately, fairly regularly. So the writing is probably on the wall, but I've been choosing to read it without my glasses on most days :) Like I said earlier, a girl can wish, right?

This post turned out much longer than I originally anticipated, so I'm going to end it there. As usual, Brian and I want to thank all of you for your continued love, support, prayers, positive vibes, checking in on Discord etc.
You've all become our family,
Lots of love,
Brian and Lynn