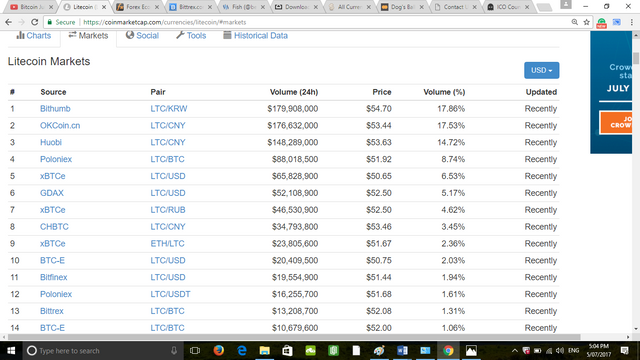 For those of you following me, you will know I like to look to real world economic information to get my lead on certain cryptocurrencies.
Litecoin has been the highest traded coin in the crypto-economy over the last 24 hours. With over U.S $1billion in trade volume, Litecoin has surpassed crypto-giants Bitcoin and Ethereum. All the countries leading crypto-investment are jumping on board.High volumes out of Korea, China, and the U.S suggest that Litecoin is the preferred currency among crypto-enthusiasts early in July.
This could also be significant in explaining the substantial retracement from Antshares since my sell advice (which I hope you all followed, see article bellow).
https://steemit.com/cryptocurrency/@beachbuminvestor/breaking-news-btc-ans-i-am-taking-40-off-the-table-sell-advice
So is Antshares good buying? Not right now in my opinion. I believe we could see a further retracement as far as $6.00.
Your call frothers. I'm just trying to give you something to think about. You should always have a reason to buy or sell. FOMO and Panic are not reasons!!
Stay stoked, keep frothing, and always remember...... an informed investor is a successful investor.
Fish @beachbuminvestor