LISK - [SEARCH TREND REPORT AUGUST, 31ST] - What??? Why???
LISK - [SEARCH TREND REPORT AUGUST, 31ST]
The number of people that know about and use cryptos increase every day, naturally, the demand will make them more and more valuable! That's why it is important to keep track of the public's awareness on the subject!
---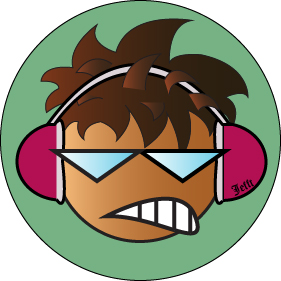 What
The table shows how popular the following words are on Google's search engine over the past year:
Blue: Lisk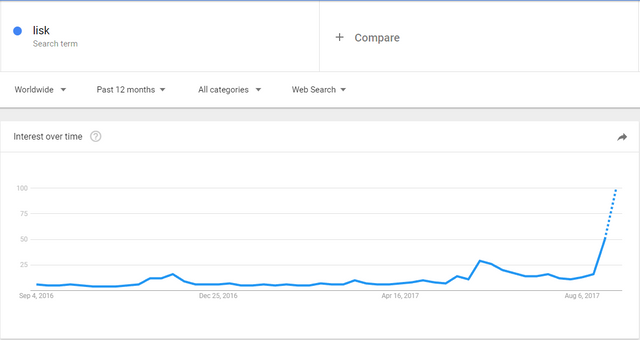 The numbers represent the amount of search interest in the subject relative to the highest point on the chart for over the span of a year.
A value of 100 is the peak of search popularity (100%) and a value of 50 means that it is half as popular (50%). Similarly, a value of 0 means it was less than 1% as popular as the peak.
Why
The chart shows a significant upward trend in Google's search! Lisk is a public blockchain platform that allows the creation of decentralized applications similar to Ethereum. Lisk uses the Javascript programming language, which is the most widely used language by web developers all around the world.
You may be asking why the price of Lisk has been mooning recently, there is one definite explanation. Lisk is undertaking a rebranding this upcoming month: September 2017. For those of you who have witnessed Antshares rebranding to Neo, you also experienced the price surge as well as the publicity it had created. The increase in Lisk awareness is not only due to the great potential it has and support from the Javascript community, but also because people are stocking up for the rebrand! If Lisk plays out the way Neo did, expect the price to rise even more in September!
Look at the purple arrows.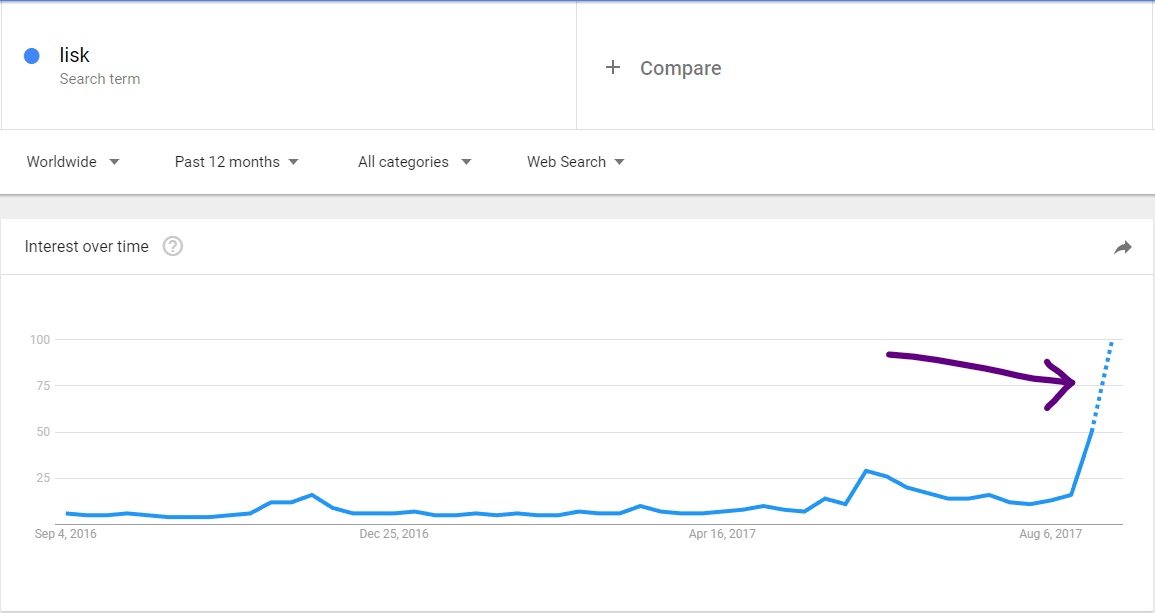 A similar trend happened with Antshares, weeks before it's rebranding!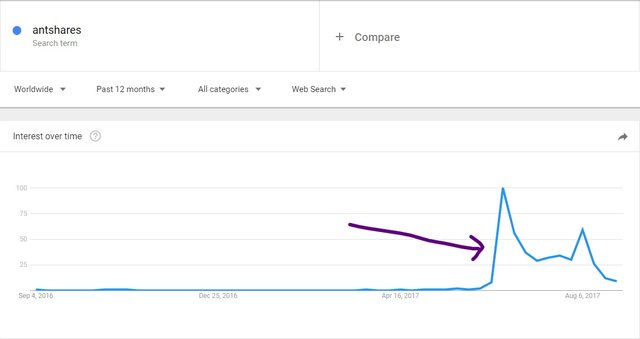 Just you wait and see!
---
Thanks for reading guys!
Take what you want from my post, I am but 1 man with 1 mind.
Due diligence! and Follow @jefft