Steem Jungle dApp Breif Overview
"Steem Jungle"
in a Nutshell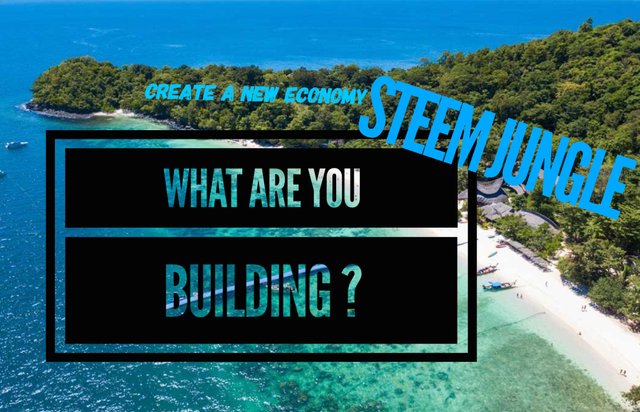 (SIMS ON STEROIDS)
Without giving out my full detailed concept of what we're building , I want to bring a Virtual World to the Steem Blockchain . A dApp that is Entertaining while integrating a business conducting environment .
Imagine becoming a founding father of a brand new thriving Nation . Imagine you and some fellow Steemians set sails on the open Sea to explore the unknown . While on this adventure you come across a Beautiful island of untouched Land that would be Great to House the Steem Community. Imagine having the opportunity to buy virtual Land , clean it off and build Virtual Real Estate that can be used for Commercial or Residential purposes on the Steem Blockchain .
Peer 2 Peer VR Experience integrating with other Steem dApps, if they are leasing or owning Real Estate . Virtual Dance clubs , Malls , Movie Theatres ect. If you can imagine it, you can build it here in Steem Jungle . Acquire some digital assets and start Building your future today .
PROBLEM : Lack of Digital Assets & Markets that are available on the Steem Blockchain .

VISION : Our vision Is to bring new markets , new digital asset classes and new industries to the Steem Blockchain that will create a Thriving Ecosystem .

MISSION : Once Steem Jungle dApp is up and running, various Steemian communities and Groups will be the main source of building a thriving ecosystem . That's why over here in the Lion's Den we promote Community Empowerment and Collective Growth . We're building a community of Lion's (Leaders Influencing Opportunities Now) That have gave up their mindset of self interest and became apart of a Collective effort Striving for excellence within the Steem Ecosystem. We're Creating the PEOPLE'S dApp (Made by the PEOPLE, For the PEOPLE )
PLAN : We will continue to conduct strategic plans to promote and empower our community to prep for what we have in store for the near future through delegations and contributions to our community from fellow Lions through Eco Bonds and Op Shares . We are launching Lion's Den Merch on Dec 1st. along with brand new services and features .

BUDGET & TEAM : To make this a full community created dApp we are always looking for the opportunity to work with other Steemians/ Communities for their help and feedback . We will have a more detailed formula of budgeting on our published roadmap in the near future .
Let your voice be heard and become apart of a new era of Cryptocurrency , whether you're a Crypto Vet or the Crypto Newbie let's stay 2 steps ahead of the herd and build whatever we imagine as a collective through mutual interests &
collective brainstorming.
Check in with our Community Tour Guide : @larrythelion
The Building of a new era Starts in the Den .
https://discord.gg/RJrvtCx