It's another episode that is very much BC (Before Cleo). Even though she's been dead for 30 years she has a much better story than me. But we have a little more to go in the Gunner Saga. I promise not to post a gratuitous picture of Charlize Theron just to buy a few tadry votes. Any pictures of Ms Theron will be strictly related to the story.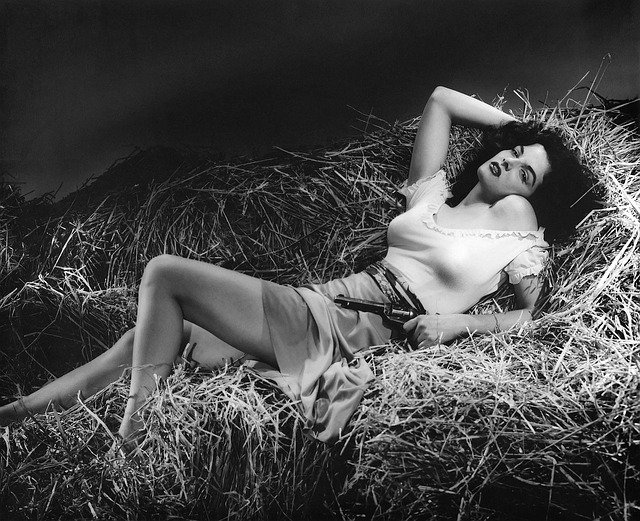 Source
Jane Russell still sells. You can just sweet bet that Gunner and I had looked at this particular picture!
On the first of July, 1971 Gunner and I enlisted in the US Navy under the buddy program. This guaranteed that we would go to boot camp together and that we would be given priority to be able to serve together. D81-36-xx was my original service number. I was a member of the US Navy on temporary inactive reserve while we waited until mid November for our slots to open up in boot camp.
My Grandfather had requested that I show up in Davenport on July, 1 to register to vote. He was the County Auditor of the county I lived in and as such was head voting official. July 1, 1971 was the day that the law of the US changed making 18 year olds eligible to vote. He wanted me to be the first person in Lincoln County WA to register at less than 21. It didn't work out for us.
On the 4th of July, 1971 we had a family gathering at my Grandparents place. There were probably 30 mostly related people there including one of my uncles that was home on leave from the Navy. Family meals were a huge deal, my grandmother was a legendary cook as were all her daughters, my mom included.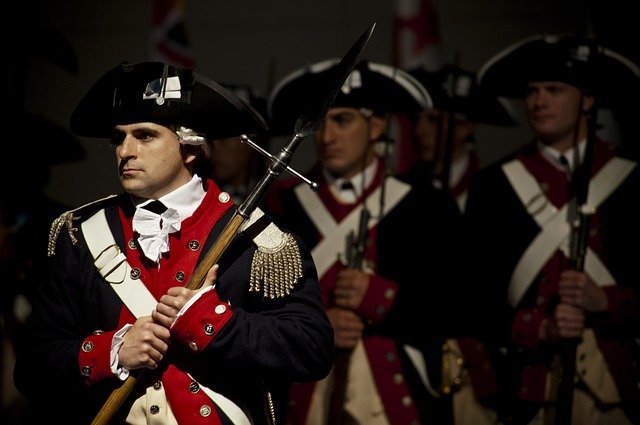 Source
At some point after the eating had slowed (it never, ever stopped completely at that house) my Grandfather called me aside from the crowd. I figured he wanted to talk about my not making it to be the first to register but it was more than that. You see, they were a long time military family and my enlistment made him very proud. He'd been a fireman on the Iowa when the Great White Way sailed around the world. 3 of his sons served in the Navy, and the black sheep was in the Air Force.
What he said that day blows me away 47 years later. He told me he was proud then stuck out his hand to shake. When I took his hand he said "I shook the hand of a man that shook the hand of a man that fought in the Revolutionary War". Think about that. I was three handshakes away from the Revolutionary War. What I did not know until some time later was that it was his Grandfather and his Grandfather's Grandfather that he spoke about. His Grandfather had moved his family from Virginia to Illinois to fight for the Union in the Civil War. The 110th Illinois to be exact.
In the space of 4 days I had enlisted in the Navy and had a legacy to protect. Suddenly, I couldn't wait until Mid November when I would go active.
Talk about a lame duck. I couldn't make any plans for much of anything. I promised my father I would give him one more harvest before I was gone to the Navy and the rest of my life. It was a big deal to us both. I was a damn fine hired hand and he paid me as such. Plenty of money for beer and cigarettes. I lived with my folks again which was pretty weird after a couple of years away.
I knew it was a time of profound change for me. I visited and partied with my college buddies but we could already feel that it was the end for most of us. I got sympathy sex from at least two of the young women that I'd known at school. Life there was weird but good.
Harvest and planting winter wheat took most of the summer and fall. As Halloween approached my gang of friends made plans for one more weekend of party hearty before I left. Halloween fell on a Friday night that year which makes for a great party weekend. I was adequately amped for the action.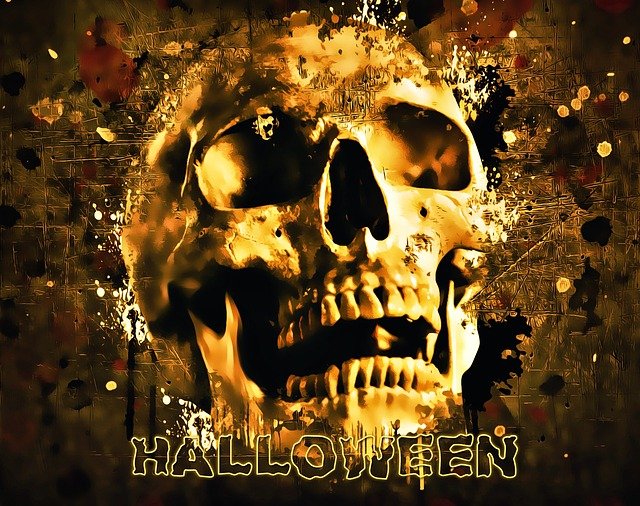 My father had asked me to work up a specific field for him before I left. I've always kept my word and got that field finished up on Halloween day. I was done. Nothing between me and the Navy but some heavy duty drinking and partying. I went in to my folks house and tried to call my former roommate to let them know I was on the way. It was just before 3:00 pm and I got no answer. I decided to try again in a half hour or so and decided to take my brother's (he was still in High School) new crossbow down to the barn to check the accuracy of the thing. I carried the bow, 4 bolts and a target with me.
We had a little bit of a range on the side of a large strawstack. We only used the straw for bedding so the backstop was good for light caliber pistol shooting, and we did. This day I decided it would be perfect to test that crossbow.
It was a powerful unit, 130 lb pull, the easy way to cock the thing was put the bow on the ground and use both hands to make the pull. The release was easy and instant, and the first two bolts I shot hit the bullseye.
The third bolt had a problem. Damn thing kicked me and I dropped the bow. When I bent over to pick it up the arrow fell out. I'm not sure to this day exactly what happened but it misfired and I got the pointed end in my right eye. It didn't come directly back, as it turns out it didn't penetrate my brain. It went completely through my eye and happened so fast that it didn't hit either eyelid. In an instant my life changed. Completely. Forever.
All photos in this post are properly sourced and liscensed.
All words in this post are mine. For better or worse
You want some real motorcycle travel? Check out Velimir. That's some kind of motorcycle writing.
Adsactly is a society for freethinking people. Interested? Click Here to join our Discord channel.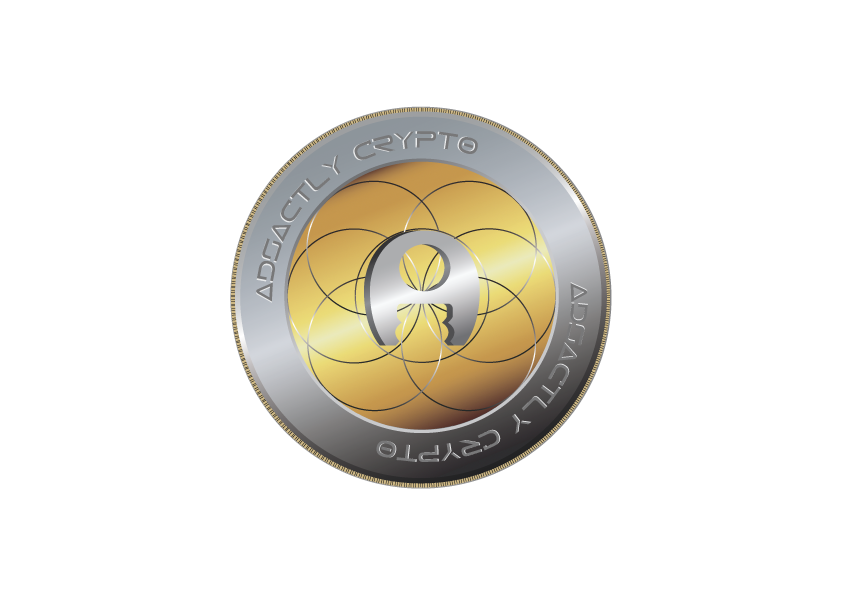 ---
Vote @adsactly-witness for Steem witness!
In the bottom of the page type in: adsactly-witness and select vote.

All small letters and without the @ sign
Or give us a direct vote here
Thank you!
---