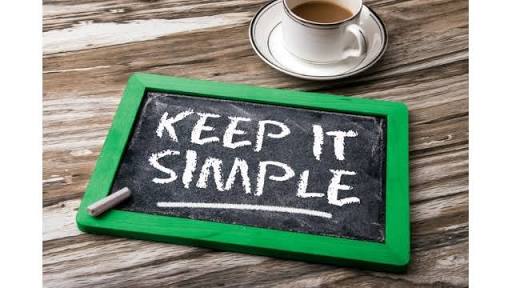 Image Source
---
My favorite and motivational one-liner mantra, keep it simple, has always proven to be helpful when it comes to making decisions related to finances, social activities and clothing/appearance.
In this part of world, the economic situation only put smile on the faces of a few citizens. A common saying here says and I quote, "cut your coat according to your cloth", this explains in a sense that, you have to do things especially in matter of finances according to the state of your wallet, bank account or what have you to avoid bankruptcy.
It is quite understandable that human needs are insatiable and numerous(according to the evaluation of the Economists), in that light, a scale of preference should be drawn on our needs.
---
Over the years, I just have to always keep it simple am not anti-social though, but I got to minimize my social activities, by so doing I don't put myself into unnecessary spendings.
What I need is what I put in budget,I prioritize them and I have always operated within my budget, I don't purchase what I do not need at the moment.
There is always a urge within to embrace what is trending or in vogue in the fashion world, but as long as my wears still look nice, I do not see any reason to change my wardrobe. I do my best to take care of my clothings and foot wears such that they do not get worn out quickly, this is personal perspective, so no one justifies me!
The same principle, I apply to my electronic gadgets.
---
My favourite mantra has aided me to stay from unnecessary debts and spendings.
Many need embrace this mantra so has not to appear irresponsible to what is needed to be catered for in the family and society.
---
I refer @gaintshoulder to look into this contest and participate.
Thank you @mermaidvampire for this organized contest which happens to be your first.
Keep soaring...