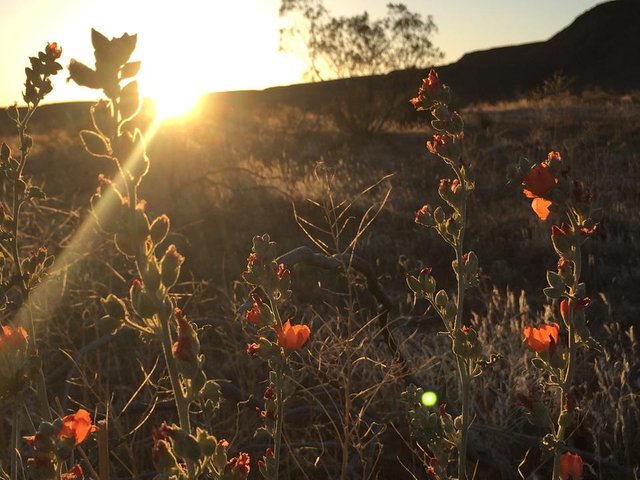 Hope is like the sun, which, as we journey toward it, casts the shadow of our burden behind us.
~Samuel Smiles
Luckily, early on I found a connection between lack of Vitamin D and all of the symptoms I was experiencing (depression, insomnia, autoimmunity, arthritis, chronic pain, PCOS, hypothyroidism, and blood sugar imbalances).
I had been a sun-worshipper most of my life, yet I was so driven by making money that I had very little time to relax in the sun or watch the sun rise and set. But something inside me remembered, it was encoded in my DNA perhaps, the feeling of immense peace and gratitude towards the Sun.
Sun-bathing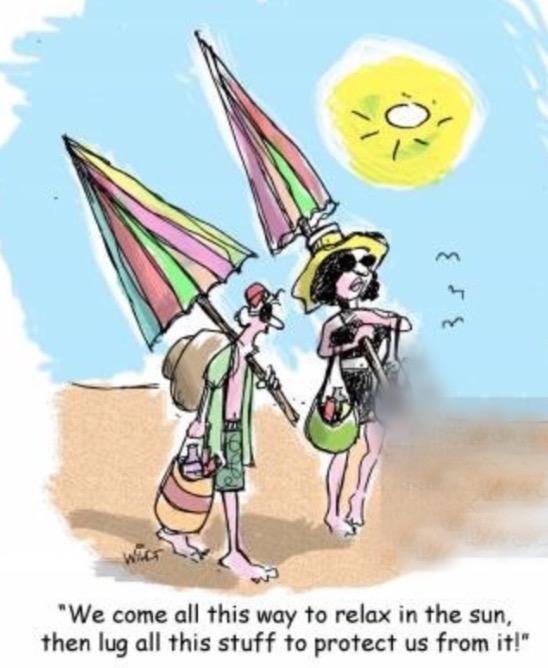 Now, I realize...this might seem like a total no-brained for most people. But about 9 out of ten people are not putting this into practice.
For most Americans, the only time we make for sun-bathing are weekends and once-a-year vacations. We're also taught to slather on the sunscreen and beware of the dangers of sun-exposure.
The truth is that humans evolved to be in the sun and the natural elements most of the day...everyday. We are meant to rise with the sun every morning and sleep as the sun goes down or soon after. It is imperative for balancing hormones, reproductive health, and regulating our sleep cycles.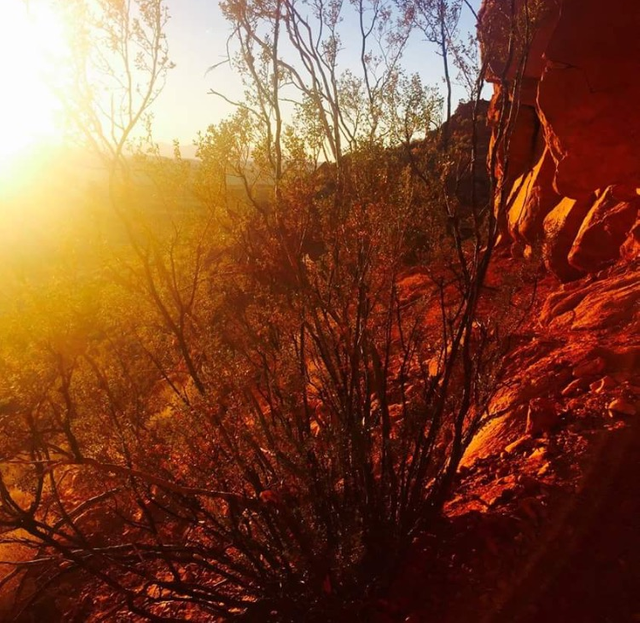 Daily sun-bathing (for at least and hour a day) was by far the most effective sleep intervention I had ever tried. After just a few weeks, I went from sleeping 2 hours at a time to sleeping 8-9 hours straight. I was able to ditch the Valium and muscle relaxers and wean from all stimulants and caffeine.
According to Gabriel Cousens, M.D., "as our diet becomes more refined, sunlight becomes an even more important source of direct life force." I have personally experienced that the more I fast and detox my body, the more I feel nourished by the sun...and even crave the sun like I used to crave food.
Most of us know that we need sunlight to produce Vitamin D; however, many people taking Vitamin D supplements are not aware of the potential for toxicity and hormonal imbalance if levels are too high.
I'm personally not a fan of isolating chemicals to try to mimic what is found in Nature. Something in a bottle is not going to provide the spectrum of light and energy that the sun can provide. I've tried supplements and I've tried the real deal...and there's just no comparison.
There is also emerging evidence that humans need direct sunlight on the surface of the skin to convert light into energy much like plants do.
Many holistic practitioners have written about the ancient awareness that there are benefits of each wavelength of light for corresponding organs, hormones, and systems of the body. This is known as chromotherapy.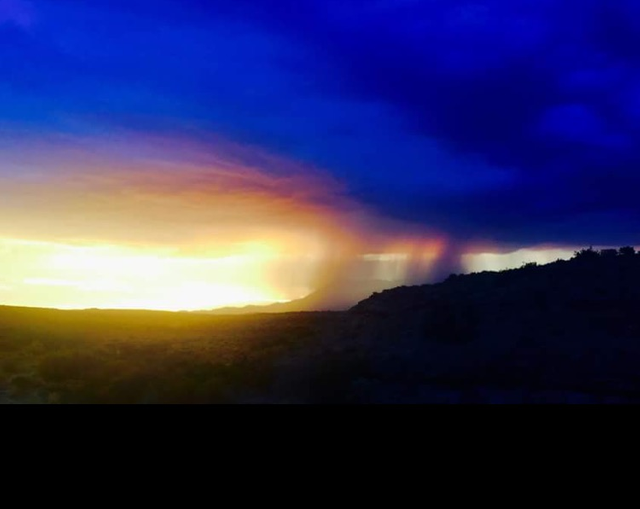 You can find an analysis of the benefits of chromotherapy here.
Quick tip: If you want to increase your daily sun exposure, make an effort to eat lunch outside everyday (preferably with your shoes off). This will give you at least a half hour of sun exposure. Check out this blog post I made of the benefits of eating outside, which I have done everyday for the past 6 months.
Sun-gazing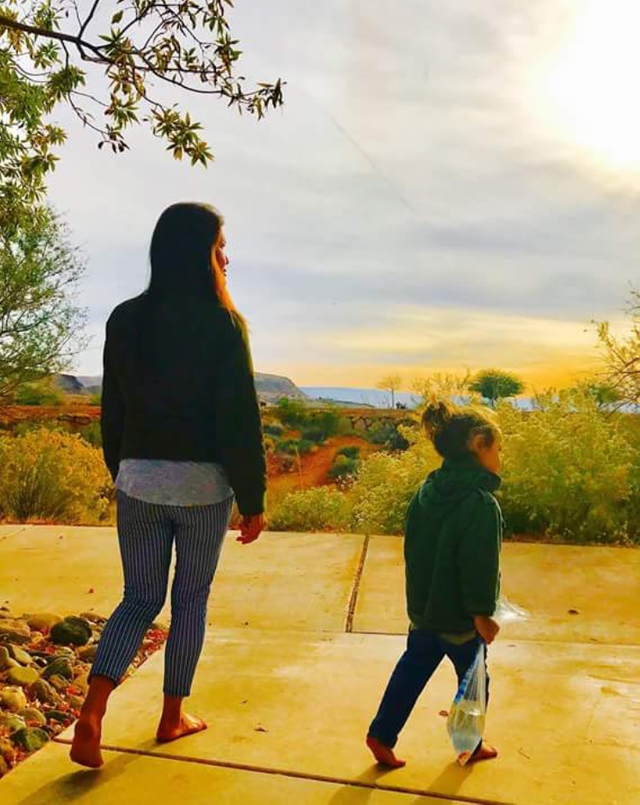 One day as I was researching Vitamin D, I found a documentary on sun-gazing called "Eat the Sun". It made so much sense!!! I immediately started to practice regularly...gazing at the sun for 10 seconds initially...and eventually working up to several minutes. Read more about this powerful ancient practice HERE.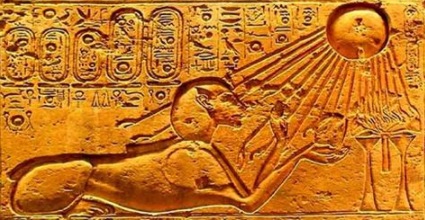 Most expert sun-gazers recommend only gazing at the sun in the early morning and evening and being barefoot on the bare earth. Since Earthing was something I was already doing, this rule was easy to follow.
Earthing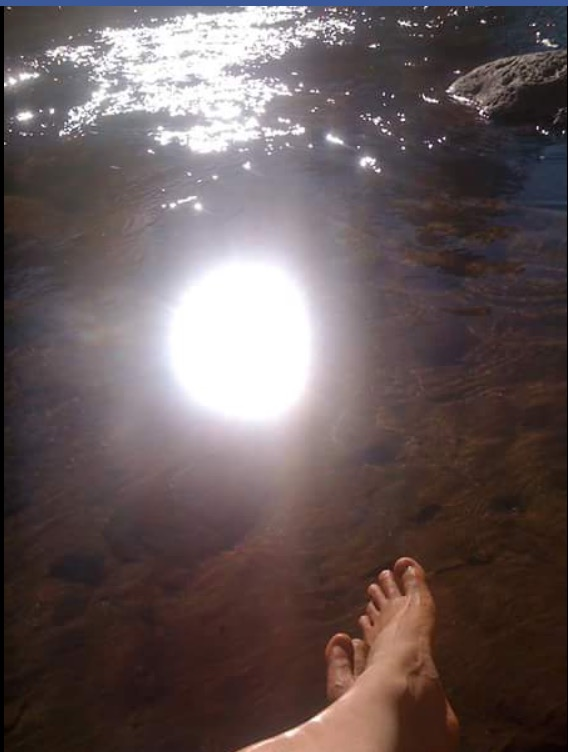 There is a beautiful documentary here on the benefits of earthing/grounding. When I ground, I feel like my feet come to life. It's like opening a direct portal of communication to Mother Earth.
To put it briefly, when your bare feet or skin comes in contact with the earth, free electrons are taken up into the body. These electrons could be referred to as nature's biggest antioxidants and help neutralise damaging excess free radicals that can lead to inflammation and disease in the body. The Earth is a conductor or free electrons and so are all living things on the planet, including us.
According to this article: "While connecting just about any part of your skin to the Earth is beneficial, one area that is particularly potent is the center of the ball of your foot; a point known to acupuncturists as Kidney 1 (K1). It's a well-known acupuncture point that conductively connects to all of the acupuncture meridians in your body. Exercising barefoot outdoors is a great way to incorporate earthing into your daily life and will also help speed up tissue repair and ease muscle pain associated with strenuous exercise."
Check out this image below of what a sunflower looks like after seven days, grounded and ungrounded...a study that was perfromed by Gary Schwartz, PhD, at the University of Arizona a few years ago.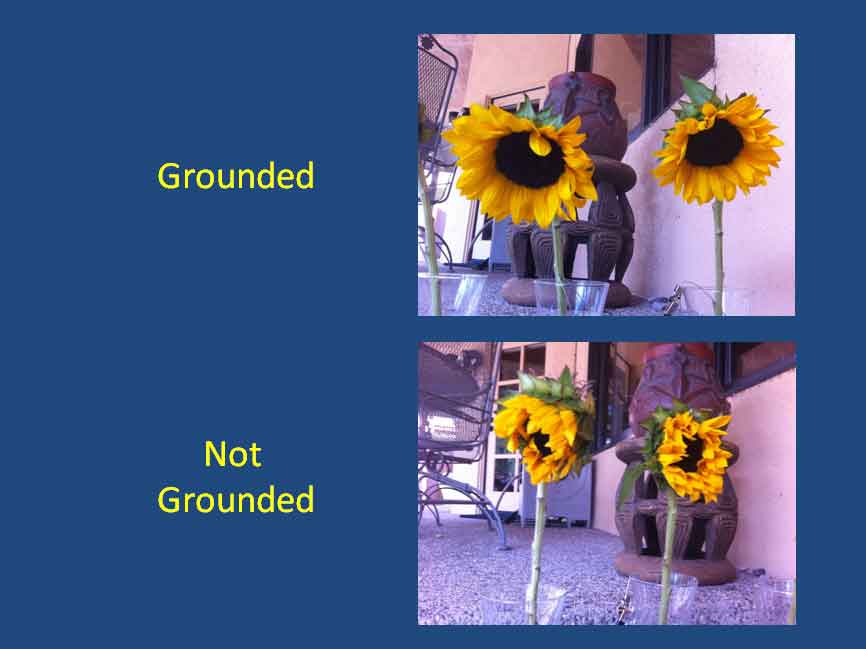 We even garden and hike barefoot here in the desert. I used to have horribly painful arches with recurring plantar fasciitis. Gradually transitioning to minimalist footwear and eventually to bare foot running on uneven terrain, has healed my feet completely.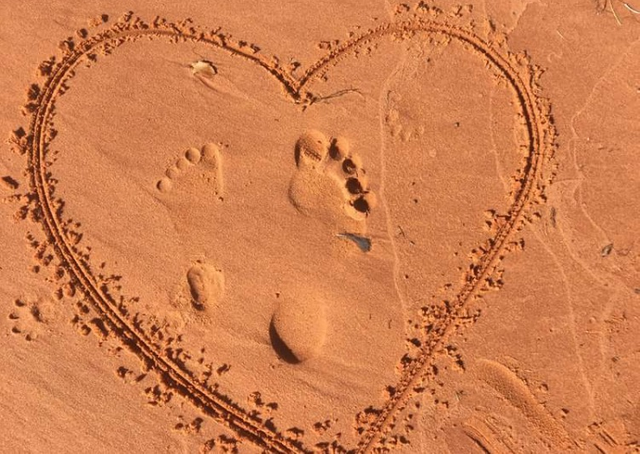 I'll write more about rewilding your feet in Part 5 of this blog series.
After sun-gazing and earthing for a few months, it was as though I finally started "seeing" with my full capacity to see. This is what is described as pineal activation. Sun-gazing is just one way to activate the pineal gland.
Pineal Activation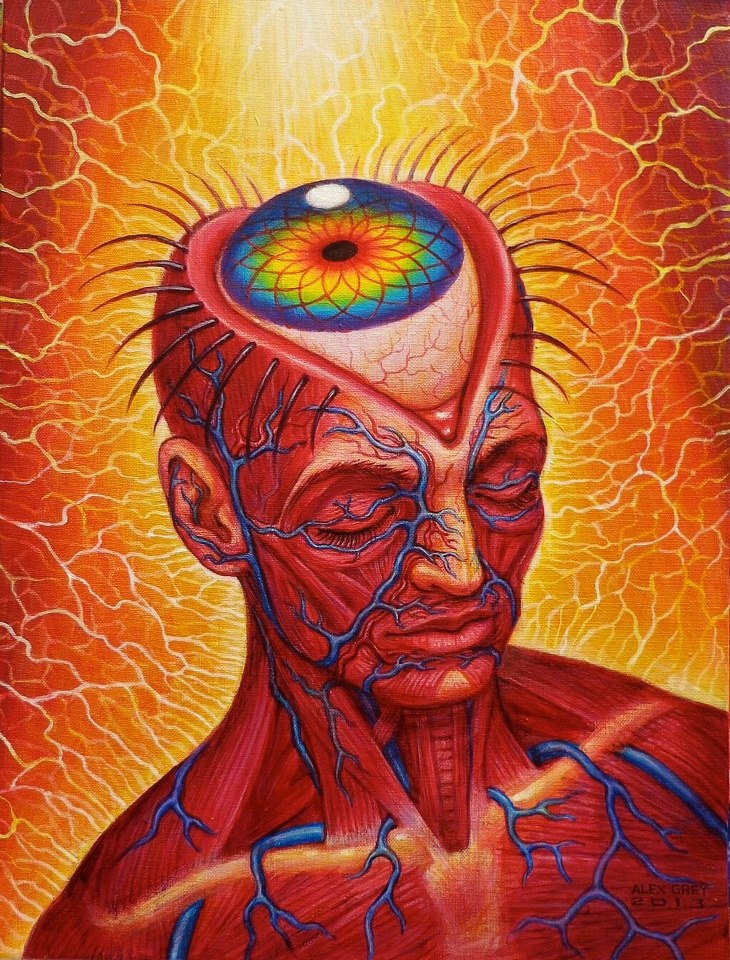 Image credit: Alex Grey
From about the age of twelve I remember feeling so numb to life that I needed recreational drugs to feel anything besides detached boredom.
I became a self-proclaimed atheist and couldn't imagine anything beyond this physical body.
Now I realize that my pineal gland was shut down for various reasons. I had no sense of the God/Goddess within.
The pineal gland, was dubbed the "third eye," which originated for many reasons, ranging from its location deep in the center of the brain to its connection to light.
Many ancient philosophers believe this part of the brain to be the seat of the Soul and a major part of the pathway to enlightenment. It has been referred to as our "inner God/guide" and our "spiritual antennae".
For me, sun-gazing and grounding brought more depth and appreciation of the sacredness in all of creation. When I engage in these practices I am infused with gratitude for just being alive in the moment.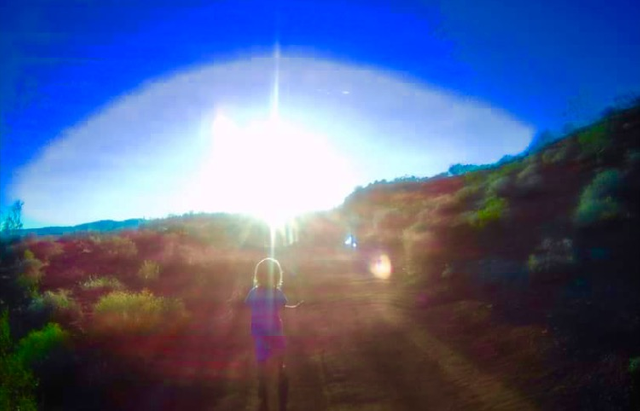 I am grateful for the Sun for returning everyday to grace my Soul with his eternal presence and unconditional love.
I also feel more connected to my intuition and instincts. This has been tremendously helpful, because it gives me immediate access to universal knowledge of how to heal my body. This saves me a lot of time and money 😊. I'd like to think we could empty hospitals with this practice alone.
If this interests you, read more in this article about pineal gland activation and it's role in consciousness expansion.
I hope you've enjoyed this blog post and have gleaned a few nuggets of joy.
Stay tuned for my next blog post in this series on "Nature Immersion: Pranic Nourishment and Plant-Based Healing."
Aloha all of you precious rays of the Sun!!!
Pachee and Family