My mom is 80 years old and she has always wanted to learn to play the piano. When my siblings and I were little, she took us to piano lessons and waited patiently while we practiced our scales and arpeggios. I honestly don't know how many hours she must have spent taking us to piano lessons, and yet, she never took lessons herself because she wanted to save the money to spend on our education.
When my mom was in her late 50s, she finally took a piano class at the local community college. It was a class offered for free for senior citizens. She only took that class for one semester, but I think she really enjoyed it because I would see her practicing the songs she learned over and over at home.
That was more than 20 years ago, and now my mom is 80. She mentioned to me just yesterday how she wish she knew how to play the piano better. I told her it's not too late to learn - there was a very famous painter, Grandma Moses, who didn't start her painting career until she was 78! My mom said she couldn't remember how to read musical notes after so many years so we decided to start with the scale first. I wrote the fingerings on the piano keys to act as a visual aid for her.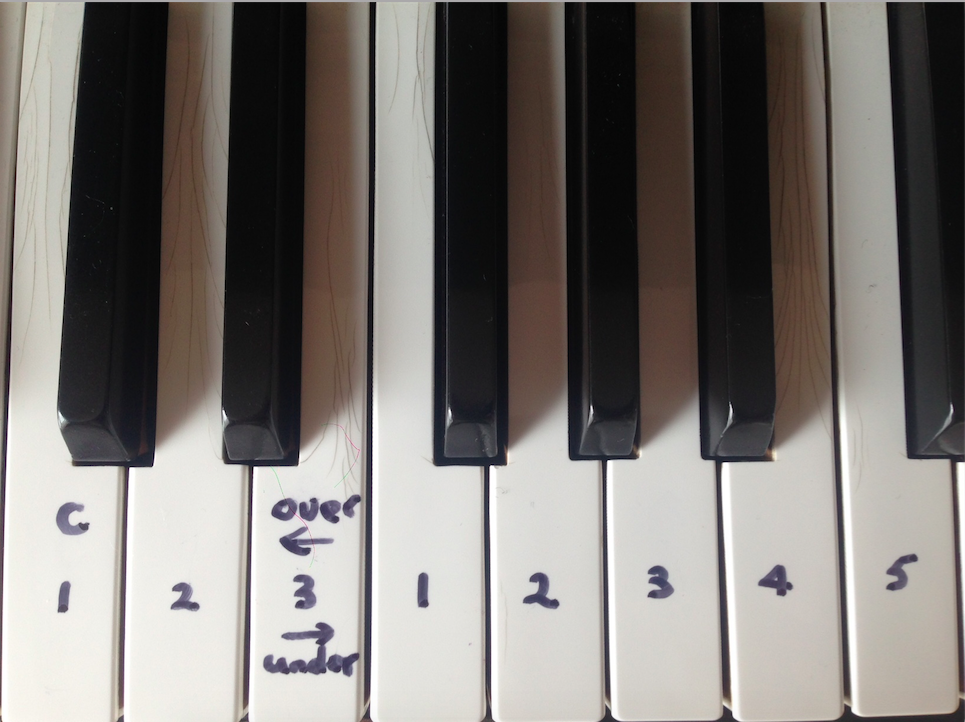 When we were kids, our parents did so much for us and now that that we are older, sometimes we are too busy with our own lives - working, taking care of our own kids - to do very much for them. Many of us, myself included, do not even live in the same city as our parents for most of the year. When I was reteaching my mom how to play the scale, I couldn't tell who was enjoying it more - her or me. One one hand, I could tell she was excited to be playing the piano again and to be getting better at something she always wanted to learn. On the other hand, I felt so grateful to be able to do something that could make my mom so happy. 😊
Besides helping make my mom happy, I am reteaching my mom the piano because I want to encourage my mom to keep learning new things. One study published in the New York Times showed that more seniors are afraid of cognitive disability (aka losing their minds) then they are of dying. My mom's mind is still very sharp, but I can see she worries about losing her cognitive abilities because whenever she forgets what she wanted to say, she worries that she is getting senile or worse, getting Alzheimer's. I try to reassure her by telling her it happens to me all the time too and hopefully, I am not senile. Just yesterday I stood in front of the fridge with the fridge door open and couldn't remember what I wanted to get from the fridge. In fact, it was my mom who saw me standing there and reminded me "Are you getting the baby carrots? They're in the bottom drawer!"
So while I think my mom's mind is quite sharp, I think her self-perception of her mental abilities is very important too. And in any case, learning new things help grow new connections between neurons which keeps our brains young! This is why we are going to keep up those daily piano lessons.