I seem to have been gone for a month...
Back in January I was still really struggling with my mental health, and while I was doing ok with adapting to the anti-depressants, I was not noticeably getting anywhere. I was also still struggling with my neurological dermatitis, despite the ointment. An additional treatment that the specialist had talked about was reducing my stress load.
As a result of that, I put in an application for 3 months deferral from my studies. I also stopped actively looking for work or housing, both off which are still sources of stress, but weren't actively making things worse. I have made sure that I get at least 2 days a week where I get to visit with my partner and little girl, who I can't believe is 8 months old already! I also have been pretty forceful in creating a new routine.

It's such a tough life, we all need a little nap every now and then
Bed before midnight. Ideally every night, but hasn't entirely worked out that way. Weigh in every morning. Current marker is 7 days in a row at 60.x kg. Target is to sit between 58 and 60. The high was just a touch over 70 though, so I've come a decent way since then, and I'm down 5 since around November.
And sorting out the other medical stuff while I'm on this break too.
Early Feb I went and saw a specialist and got surgery to correct a recurring stricture, and while he was at it, got a vasectomy done. The day before that was scheduled, I broke a tooth, so a week later I went and finally saw a dentist. Broken tooth got pulled and the one in front of it got a sizeable filling. Follow up appointment on Friday to actually talk teeth and dental plan, but I've gotten daily tooth brushing and mouthwash back into the routine which is helping.
Oh, and my phone finally split good and proper. The screen had been lifting up, most likely from a swelling battery and while I'd taped it down to keep it going a bit longer, it was getting to a point of not being useable, so a replacement had to be obtained.
And in all of this, I kept myself focussed with a possibly unhealthy obsession with the Path of Exile league that's just about to wrap up. I reached so many new areas in the game though and it was incredibly entertaining and worthwhile.
Currently I'm pushing through the Diablo 3 season to be ready for more Path of Exile on the 8th when the new league launches (and @mattclarke's competition starts, as mentioned in my previous post)
My mental health has been slowly improving, and I'm looking forward to getting back to my study in the next week or 2, as well as planning a trip to Melbourne to visit @kintsukuroi and some other friends I have down there.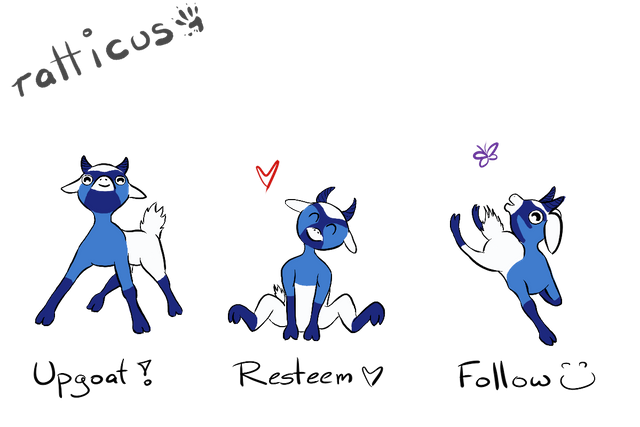 Upgoats made by the talented @ryivhnn