People! I've been here three days shy of three years!
Maybe I can't remember what I ate for dinner yesterday. So what!
That doesn't mean I don't know what's up.
And no. I'm not talking about that opinionated woman named, Whatsup.
It's time to cool your jets!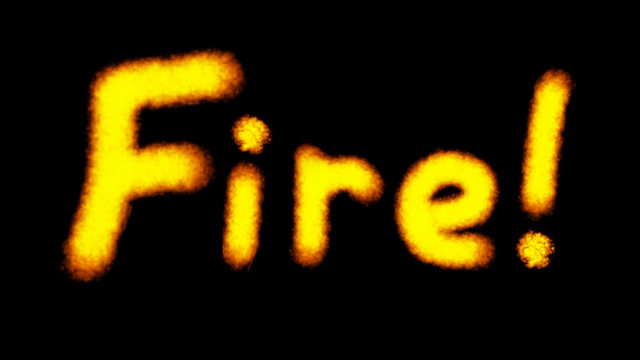 It's about damn time
I freak the bleep out!
Bottling it up will be the death of me! Do you want me die? No! Of course you don't — unless you're one of, those people.
And I've been dealing with those people and their shit since day one.
So you want to be a rap superstar
And live large a big house
5 cars, you're in charge
Comin up in the world
Don't trust nobody
Gotta look over your shoulder constantly
Things Changed.
But some things never change.
Raise your hand! How bout them hardforks, cuz!
As actual content producers, we had to spend more than two years watching the worst "promoters" in the history of promotion boost complete bullshit nonsense stuff nobody cared about all the way up to the top of the charts. We had Joe fuckin' Nobody, first day postin', roastin' this platform and boastin' about how he's coastin' his way to the most, man!
Goddamn did I ever make bank writing parodies and mocking these, "Hi! I bought a trophy today and it said 'Best Blogger Ever' but then I magically forgot I paid for those votes and fronted like I was a famous bitch with a big fat ass and fur coats!"
Bank that turned into bunk because these motherfuckers decided it would be wise to turn this place into a joke where the rewards come easy; "holding is for chumps" and now, because of them, the handful of that change they now own because of themselves ain't worth two shits at the dung parade. Good going, pussyfarts!
Money only has value when it's hard to get so use a drill and apply that to your head!
So these motherfuckers
would buy up $200 or more!
Setting the goddamn standard. "If you want to make the trending page, you gotta pay what I pay, or more!"
I could pull up a post where I laugh my ass off at these chumps, talking about how they set the price for their own demise and ain't nobody talking about that shit, but I won't because you didn't believe then so you won't believe me now.
CHB four times a day! Hundreds per poppity pop! You want to compete with that organically? Good fu-clucking luck!
I will save your life for I am doing my best to be the cult leader you always wanted NOW PLEASE, read this long ass copy/paste bullshit essay I post every day to show you how much I care after I'm done with what I have to say!
I'll take drivel for $200, Alex!
Where are you now, mommypumper!
Getting downvoted! That's where!
So up rise the reals deals.
Get that play outta the way and all you're left with is people who have actual shit to say.
Oh, Hi!
Nice to meet you!
I'm one of them! Enjoy your stay! Worked my way up, all the way, and if I can do it, you can too, okay!
We didn't have that before.
But we still have this: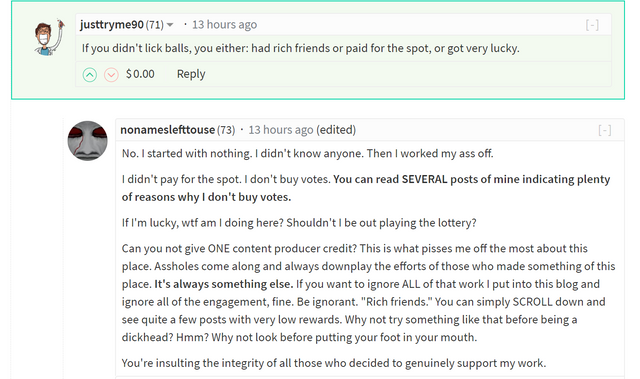 I knew this would happen.
Raise your fuckin' hand if I licked your balls.
That's the response you get from some people when you make the goddamn trending page organically around here.
Some of you who've followed me for a long time have read my posts all about, damned if you do, damned if you don't.
Shit! I could go back years and bring up a link from a post I wrote saying, "WTF we doing? Why are we waiting for big stars to show up? What's wrong with embracing the talent we have now?"
It has always been a struggle here but that struggle is what I signed up for!
Yet I couldn't believe so many were keen on turning a blind eye and making success here almost unattainable. That was before the paid votes fiasco! I've been waiting for a platform that simply allows good producers to thrive, no strings attached, for nearly three years!
Under those #oldsteem rules, I get it! I hated that!
Things change and now all those who worked their asses off to get somewhere are still thrown under the bus?
No no no no no no no no no no no NO!
Things changed.
I know for a fact, in the past, some dipshit with "not financial advice" charts reached trending because of whatever, bullshit. I know for a fact, in the past, some people piddled away with each other's tiny little cocks so they could earn a few shiny little tokens. I know for a fact, in the past, some wannabe famous like right the fuck now people bought their way to the top, so they could earn fuck all, while their MASTER earned a fortune for doing nothing but laughing all the way to the bank.
This ain't then!
If No fucking Names Left the fuck To Use can make the trending page...
That means the door is wide open.
I saw some dude on the trending page who missed the rains down in Antarctica or some shit! No paid votes! Dude went to Antarctica. Dude took pictures. Dude posted that shit here. Boom! Trending like it should be! No paid votes! Dude owns the world!
I saw some other dude bitching and a fucking moaning about how his video was downvoted because he used paid votes. Get a life! Do you seriously want to do something awesome and then PAY people for something that is free? You feel BULLIED because you decided to push everyone aside and diminish their chances of hitting a top slot?
Can lick my balls.
Conclusion.
I know how it is. I watched people get shitted on for finding success here, for years. But now, it's legit. No games.
I knew damn well I'd be on the receiving end of some flak, just for doing something everyone here wants to do.
Bullshit! Get a grip and some other nineties idioms while you're at it.
No content producer here now should fear doing well. People VOTE. They give a fuck. They want to see people succeed.
If all you think it takes to get somewhere is a little bit of whale ball licking, then why the fuck aren't YOU hitting center stage? Huh? It's so easy like that, so do it! Lick some balls! The rest of us will just do our thing while you work on that lollipop of yours.
Whatever!
Some music before I go...
Have a nice day.

And quit shittin' on those who done good.

...because that might be YOU someday.

Credits:
Youtube video linked to source.
All art and images seen here were produced digitally, by me.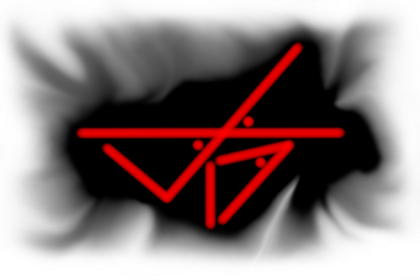 All content within this blog is 100% organic ACTUAL CONTENT and contains no paid vote additives!
"Why get treated like shit and hold it in? That's not my pain. I don't need it."
© 2019 @NoNamesLeftToUse.