Many a times we do this, the things that we do not like doing or we find it difficult or they are unpleasant to do, we just keep them pushing aside for a later time. There are times when we are not sure about the outcomes and fear failure and hence we again push back on those things to do.
When we feel this, it is nothing but our fear and that we have perceived that we cannot do that particular task or that we are too confused about how to go ahead taking action. Out Limitations that we have set in our minds are just a boundary that we need to cross. It is a state of mind that we need to overcome. The limitations set in our mind can sometimes make us miss golden opportunities in life. Sometimes it's just that little extra push that we need to achieve our goals.
Most of the time our limitations are self imposed due to our own perceptions. Somewhere in our mind we fear confronting and hence we come to a conclusion that it is difficult for us to achieve. The biggest barrier to our limitations is the fear of Failure and the boundaries that we draw within our mind. To break through our limitations we need to: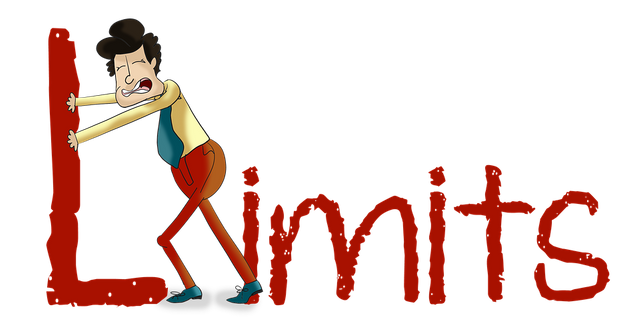 Source
Think Big If we set a limited vision we will always find obstacles and may not be able to see the path clearly. There are ample of possibilities out there, but if we narrow our visions we will not be able to see those possibilities.

Take Action Just thinking Big is not enough, we also need to take action. When we take action with a vision we will see how our limitations start dissolving and the confidence of achievement starts building up.

Shed off Lazziness This is one another big obstacles to break our limitations. Sometimes it's just our laziness which creates all the possible Ifs an Buts. When we are not focused enough to do a task we will always have excuses to not do it.

Release the fear March ahead positively, we need to think about the outcome but not fear it, when we start fearing the outcome, we start drawing lines of limitations within our mind.

Being aware of Thoughts Our Thought patterns determine a lot within us, if we keep our thoughts positive we will always have solutions then finding problems, but if our thoughts are always of doubts and negatives we will always see a problem in every situation.

Being around with people who motivate As important are our thoughts so is important are the people we move around with, when we have negative people around us, we will be influenced negatively and vice versa. The people around us can sometimes make us or break us. If we have weak minds, it is very easy to get in other people's flow.
We can achieve anything that we can think of. Nothing is impossible. Impossible is only the excuses that we make to not attempt. There are so many people who are completely handicapped and still they do miraculous acts and there are so many normal people out there who after being completely fit are handicapped in their minds setting their own limitations.

Thank you for visiting my blog.

GIF Courtesy
@enginewitty
😍😍
My other blogs of Interest
---
---
Member of
---
| | |
| --- | --- |
| Supporting People Who Help Make The World A Better Place @ecoTrain | |
---