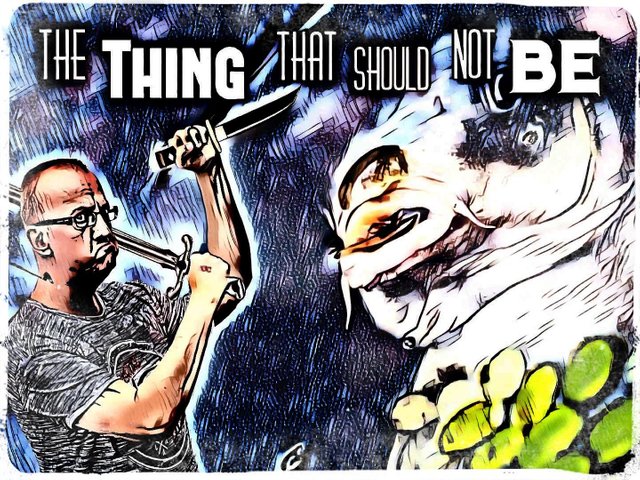 I dumped the shopping bags in the hall and dragged my weary but still handsome bahookie into the lounge.
Despite being as rough as a badgers chuff, I had been sent to the shops for various supplies by the Good Lady for some reason I had neglected to listen to.
I had whined and moaned but to no avail.
Still, I was home now.

With a sigh of relief, I headed to my big comfy armchair, ready to lay my weary bones down.
I moved around the table then stopped, dead in my tracks.
A horrified gasp escaped me.

Sitting, almost innocently on the table was a plastic bottle of Zero Sugar Cherry Coke.
I staggered back a pace.
Cherry Coke? Nobody drinks Cherry Coke. As far as I knew people only used it to remove stains from the toilet?
I moved forward and poked at it slightly with a finger, it wobbled... warmly.
I made a puzzled face as if the Badgers had gotten in my bins again.
Then it dawned on me.

I had seen this kind of abomination before. Back, back in the distant past. I had barely escaped with my sanity let alone my life from that encounter.
At the thought of facing that hunting horror, I let out an involuntary squailing noise.
Then it struck me, what about the family? The little ones, had they fallen too the beast's awful clutches?
Not again. No... No...NO?!

I hurried through the lounge, barely taking in any details in my panic and dread at the thought of facing this Cthulian horror once more.
As I passed through the kitchen I could hear slurping wet noises coming from the garden... Was I too late?
Would I stagger from the house to find the monster ravening on the cracked bones of my loved ones!?
I heaved through the kitchen door.

Outside, the air was thick with the monsters vile corruption
It had one of my children, the smallest, on its knee. The Little Boom's cries could almost have been mistaken for laughter they were so shrill.
I unsheathed my blade, the dread Sorrow Song and as the beast's foul stare turned my way, prepared to strike.
Oh hello, we wondered when you would show up?
Said my Mother-in-law with only a vague hint of snark.
Mentally, I sheathed my blade.
Hi Jean. I didn't know you were visiting? Can I get anyone a coffee?