Oi Fatty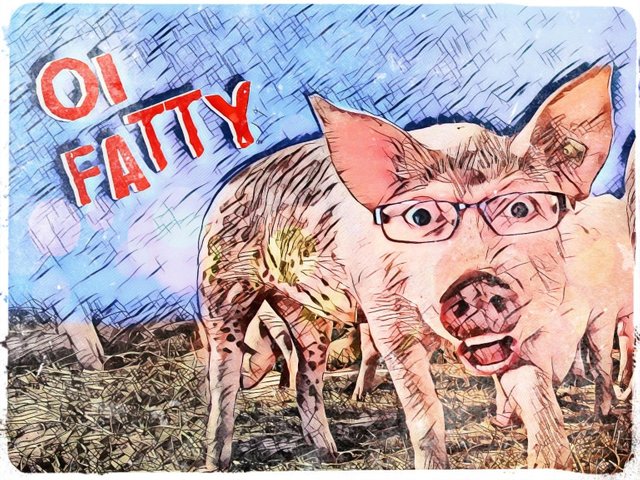 Warning. The following post contains hordes of crude and foul language. Proceed at your peril.
---
Oi, Fatty!
I heard a shout from behind me in the park where I was pushing my grumpy two-year-old in a pram. I couldn't help but chuckle inwardly, even though I knew I shouldn't really. Poor fatty, whoever it was, being called out in the park like that.
Oi! Fatso!?!
The voice yelled, a little more belligerently this time.
I let my chuckles subside to a milder chuffling at the ribbing this poor fat person was getting and pushed my pram a bit faster. All this shouting wasn't going to help a certain Little Boom go to sleep.

OI! FATSO! YOU... THE ONE WI' THE PRAM!?!
I froze.
The one with the pram??
Surely, I mean surely they weren't shouting at me? There must have been some other Daddy figure in the park pushing a pram as well as a few extra pounds?
Tentatively, I turned around to see who they were shouting at.
There were two neds standing about fifty feet away sniggering and looking directly at me.
Well, this was odd. They were looking at me as if I was Fatty.
Maybe they both had lazy eyes and were trying to look at someone to my side?
The taller one who looked to be in his mid-teens lifted up a velour clad arm and pointed it to my side where a ball had rolled to a halt.
Gonna kick us that baw?
baw of course meaning ball in the fine street vernacular of Glasgow.
He smirked as if he loved balls and I was going to lower a pair gently into his mouth.
I narrowed my eyes. Pass him his ball? But, didn't he just call me Fatty?

I decided a simple enquiry was in order to ascertain the facts of the matter. I was probably mistaken. Yes, that would be it. I was obviously mistaken.
It's a good job I had my little two-year-old son awake in the pram with me, otherwise, I might have been tempted to shout some terribly sweary words at the pair of pricks who obviously thought they were a 21 century Laurel and Hardy.
I was better than that though. Wasn't I?
Wasn't I..?
Who the FUCK are you talkin to, ya manky wee fucking CUNT?!
I bellowed reasonably of the pair of scallywags before me.
Try as I might I have always struggled greatly to escape my upbringing, much to the Good Lady's despair at times.
Who you callin a cunt ya prick?
Yelled the smaller of the two smeggy wee bastards.

I had thought, possibly to my error that it was quite obvious who I was calling a cunt. I thought I would elucidate.
You! Am callin you a cunt ya fucking dirty cunty wee bastart?!
I declared eloquently.
Just geez the fuckin baw ya prick?
Shouted the tall one.
I had already assessed that with or without the pram and by now wailing toddler that I could ahem, easily kill the bastards. I sought to advise them of both this and their cuntery.
You can ram the baw right up your arse ya wee fucking cunty bastard!?
I yodelled wisely.
I decided at this point it was best to walk on. Nothing was to be gained shouting like a madman at teenagers in the park. Besides which, none of this was helping the little boom go to sleep.
The two chaps behind me stayed silent after half-heartedly throwing a few more foul insults and before I knew it, they were out of sight.
Perfect.
I thought to myself. It looks like things are going to be just fine. I wondered if the Little Boom had fallen asleep and peered over the hood of the pram to check.
He wasn't asleep. In fact, he was wide awake. It must have been all the shouting.
I felt a momentary pang of guilt for all the shouty swearing. The Good Lady would not be happy if she found out about that.
My pang of guilt morphed into a shudder of dread. I shook it off, there was nothing wrong with standing up for yourself surely?
The Little Boom gave me a smile as if to agree with my bold assessment. Then he spoke.
Urty Unt!
He declared gleefully.
I froze for the second time that afternoon.
No... He didn't just say the C word in his own cute and inimitable fashion? I looked down at him.
Unt... UNT!
He yelled pointing where the young dudes had been.
Oh, oh... I'm doomed.