I've been a parent for roughly a combined one million hours, given my eight children and the time they have existed on this planet outside of the womb. If an expert is a person who does a thing for 10,000 hours, then I am expert about 100 times over, but somehow, each day, it's like you're starting from scratch in so many ways.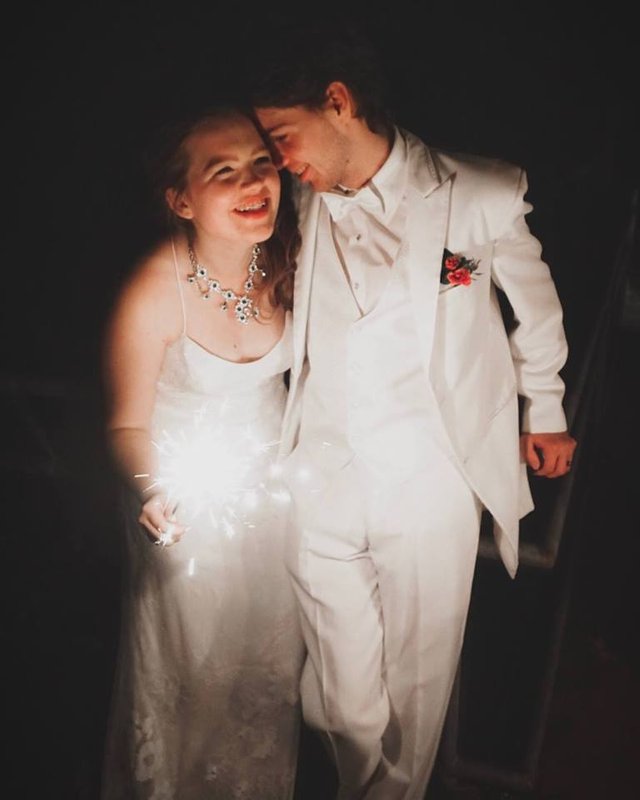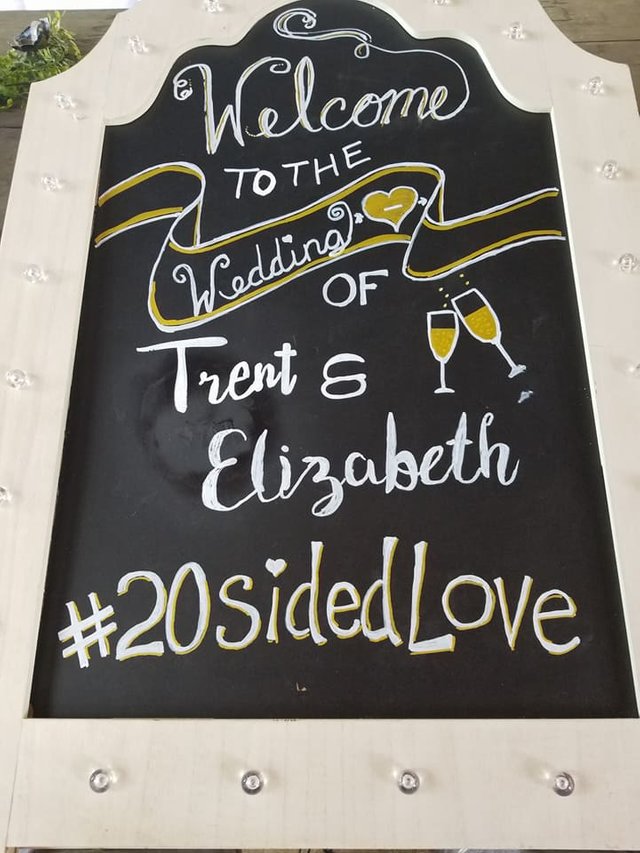 You can never learn how much parenting gives back to you, not fully. You can never learn how much it can hurt and bring joy at the same time. You can't fully appreciate the depths of disappointment, or the highs of elation it can bring into your life, until you jump in and experience it full time.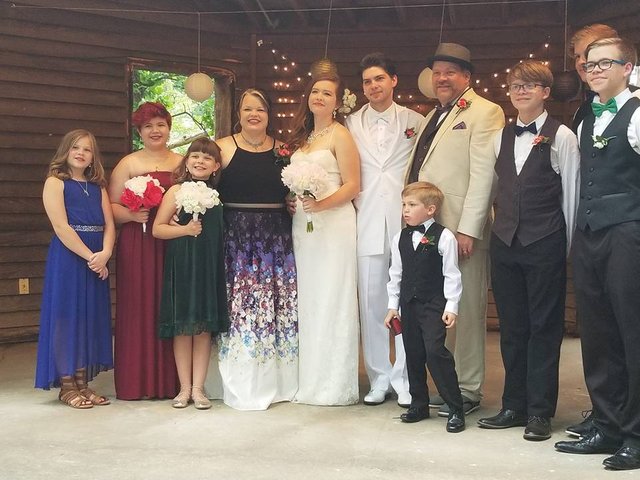 This last weekend, I got to experience my family, almost all of it, in an abstract that really gave me a great picture of my place in the universe and what a lucky, lucky man I am. Steemit had something to do with making it all possible, so, I wanted to share my story with you. I hope you like it.
My first born, Elizabeth, is a magnificent human being. She is beautiful, loving, compassionate and strong. She will give everything she's got to help someone in need, and not take any crap at the same time. She thinks for herself and is choosing her own path in life, so when she said she had found the right guy, I knew he had to be special.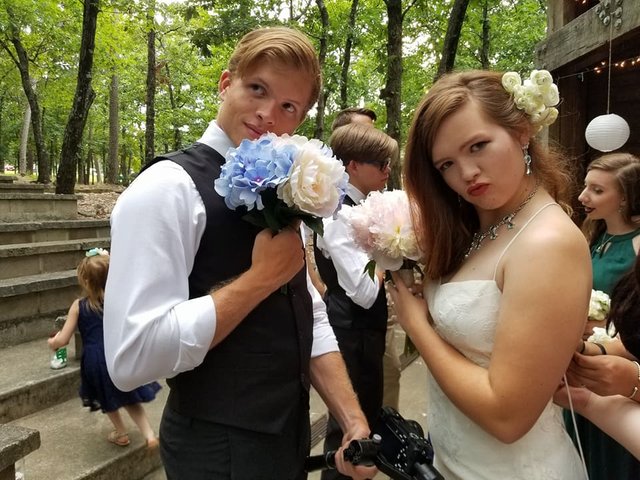 Trent is nothing like me on the surface. He's a somewhat reserved, nerdy, always smiling guy who wants to be a psychiatrist, but currently waits tables and tends bar. It's why he's waiting tables that makes him more like me than I could have imagined in the beginning. He's supporting my daughter on her way through Vet School, and I love him for it.
As parents, we imagine who our children will build a life with. We think we know what goes into it and sometimes even think we know better than them what they need, but I've learned something. While I liked Trent from the beginning, and never had a reservation about her choice, in a lineup, I wouldn't have picked him out. But, that's because I'm short sighted, and I've forgotten all the countless hours I've spent with my daughter, watching her make the right decisions about life, and fall down, and get back up better for it.
If you do your job correctly as a parent, what you think of their choices won't matter. What I mean by that is this, you can't see through their eyes, but if you've shared enough to raise them into decent human beings, you can trust that their choices are going to strengthen, rather than destroy, build up, rather than tear down, and she's chosen well.
Trent is from a small Oklahoma town, while Elizabeth was raised in the capitol, a city of a million people. As she visited there, we'd hear about just how small it was. It felt really small from their descriptions and neither of them had much positive to say about it. So, when she announced that we were all (when I say all, I mean it, just close family is well over a hundred people counting both sides) going to have to drive three hours to this place to see her get married, we were confused.
Here in Oklahoma City, we've got "people" we can get things done free, or cheap (I used to run a theatrical production company) and we know where everything is. But, she had picked out what she called a "city park" that meant something to them and she was adamant this was going to work. It was an inexpensive venue, with an outdoor amphitheater and a pavilion nearby that would be perfect, she said.
So, she went to Heavener Oklahoma and came back with pictures of the place in the dead of winter. We were worried. Sparse was putting it nicely. It seemed rundown and uncomfortable. We braced for the worst.
Over the last year, we've worked through the preparations. We got a caterer, then lost them. We got a DJ, then his price jumped and we couldn't afford him. But finally, something went right and she selected a dress that was well within our price range and things starting moving forward.
Then came her theme. I recognize the "gamer" culture. It's a cool thing, I guess, although I have to appreciate it from the outside. I love games, collected RPGs and board games as a kid, and was a marginal video gamer. But, when she announced her theme would be "Magic the Gathering" the worst was assumed.
We put on brave faces and made what suggestions we could, as she described paper flowers made from Magic game cards, 20 sided plexiglass dice center pieces, and symbols from the game in about a half dozen colors. I don't know where my knowledge of my daughter's artistic abilities and sense of style went, but it vanished as I imagined it. But, we're here to support any choice they make that's not destructive, so on we went, making little improvements as we could.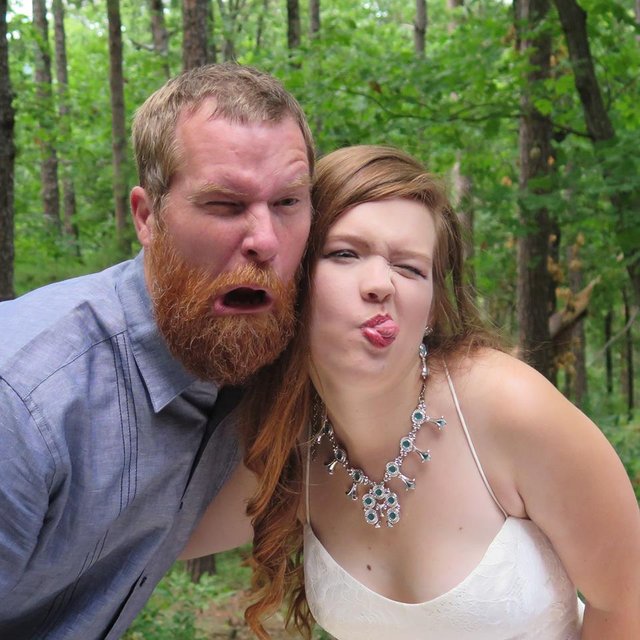 Enter my family, a troupe of actors, designers, dancers and technicians. From two free sound setups, to a professional floral arranger for the cost of the flowers, we managed to get everything covered. It was a lot like the final week before a theatre production opens, commonly known as "hell week" or "tech week". Bits and pieces flew everywhere. There was no master plan, it seemed we were just determined to rescue as much of the situation as we could.
So, the big day arrived. Time to head out for the rehearsal and the three and a half hour drive across the state to the location. We packed up, fearing we'd never fit everything in, but family offered a little space here, a little there and soon everything was rolling in the right direction, except…
What was supposed to be a slightly bawdy bachelor party went a little "hangover" literally. About eight in the morning, when we were supposed to be putting the final touches on packing, we got a call. My normally level headed son-in-law to be, had gotten so drunk, he couldn't move without puking. Turns out someone had underestimated his consumption and tolerance and lied about vodka being water, we think.
Anyway, an hour delay turned into a half day, then an ER visit for an IV and a diagnosis of alcohol poisoning. Meanwhile, about 40 people, part of the wedding party and some family hauling décor and props, were trekking across the state to the location at various paces, and my wife's phone was pretty busy, keeping them all on track and making sure of what we needed to do.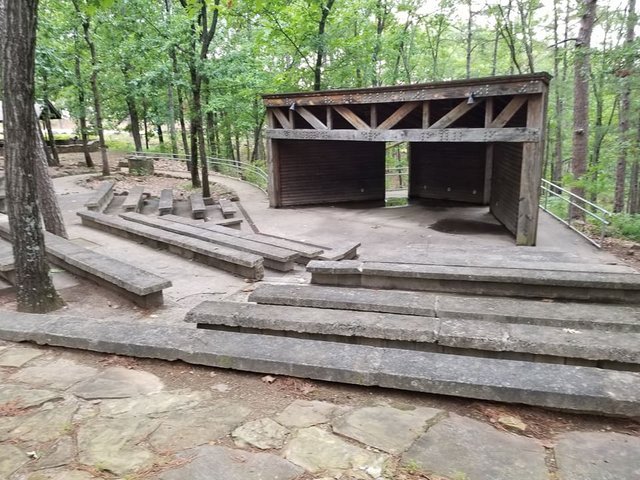 As we approached our destination, expecting the typical, dusty Oklahoma small town, with a post office, a gas station, a bar and a Baptist Church, we were pleasantly surprised. About a half hour from Heavener, we entered the foothills of the Ozark, lush greenery and short, tree covered ridges surrounded us, as we headed into a beautiful mountain valley, the location was starting to make sense.
The rehearsal didn't happen that day. The rehearsal dinner, in a cute train car diner in Heavener, got pushed back an hour and the Bride and Groom arrived an hour after that, him with no apology, something we will discuss in the future. But, otherwise, the location, the food, the staff, were incredible.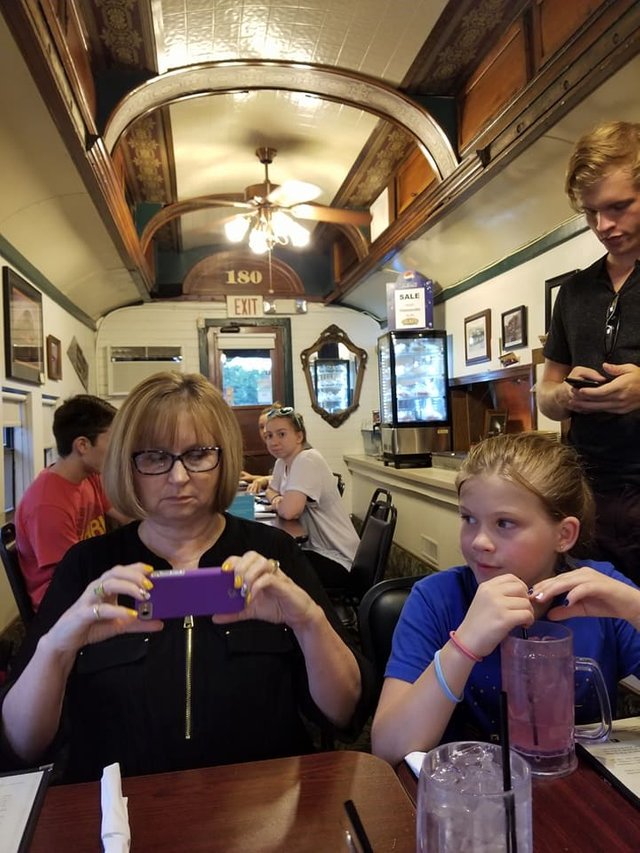 Next on the agenda was a cake crisis! The youngest of my six siblings, is an amazing cake decorator. She had created what we all knew, would be an awesome, fantasy themed cake, but, fondant likes it cold and hotel mini-fridges weren't going to cut it. So, we asked the restaurant staff, five minutes from our venue, if we could rent space in their walk in. Too small, but they arranged with a local grocer to hold the cake the next day to make sure it was ready.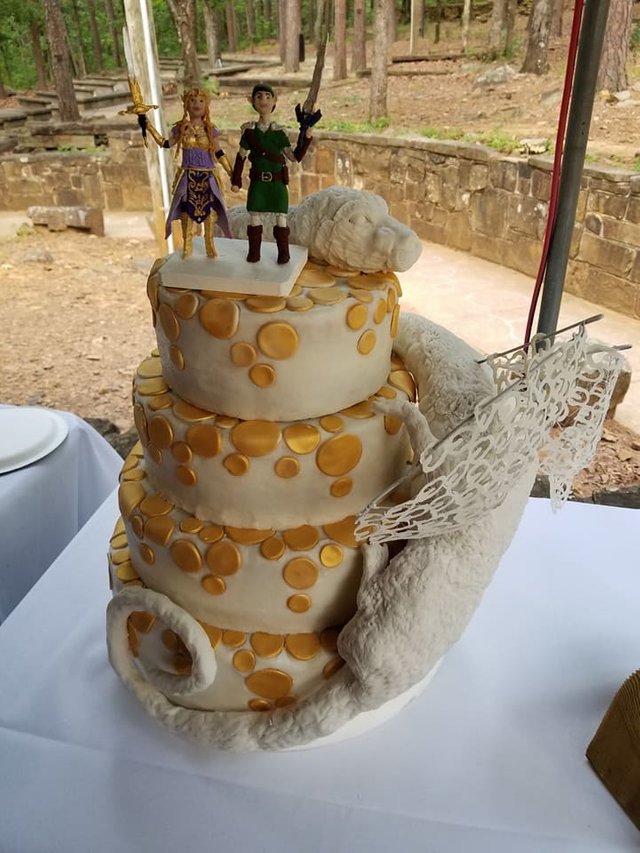 The day of the wedding arrived, and we headed to the venue, something we were still picturing as a "City Park" per our daughter's description. Runestone State Park, sits on a hill on the East side of Heavener, overlooking the town. The drive up, twists and turns through a pine lines avenue, barely wide enough for two cars. At the top, Ozark meadows open up with views of the Poteau Valley.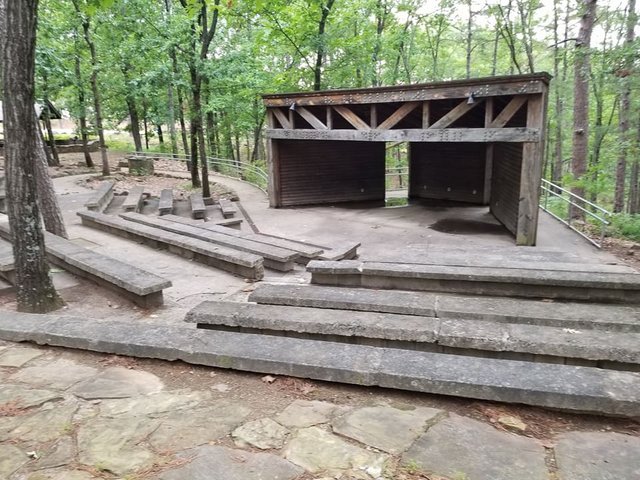 The "community center" we expected to use for the reception, was the only thing that met our expectations. It was dumpy and drab and in bad need of maintenance and remodeling. But, fortunately, the picnic pavilion my daughter envisioned, was perfect! The amphitheater couldn't have been more quaint. It was perfect.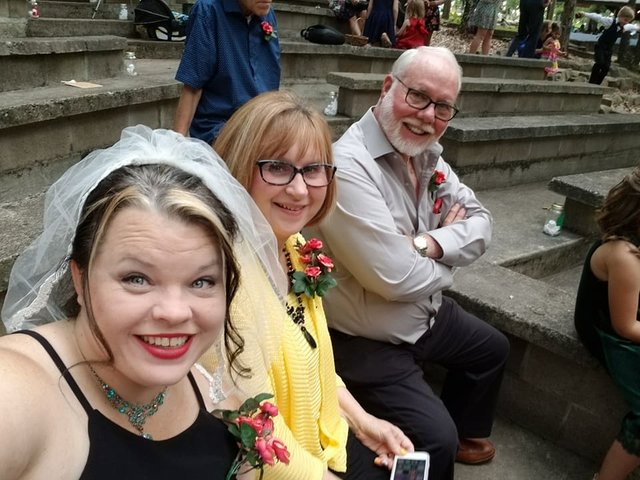 Now only one hurdle remained. Oklahoma, is the kind of place where people don't talk about the weather to avoid discussing current events. It is the current events. From below freezing temperatures, sleet and ice storms, to raging inferno days at 115+ we have it all. June is typically warm, very warm. In fact, it would not be at all unusual for the day of the wedding to have been 90 degrees, or more, too warm to get excited about hanging outside, in a suit, and not in a swimming pool, sipping margaritas.
But, God smiled and the day before a rainstorm brought cool air in and the weather could not have been more perfect. The ceremony was gorgeous and went off without a hitch. The misplaced rings were discovered last minute, safely hidden in the console of the Bride and Groom's car, where they'd put them that morning, and in a disappointingly short amount of time, the whole thing was over.
I have so many memories to unpack from those few hours. My son's song he wrote and performed for his sister, my dance with the bride. My lovely nieces and youngest son as the flower girl's and ring bearer. It was a magical day.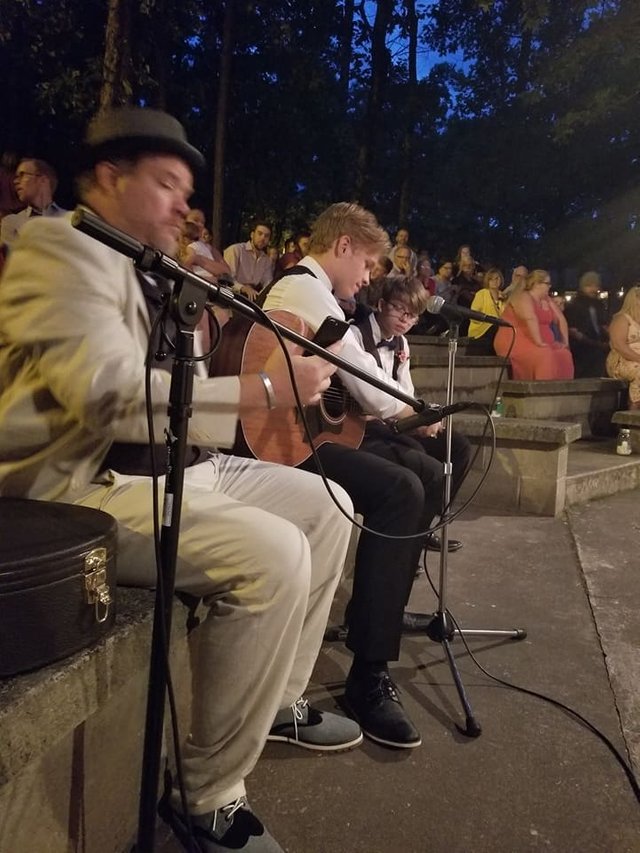 https://www.facebook.com/PureRomanceAngel/videos/10212274515833528/?permPage=1
There was dinner, and cake, and toasts and dancing, and through it all, the most amazing army of relatives pitched in at every turn. My brothers ran sound, did the flowers, took pictures. My sister set up the cake, her husband officiated. My wife's side of the family, without being asked, set up dinner and made sure everyone had what they needed. I don't recommend attempting a "cheap" wedding without an awesome, talented family like ours. It was amazing.
And, thanks to steem, I was able to pay for hotel rooms for the wedding party, pay for the catering, buy the rehearsal dinner, and even purchase several hundred dollars worth of miscellaneous items that were needed at the last minute. It was one of the most amazing days of my life.
The best part? She's the first of eight kids, we get to do it all over and over again and I think we are all, family included, really looking forward to celebrating with each of them, and my almost thirty nieces and nephews as they choose who they will build a life with, assuming they all do. What some describe as a horrible experience, was truly magical and I would not trade that day for a year of lesser days.
https://www.facebook.com/asher.morris.5/videos/1710915838937047/
Thanks, Steemit family for your upvotes, resteems and comments. Thanks for following and supporting my work here. Without you, I don't know if I could have contributed as much as I was able to and it meant a lot to do that without worry.