Aircrete is a generic term for air infused, cellular concrete. It's basically concrete with millions of tiny bubbles in it that give the concrete superior properties when used for construction for walls and floors.
Some of the benefits include:
Cost-effectiveness - not only is it cheaper to build with aircrete compared to wood, but it uses a fraction of the cement and it is lighter.
Performance properties - Aircrete is fire resistant, moisture resistant, frost resistant. durable, strong and has excellent thermal performance.
Better thermal performance and energy efficiency - Aircrete is the lightest form of masonry construction due to millions of tiny air bubbles formed by a chemical reaction during the manufacturing process.
Sustainable - Aircrete is an environmentally friendly sustainable building material offering many benefits including thermal insulation, thermal mass, and air-tightness.
Versatility and workability - Aircrete blocks are an extremely versatile building material. They can provide cost-effective solutions for wall, floor and below ground construction for residential and commercial projects.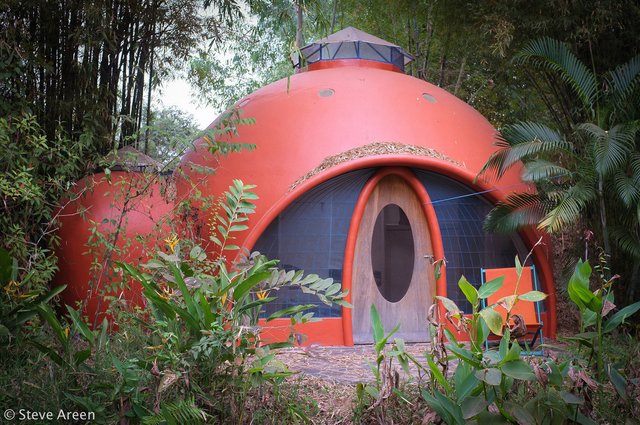 source
Working with aircrete is a lot easier to work with that typical concrete because it's lighter and you can saw it with a regular handsaw just like sawing wood. Because of its light weight, you don't need to use steel rebar which saves on costs and labor and the bubbles give it the strength needed.
Aircrete is waterproof, fireproof, insect proof, and rot proof. It won't mold, rust, or warp, and it is quick to dry.
You can use it to build well insulated walls and floors that will last for centuries. You can drill holes in it, nail it, paint it, and work it just like working with wood.
There are many companies that make aircrete blocks manufactured to fit together like Legos which speeds up construction times further reducing labor costs, but one of the coolest things about aircrete is you can make your own on site and you don't need gravel and rocks in your mix.
Oh, and did I mention it uses 5-7 times less concrete than traditional concrete buildings?
When making aircrete you are basically mixing concrete with water and foam. The foam needs to be mixed at the correct ratio with the cement to ensure it works properly. The foam adds millions of tiny bubbles into the cement giving it added strength, lightness, insulation, and workability.
You can pour the aircrete into forms for the walls or make slabs for floors. The slabs can also be cut once they dry to make bricks and it uses a lot less cement saving on expenses.
To calculate the approximate cost of AirCrete for a dome structure, including the subfloor slab - multiply the square feet X the inches of thickness. For example a 1000 square foot dome 4 inches thick will cost about $4000.

You need an air-compressor rated for at least 2.5cfm@90psi, which is a relatively small compressor.

Mix one 94lb bag of cement with 6 gallons (US) water. Put all the water in your container first and add the cement while you are mixing to avoid clumping. When the cement and water are well mixed, turn on the Little Dragon and add foam to the mixture. Add enough foam to make a total of 45 gallons of AirCrete. That's about 30" high in a standard 55 gallon drum. The foam is very light weight and so it wants to float on top of the cement mixture. Our foam injection mixer works great because it injects the foam directly into the mixing paddles at the bottom of the barrel where it is mixed into the cement before it can float to the top. source
This video covers a lot of the details on getting the mixture correct. A 90 pound bah of Portland cement mixed with 6-gallons of water and the foam will create 50 gallons of aircrete.
How To Make Aircrete
Another great benefit of building with aircrete is how easy it is to work with and the finished result is long lasting and eco-friendly.
This aircrete dome workshop video walks you through the process to build a small aircrete dome.
Kauai Air-crete dome workshop
---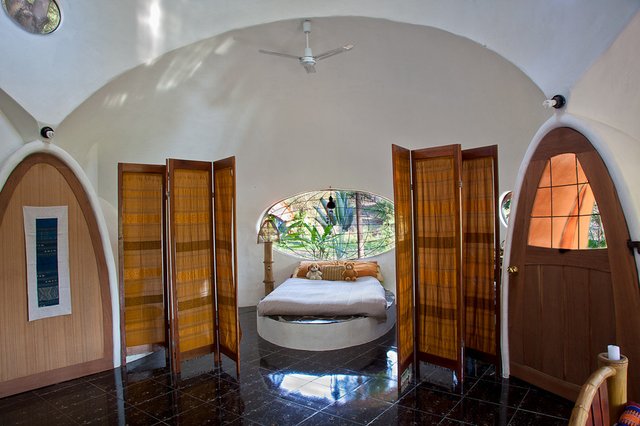 source
For more detailed information on building domes with aircrete visit https://www.domegaia.com/
One of the coolest aircrete homes is depicted in this video tour of Steve's home in Thailand.
Steve's Dome Home
---
He goes into it more in this next video.
Aircrete dome homes