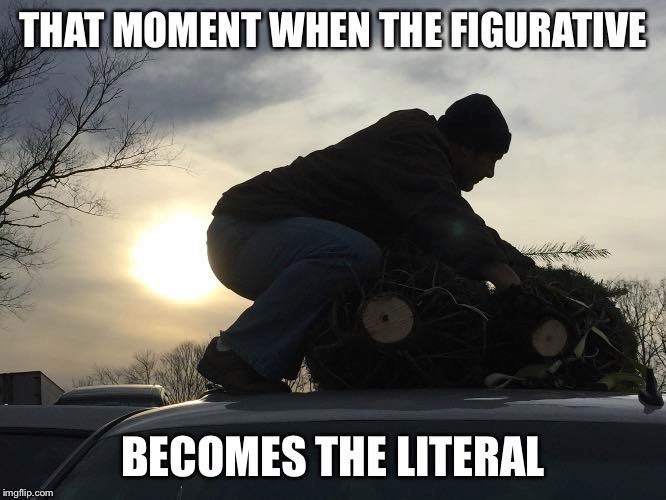 ---
That's the love of my life, two years ago, tying two Christmas trees to the roof of our truck because the kids wanted one on the landing to their rooms, and I needed to have one in the front hall where the twelve foot ceilings meant it could be eleven feet, eleven inches tall.
What? It works fine...with a very very small angel on top. Don't judge me.
I couldn't resist taking this shot where the sun appears to be shining out his ass, because--well--he's my everything. He's the slayer of spiders, the picker-up of dog poop, the cleaner of kid vomit, runner of electrical, brewer of coffee, installer of sheetrock, and a million other things I won't bore you with because they only mean so much to me.
He's also the quintessential "fun dad" and I don't mean that in a bad way. I mean that without him our kids would probably have been told that reading War and Peace can absolutely be as fun as playing Kingdom Hearts and "A zip line is way too dangerous for the backyard!"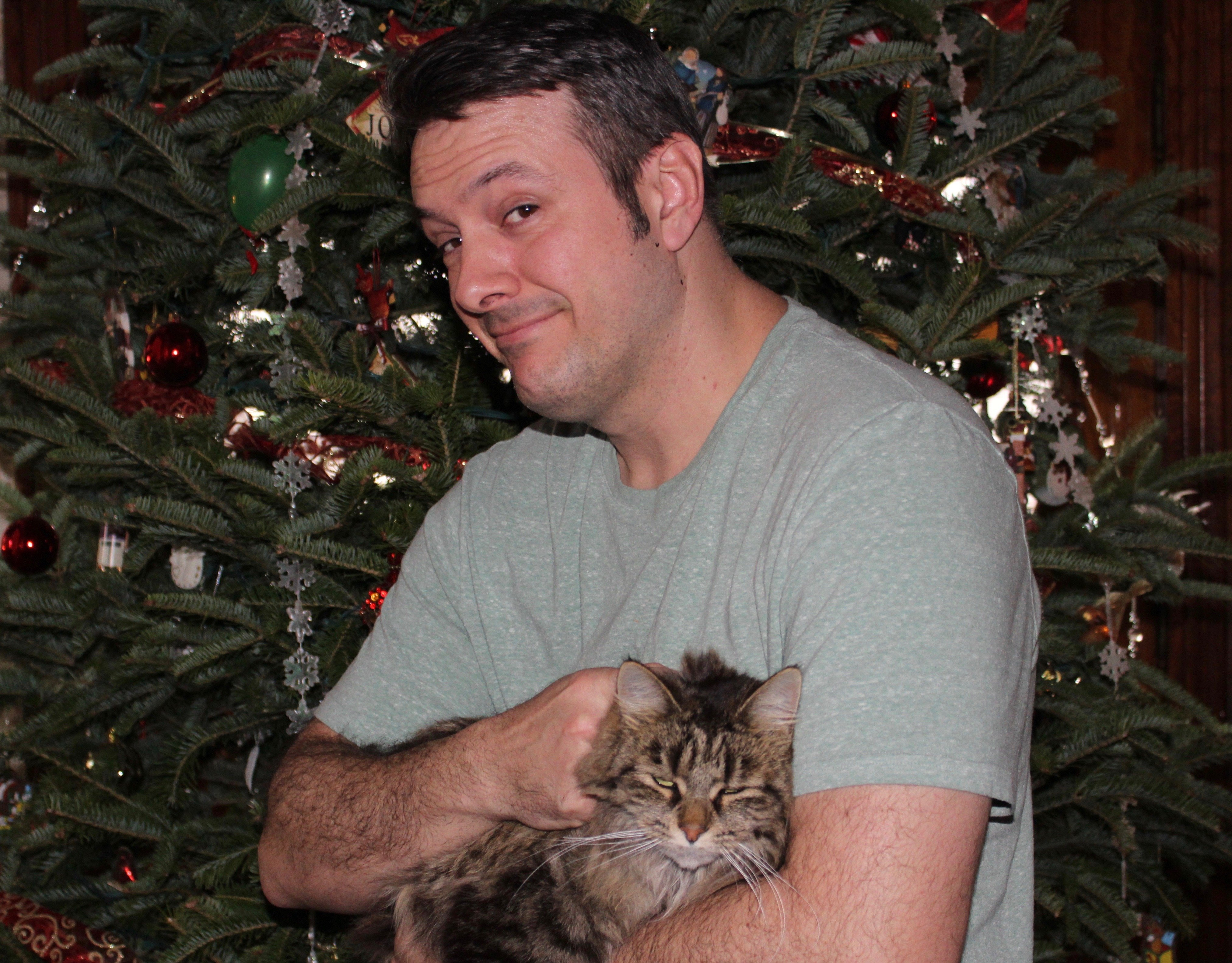 Lookit, even the cat loves him!
Most recently he's been the basic "Doer of everything except what Jess is able to do around her job, writing, Steemit, and @isleofwrite endeavors." And I mean everything. He feeds me and the kids, shops, keeps the three kinds of heat we need to not shiver in this house going, takes on the heavy lifting of our home restoration, shovels the damn snow, still manages to give the kids his time, and oh...did I mention he also has a day job?
And at the end of a day like this, he'll offer to run me a bath because he thinks I need a break.
I know, right? Hands-off, ladies.
With everything he does for us, his one solo indulgence is gaming. Which I confess I struggled over the years to understand. I am a lonely bookworm in a family of gamers. I did play Halo years back with him and we used to have a blast (literally) with him driving the warthog and me shooting everything in sight. And he read a series of books with me I really enjoyed and he enjoyed it as well. But this really just is a place in life we don't intersect much and that's okay. I'm not one who thinks real love means sharing every second of the day or every interest of our lives.
But that doesn't mean I don't want to support him in every way I possibly can, which is why I'm hoping that those of you who follow me, who enjoy my fiction and my company at the Isle, who are looking forward to the release of the Steemit Anthology Series, and feel I contribute something to the community, will take the time to go show @madgames some love as well. Because he is the one who makes it possible for me to do all of these things without the rest of my world falling to ruin.
So gogogo! Check out his inaugural post, Does it Byte?, a review of some game called "ECO" that's a "global survival game" whatever that means. I glaze over when he tries to explain these things because he loves me anyway.
Thank God.
---
---
Do you believe as we do that Steemit Creatives deserve recognition for their hard work and talent? If so, please help us in our mission to reward this creativity both on and off Steemit. Upvote, resteem, follow! Are you looking to help a community dedicated to the respect and encouragement of Steemit creativity? Please consider a donation or delegation to Isle of Write. All of our account earnings go back into the Steemit Creative community.

---

If you'd like to wash up on our shore,
a click of the map brings you straight to our door!





art and flair courtesy of @PegasusPhysics