Facebook Failures or Bitcoin Geniuses?

You may know them from their Bitcoin ETF, but did you know these are the same Winklevoss twins who claim Zuckerberg stole Facebook from them? 
I am not sure why I wasn't able to put this together at first, but after doing some reading, it has become all the more clear.
These are the same Winklevosses that are mentioned in the film "The Social Network". The same Winklevosses that claim they came up with the idea for Facebook long before Zuckerberg did. 
So, they go from losing out on Facebook to constructing their own Bitcoin ETF... 
How did those seemingly unrelated roads meet?
A little backstory...
The year was 2003. Tyler and Cameron Winklevoss had been busy coming up with their plan to better unify the Harvard campus. A social networking site that could help students connect more easily. 
That is how HarvardConnection was born. It was originally planned to be unveiled at Harvard, but the plan was to unleash it at other schools across the nation as well. 
About a year into the idea their project was gaining steam. They had hired a couple of developers and coders to help get the project from idea stage and into the implementation stage.
Enter Mark Zuckerberg
At the recommendation of one of their programmers, the Winklevoss twins contacted Zuckerberg via email and asked him if he would like to join their HarvardConnection team.
Within days Zuckerberg was up to speed and ready to take over full programming duties for the team. 
An oral agreement was reached for Zuckerberg's services and he was caught up to speed on all the (confidential) ins and outs of the project. 
What transpired over the next several months was an increasingly difficult to reach Mark Zuckerberg. He was either unavailable or busy just about any time the team tried to contact him about the status of their project.
Then out of no where, the group read about a new social media site being launched by Mark Zuckerberg called thefacebook.com in the Harvard Student News Paper. It was a competing social media website to the one he was supposed to be building for the HarvardConnection team.
While it is not entirely clear whether there were any official non-compete clauses signed or anything of the nature, it seemed pretty clear that while the HarvardConnection team was being lead to believe Zuckerberg was working with them on their social media project, he was going about creating his own without disclosing that to them.
From there, the rest is history. Facebook took off and Zuckerberg became one of the richest people on the planet.
*Keep in mind that the above is my summation of the events as I understood them. Feel free to read more of the specifics here:
https://en.wikipedia.org/wiki/Tyler_Winklevoss
The Winklevosses didn't stop there
They quickly sued Zuckerberg for what they deemed to be violations of their verbal contract. For which Facebook and Zuckerberg counter-sued a side project that seemed to be in violation of other terms as well. 
The end result was a settlement for roughly $65 million dollars for the Winklevosses. 
The next several years were a muddied mess of lawsuits and counter-suits and a long drawn out process of the Winklevosses trying to take a portion of what they believed they deserved from Facebook's success. 
Their second Act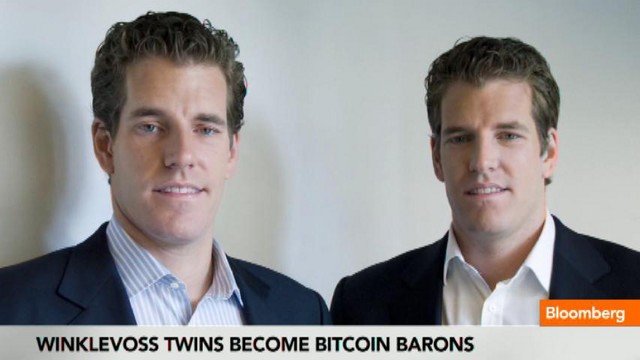 Fast forward to 2013 and the Winklevoss twins decided to make a sizable investment in Bitcoin.
In April of 2013 Bitcoin had just made an all time high of $260 dollars only to plummet down to $120 the same day. The Winklevoss twins announced the following day that they had purchased roughly $11 million dollars worth of Bitcoins.  
The investment caused some snickers among the finance community as Bitcoin traded all the way down below $50 over the coming weeks. Putting them likely down over 50% on their investment in a matter of days.
However, the Winklevosses did not sell and a few short months later the price was trading for over $300 per coin. Making for at least a double on the coins they purchased.
It would later be reported that they were even able to purchase some of their coins for under $10.
Not a bad return for just a couple months of investing!
At that time they were said to be holding more than 1% of all the coins in circulation and their $11 million dollar investment was worth north of $40 million. 
Their involvement with Bitcoin wouldn't stop there 
As you have likely heard, they went on to create a Bitcoin ETF that has was submitted for approval to the SEC just a few months ago. The SEC originally rejected their submission, but have since reviewed that initial rejection. 
It seems unlikely to me that the SEC will change their decision at this time, but I image at some point down the road there will be a Bitcoin ETF and the Winklevoss twins seem to have at least as much of a chance of anyone else of making that a reality. 
Their second act is looking like it might possibly show much more favorably for the Winklevoss twins.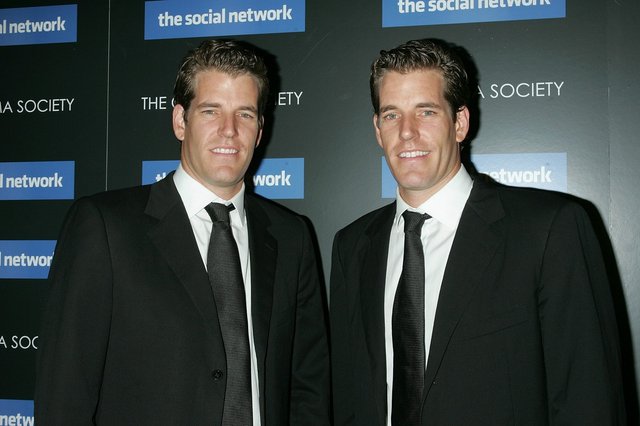 Some other interesting tidbits about the twins:
The Winklevoss twins both rowed in the 2008 Olympic Games in China.
They stand over 6'5 inches tall and were born into a wealthy family.
They were both played by Armie Hammer in the 2010 film "The Social Network".
They were depicted on "The Simpsons" during the episode called "The D'oh-cial Network", which aired in 2012.
Final thoughts
I had no idea these guys have such a storied history. From losing out on Facebook, to betting big on Bitcoin and winning, to likely creating one of the very first Bitcoin ETF's. These guys have certainly had their names in the spotlight plenty of times during their first 35 years of life.
I would not be surprised if this isn't the last we hear from them, and judging from their tenacity, I certainly welcome them as Bitcoin ambassadors going forward!
Stay learning my friends!
Sources:
https://www.washingtonpost.com/news/the-switch/wp/2013/11/09/the-11-million-in-bitcoins-the-winklevoss-brothers-bought-is-now-worth-32-million/?utm_term=.4448cf37ea8b
https://en.wikipedia.org/wiki/Tyler_Winklevoss
http://www.coindesk.com/sec-orders-review-winklevoss-bitcoin-etf-rejection/
Image Sources:
https://www.washingtonpost.com/news/the-switch/wp/2013/11/09/the-11-million-in-bitcoins-the-winklevoss-brothers-bought-is-now-worth-32-million/?utm_term=.4448cf37ea8b
https://www.wealthdaily.com/articles/the-winklevoss-twins-and-the-bitcoin-revolution/5568
https://www.reddit.com/r/IAmA/comments/1swnnl/i_am_cameron_winklevoss_and_i_love_me_some/
Follow me: @jrcornel