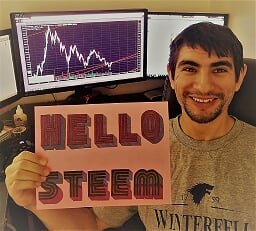 Hi Steemit Community,
I'm Joe and I thought I'd share my personal findings with you all as my very first blog post on Steemit. I have been under the impression that most of the Bitcoin community may not see what I see on a Bitcoin chart, so I  want to cause those of you curious enough to have a look at this post and meditate on your own life events through the charts progression. As I explain life events throughout my own past, please know and understand that I may get quite candid, revealing things that I am not proud of and with that I harbor some regret.
I shall begin by explaining that the format of Bitcoins chart is on the TradingView platform and is set to Bitstamp, and only goes so far back to the 4th quarter of 2011. As the chart begins in August 19th 2011, the price tops out at $11.85, but the price doesn't really matter. What matters is at this point Bitcoin dives all the way down finding support at about $2.22 in mid-October, so at this point we must take our minds off the numbers and focus on what's really happening: the Bitcoin community as a whole has agreed that the price per coin should be lower based on both emotion and logic.
Each individual person that has invested in Bitcoin makes up a single portion of a collective entity that has put forth a part of their assets in the form of monetary value earned by time at work. Now I understand that not each person earns an income the same way as everyone else, but I am just generalizing that each person has an emotional attachment to their investment, therefore, each person will use whatever means they are accustomed to, to profit off of that investment, be it knowledgeable strategy or impulsive behavior. So if each individual has an emotional attachment to Bitcoin than I believe that Bitcoin itself is driven in emotional waves.
So, how is it that I believe that my (or, our) emotional wave cycle is synchronized with Bitcoins emotional wave cycle? That reader, is the mystery to me.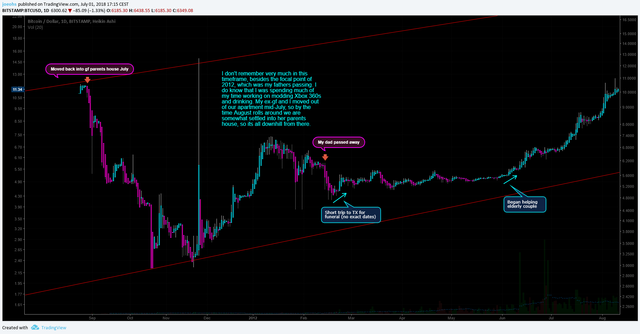 Here, I will elaborate a bit about my life at this portion in time and perhaps every week or so I will dive into each portion afterwards. These posts may be brief leading up to most recent time cycles as my memory is lacking, but I will do my best to justify my case in hopes that you all do the same as I believe this synchronicity applies not just to myself, but to most (if not all) of the Bitcoin community.
Leading up to Septembers downtrend I was living with my now Ex-girlfriend (whom I'll call Wendy), and our financial hardships were forcing us out of our apartment and back into her parents house. So as I explain in the text blurb in the image above, by the time September rolls around we are settled into her parents house. Her father is/was a chronic alcoholic and, quite frankly, hated me. So moving back into his territory did not sit well with either of us. I also remained unemployed for all of this time frame but earned a bit of money by buying and selling modified Xbox 360s.
The major event that effected my life in this timeframe was the passing of my father on Valentines day in 2012, but I would not read about it on facebook until the following day, and a short trip to Texas would soon follow afterward to attend his funeral. Anything in between these 2 events I cannot seem to muster from my memory, but I consider these events in my life emotional challenges based on the emotional attachment to each event. My emotional attachment to moving back into Wendy's parents house was riding high as it was a total blow to my/our pride, while the emotional attachment to losing my dad was not quite as significant, probably because I was not raised by him and held very little emotional connection to him but needless to say I was still quite hurt.
From that time in February to about June there seems to be an emotional balance as both the bulls and bears equalize to decide where to move next. As it is, I consider this to be resting on a level of emotional support and come June there begins some vertical movement which is about the time that I began helping our former neighbors from the apartments. They were an elderly couple that my ex and I had formed a friendship with and they needed help moving into a new apartment, so from there I began to help them on a daily basis, thus taking on a new set of emotional challenges.
Now as I bring this post to a close I understand that this isn't quite an "about me" post but I am sure over the next many posts that you all will get to know me better and do hope that you all will share your moments should you find them on the chart.
Until next time Steemers!
I wish for peace and emotional balance to all of you.
Joe