It's been a little over a year since I joined Steemit, so I'm doing a sort of re-introduction to commemorate. I joined because a coworker of a friend said he was making bank on a site that pays in cryptocurrency, and upvotes equal bills paid and extra treats for your dog and maybe you even get to go out for ceviche once in awhile. I was broke at the time and figured I would try it out. I write anyway, so there was nothing to lose.
A few posts in, something I wrote made over 700SBD. I was kind of in shock. I didn't really know how the whole thing worked, didn't know much about cryptocurrency (just like many, I had heard of Bitcoin and the popular ones but that was all), and I thought that it was just because my writing was awesome that people were upvoting me. It became clear once I started looking into it (immediately) that because of one guy who at the time was a whale, my post got noticed. Also, the topic, what my life was like as a camgirl and how I hated that work, I'm sure had something to do with it (it's here if you're curious). In any case, I thought this could be a viable income source.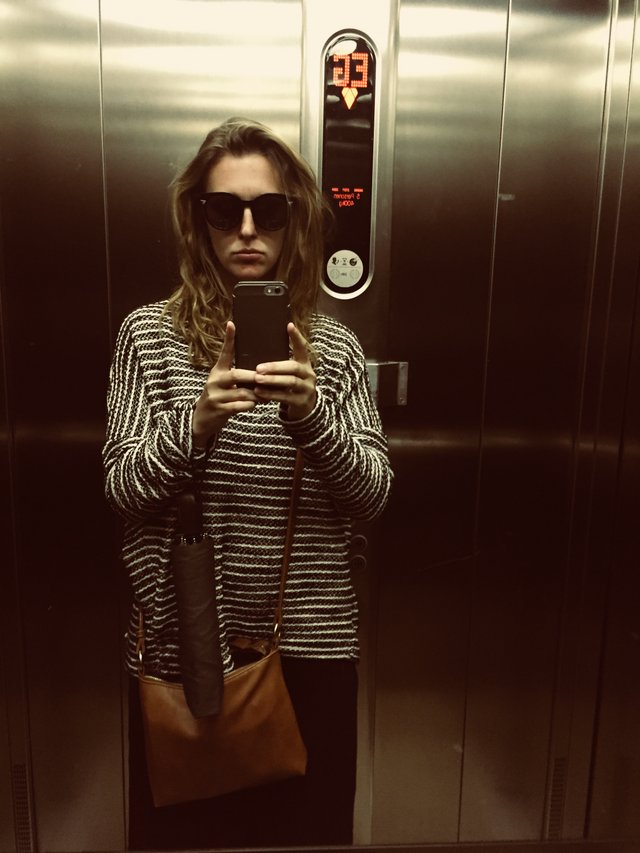 (here's an elevator selfie of me looking pretty normal just in case you wanna know who is talking to you here and don't already)
It hasn't really panned out that way,. Maybe it's because I don't have the time to dedicate to "maybe" making money off my writing, because between my job as an online writing tutor and freelancing as a content writer, so much time is already spent in front of a screen. Plus, I have a project which takes up more of my time and energy than either of my jobs do because I love it and I let it, writing poetry on people's bodies (or turning people into poetry, as I have begun to describe it). That also requires time in front of a screen editing photos and managing its potentially lucrative Instagram account.
I'm not really a screen person, I guess. If I had my way, I would just be a poet living in an inexpensive beach town in the south of Mexico. I would have a laptop, but it would just be for writing when my soul told it to. Sure, there would be some screen time inevitably because of that, but the rest of my time would be interacting non-digitally. Or maybe I would then feel more compelled to use some screen extra time for Steemit in that case :)
I'm broke again now, because of things like being able to travel for really cheap because I have an amazing cousin who works for an airline and has bestowed upon me her companion travel benefits, plus having friends to stay with all over the world. Because of things like investing money into my poetry project (Skin on Sundays, is the name btw, if you don't know me). Because every summer my tutoring job is off for 7-8 weeks, and during that time this year, I had seemingly secured a ton of writing work with a freelance client who suddenly bailed due to their own financial issues leaving me without an income until my job started again and while I was already in Europe (aka, I hadn't looked for any other work and wouldn't be able to until I returned home). I mean there are other things too, like past veterinary bills and stuff like that, but that's not really the point.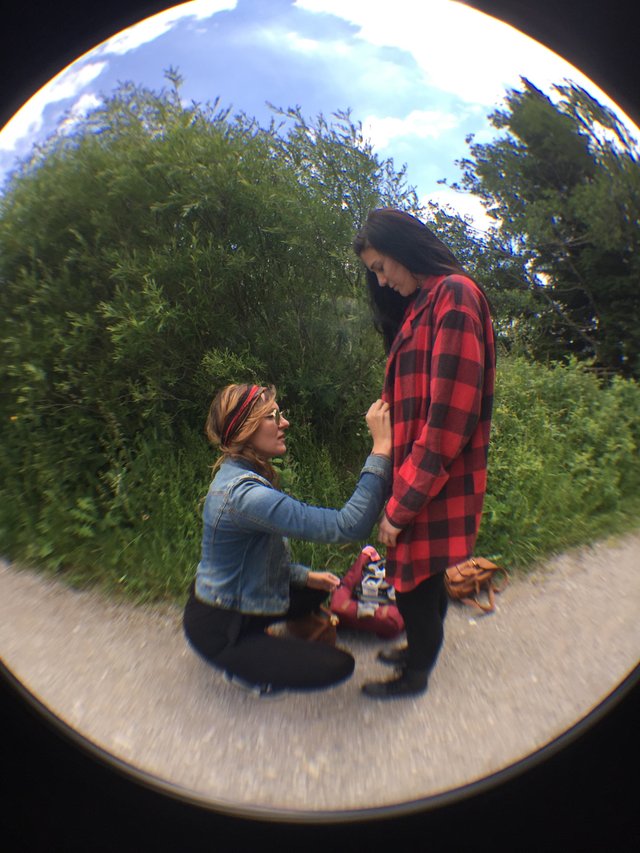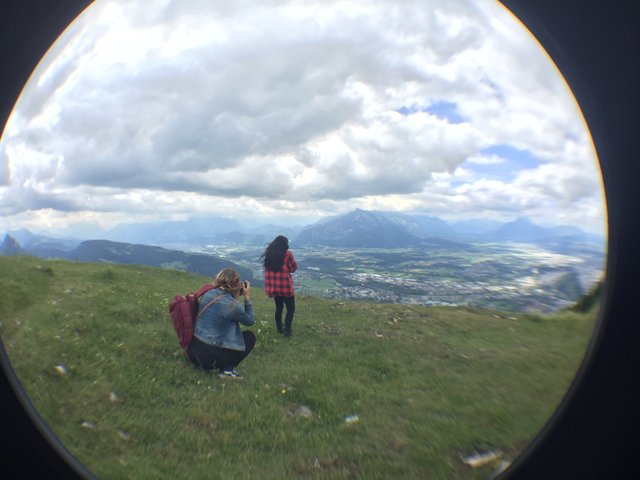 (this is my cousin--who loves me so much and shares her airline benefits with me--and I in Salzburg, Austria a couple weeks ago. it was so cold on that mountain so she was a freaking trooper for letting me write on her up there)
It didn't occur to me this year upon the re-onset of my financial struggle to go back to camming like I had last year. Ultimately, the reason for that is: I really just hate it. I hate it so much. I deal with a bunch of guys on my Instagram account that treat me like a camgirl because my project features poetry written on my own body sometimes, and some of it is semi-erotic, albeit still clearly meant to be art. I don't really think that gives people a go-ahead to tell me they are jerking off and leaving a bunch of water droplet emojis in my inbox to represent that they came, especially because it made me feel gross enough when I was getting paid and was in an explicitly digital-sexual exchange with those people, and the Instagram guys are just unsolicitedly sending me that garbage. Aside: I also get messages from both men and women telling me my project has left them feeling more positive and confident about themselves and their bodies, so fine I can take the occasional or even semi-frequent message from a horny guy.
But anyway, camming wasn't on my radar this time as an option because the feeling I got from camming made me feel dead inside. My mind wandered as to why (again) as I feel completely comfortable with nudity and sexuality. In fact, I love it when people can feel free to be naked. Whether others are enjoying it or not, it makes no difference. The body can be a beautiful thing to look it, and it is also beautiful to feel free to be naked, to feel comfortable in your own skin to be naked around others, and to not feel like you're unsafe psychologically or physically because of it.
Really what it comes down to is that my camming experience was filled with people who were so often mentioning things about us meeting in real life after a couple sessions, or some even immediately. Perhaps I'm just too soft for that work, or can't fake it without my stomach churning, but wtf. Is there anyone who can clear this up for me. Were they just wanting me to play along and never had any intention of actually trying to meet me, or are there that many guys out there so delusional? Or are there camgirls that go meet up with them? While I would like the answers to this, the point really is that it made me feel sick to pretend like we would maybe meet up. Wasn't the masturbating in a variety of different ways and positions and talking dirty to them (that is what camming is about after all) enough? Nope.
It also made me sick that they always pushed for more. It reminded me of my first serious boyfriend who used to push my head down while I was giving him head until I gagged and seemed to really get off on that. I know most girls have probably had that experience at least once in their life, and for most of us, it's not only physically painful, it's psychologically and socially fucked up because it can easily make us feel like objects, and regardless of intention, it is degrading as hell. In my case, I especially think so because of the fact that he was the kind of person who was all about gender equality and all the liberalest of liberal things. The sexual power dynamic of pushing a girl's head down onto your dick when she clearly doesn't want it, when you've had conversations about it with her about how unpleasant it is for her, when she's younger than you and thinks maybe this is just what sucking dick has to be, and maybe she would be a bad girlfriend if she didn't just do it because after all what was the point of giving him head in the first place if he wasn't enjoying it (I was 18-20 years old at the time), has some ugly energy attached to it. It's the energy of the patriarchy really, the energy of brute strength equating to exercising power over someone, of men taking pleasure in hurting and demeaning women, even men who claim they are totally against anything of the sort.
It must be all of that together (including Steemit providing me that initial boost from one of my first posts) that finally made camming a non option now. I would rather eat bread for breakfast lunch and dinner for the rest of summer until my tutoring job resumes or until I find enough writing work to pay for something better. I also know that I will eventually not be in this situation. I'm working so hard with this physiopoetry project and it feels like I'm getting closer to financial stability. They say that when it starts to feel really hard, you're getting closer, and I suppose I believe that.
I decided to tell you about all this here, because I haven't been in front of a screen quite as much lately and I really do value this community whether I make 30 cents on a post or 700 dollars. So I wanted to check in, at least. To be clear, I value Steemit because I now know more about cryptocurrency and think the soul of Steemit is inherently good. Even if there are bad seeds strewn about, the energy of this digital place has provided me with a lot of emotional and intellectual support (with a bonus of occasional income).
When I do feel like writing something extra, I always come here. I feel free to say what I want/need to say without getting judged, and so it's like a diary but better because there is always positive feedback. Even better if it's critical feedback. I'm not a sensitive person, clearly, or maybe the critical feedback would start to weigh on me (it never does because any way of growing or getting better is always positive in my world).
In any case, thanks guys. My first yearish on Steemit has only solidified my desire to stay in this community. Thanks for letting me clear my head, for listening, for contributing to an open platform where people can feel comfortable and safe like I do.
xoxo,
Jessica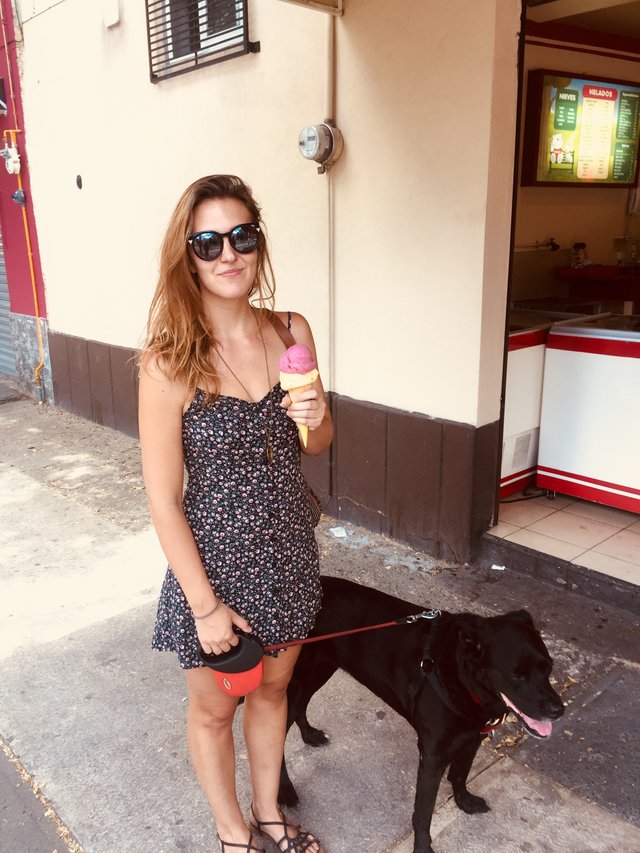 (here's a shot of Luna and I when some ice-cream-self-care was necessary despite poverty)