Area of application:
Passengers transfer to passenger vessels.
Industrial cargo transshipment from a rolling stock:
bulk cargo (broken stone, coal, sand, ore, etc.) – to bulk carriers;
oil and oil products – to tankers;
containers – to container carriers.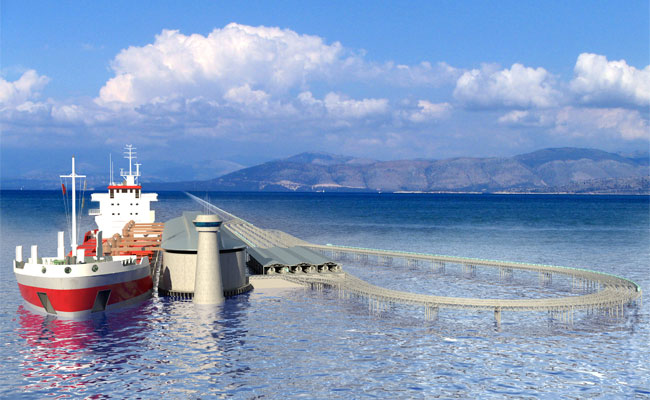 Possibility to place SkyWay port on the shelf in the open sea.
Sea water depth in the port – from 20 m.
Distance from the port to the seashore within and outside territorial waters – from 1 km to 10 km and more.
Annual quantity of transit passengers – from 1 mln people.
Annual amount of industrial cargo transshipment – up to 250 mln tons.
Port cost – from 10 mln USD (without regard to access track, loading and unloading terminals, rolling stock and infrastructure).
Competitive advantages:
Possibility of organizing a waterfront using natural sea depth (from 20 m and more).
No need to use costly free coast territories with vulnerable eco-system.
Reduction of construction expenses due to absence of:
wharf wall, required for ship mooring, as well as for protection against coast line cutting by surf;
dredging works, traditionally carried out for creation of a deep-water zone for vessels with cargo to access harbour berths;
artificial access channels in an offshore zone and in the port.
Reduction of operation expenses due to such factors as:
facilitation of port entry for vessels with deep draft;
reduction of downtime for vessels with passengers transfer or cargo transshipment; minimizing expenses required for pilotage support;
improved logistics when transporting bulk cargo as a result of replacing a traditional scheme "mineral deposit – rolling stock – unloading in a warehouse on the shore – loading from a warehouse on the shore to another transport – transportation to the port wharf – reloading to bulker hold" with a short scheme "mineral deposit – SkyWay rolling stock – bulker hold"; reduction of energy resources and fuel consumption for transshipment; reduction of expenses for operating personnel and their salary; due to automated work connected with loading and unloading; decrease in volume of port repair and restoration works.
Significant improvement in bulk cargo quality and rise in its selling price due to decrease in transshipment number.
Increased reliability and safety for sea port operation at sea shelf in any weather and any season of the year.
Reliability and safety
Tsunami and tides in the open sea are not dangerous, because the wave height in them rarely exceed one meter.
Sea port is not exposed to the surf due to his absence.
High stability to vandalism and terrorist acts.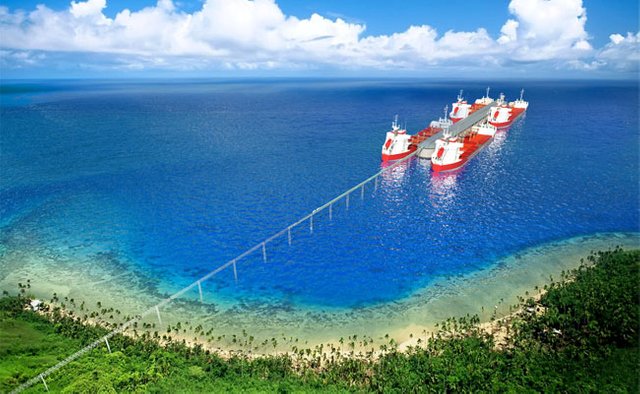 from : https://skyway.capital/en/Technology_SkyWay/Types_of_transport/Sea_port_SkyWay/