Doing Business in a World of Idiots
Have you worked in a business dealing with customer service and sales? It's a job that requires a specific personality type. The customer is the lifeblood of the business, but also the biggest threat. No matter how good your service, or how good the company you represent, there seems to be a deliberate conspiracy to destroy your sanity on the part of a certain segment of your customers.
According to the Pareto principle, 80% of the profits come from 20% of the customers. No one advertises the corollary that the other 80% of your customers are INSANE. For example: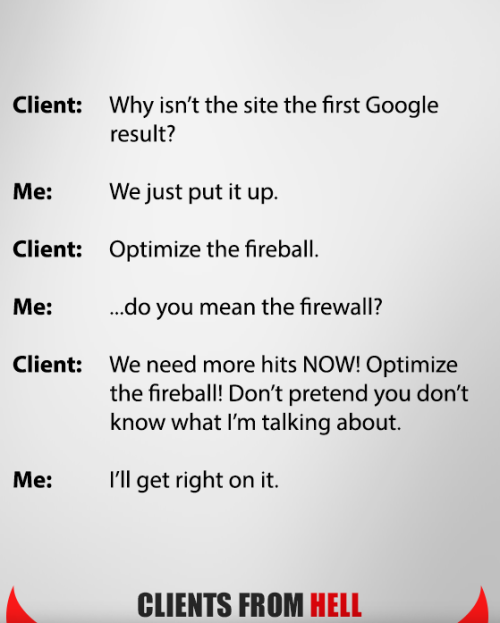 credit
I used to work in a call center. Don't worry, I wasn't completely evil. I was "inbound calls," meaning people calling the 1-800 number from TV and radio commercials called me. I wasn't in the "outbound" department, so I didn't interrupt any dinners.
This was for one of the major US cell phone service providers. There were a lot of commercials, and a lot of calls. Many of the callers were idiots.
"Thank you for calling __________, my name is Jacob. How can I help you set up an account today?"
Yeah, gimme the deal on the commercial with the free phones.
"Yes, I can help with that. How many lines do you need?"
Just gimme the deal on the TV!"
"I can do that. I just need to ask a few questions so I can make sure I set up the plan that's best for you."
I WANT THE DEAL ON THE TV! HOW HARD IS THAT?
---
Another "fun" one was the scammer. Nothing ruins your day more than spending half an hour fine-tuning the plan, device, and other details only to find out it's an idiot with a stolen credit card.
Our fraud check system was good. However, we often knew it was fraud when dealing with such callers, so it was often something we could foresee. And on other occasions, the credit check was excessive paranoia, and some verification questions were asked and the sale was processed. Those were always a relief.
---
What was worse, though, were the people with bad credit. There's a reason the TV and radio ads say there's a credit approval threshold for their best deals. The "Free" $500 phones required a contract plan. You needed to qualify for such plans, because the cost of the devices was amortized as part of the service fee over those two years. But somehow it was MY fault they weren't aware of this fact, and MY fault they were in too much debt to qualify. And I can't fix that. Such people don't want to hear about prepaid stuff. They want free stuff.
---
I had the "privilege" of working with both business and consumer accounts. Business accounts... THERE'S a fun subject. I don't mean the employee discount programs. Those were usually OK. "I'm calling because I work for [well-known business] and I heard I can get a discount!" I could deal with that just fine. No, I mean the, "I wanna set up a corporate account" guy.
If I thought consumer account fraud was bad, corporate account fraud was far worse. So many wasted hours from people who wanted business lines with Blackberries (this was a few years ago...) and all the bells and whistles on such sketchy corporations ... shudder ... And it was almost always an arrogant self-important jerk with a "concert promoter" shtick or the like. New business means no history. No history means no credit. No credit means no corporate deal. And also, you sound about as legit as a real estate agent offering a deal on ocean view property in Kansas.
---
News You Can Use
Pay off your debts, know your credit rating, and live within your means. Don't blame other people for the consequences of your choices.
Better yet, go prepaid on your phones so credit is irrelevant. You'll probably save money, too!
Don't attempt ID theft or other forms of fraud. Everyone loses, and you're a loser for trying it in the first place, douchebag.
If you're calling any kind of call center, don't be an ass. You haven't been there, man. You don't know what it was like! [/PTSD]
Turn off the TV, the stereo, and other loud noises in the background. Do not argue with your spouse while talking on the phone. For the love of all that is holy, do not hold a squalling baby while talking on the phone. Have mercy on us! We can't hang up, because it's our job to talk to you, you sadistic monster! BUT WE WANT YOU TO DIE IN A FIRE THE WHOLE TIME!!!
---
So what's your worst story about terrible customers/clients? Comment below!
---